Mission: Reaching Out
Chander Sekhar's padyatra brings him closer to people
He is an unsung hero. He created history by walking over 2,300 km during his Sankalap Padyatra in 147 days, contacting over 20,000 households in Dharampur constituency in Mandi.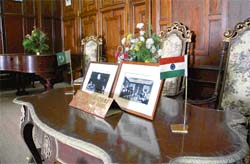 Vignettes
House of the governors
Barnes Court turns 175 tomorrow
BARNES Court, from where the governor wields power in this state, is one of the most famous old houses in Shimla. The Department of Language and Culture is celebrating its 175th anniversary by holding a seminar in the majestic complex on October 25.
SHIMLA DIARY
Authoritative leadership gets thumbs down
Top cops are known to be authoritative in their attitude and behaviour towards the public. However, their subordinate officers do perceive them not only as "more authoritative" but also less participative and less nurturing. Interestingly, this finding is the outcome of a police related research study conducted by a top cop of the state for his doctorate degree.
Tribute to bravehearts
The police chiefs of all districts celebrated the Police Commemoration Day on Sunday. The families of the deceased policemen were invited on the occasion. Superintendent of police Diljeet Singh said, "We are ensuring requiste assistance for their immediate families"
BSP makes little impact in Solan
Despite registering the highest SC population growth of .27 per cent in the district, BSP appears to have made no impact on the political scenario of the constituency.
Chamba VDCs demand honorarium
Village Defence Committees constituted after the August 1998 massacre of 35 labourers in Chamba villages that share the border with Doda have demanded honorarium.
Virbhadra to contest from Rohru
Chief minister Virbhadra Singh will be contesting his last election from the Rohru constituency. By the next assembly poll the report of the delimitation commission will be implemented and election will be held on the basis of delimited constituencies. The Rohru segment has been reserved for scheduled castes (SC), while Kusumpti, currently reserved for SC's, has been thrown open.
Maiden Magic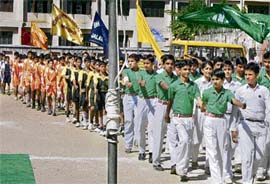 First sports meet of private schools in Hamirpur
The four-day district-level sports meet held at Hamirpur came as a boost for the private schools in the district. Organised by the Himachal Board of School Education, this first-ever district level meet saw participation from 1,531 students of 52 schools.
March past by students
Sherwood lifts hockey trophy
Sherwood College, Nanital, lifted the 10th Sub-Junior Inter Public School Hockey Trophy after defeating hosts Pinegrove School, Dharampur, in a keenly contested match by 2-1.
Wash & Eat
A leading British microbiologist has warned that 'ready-to-eat' food products are not devoid of the risk of salmonella infection, and suggested that consumers wash the packaged contents again before eating them.