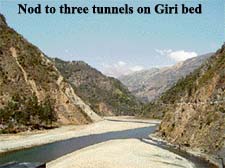 Tunnels of hope
S.R. Pundir
The Renuka Dam project is somewhat back on track. The Union Ministry of Environment team that visited the Renuka dam project for the first time in 20 years has agreed in principle to three tunnels on the Giri bed. The tunnels would be used to divert the Giri water for the time being and later would be used for the generation of 40 MW electricity on the site. The lengths of the three tunnels would be 1,075 metre, 1,500 metre and 1575 metre, respectively. Work on the dam would be initiated after diverting Giri water through these tunnels.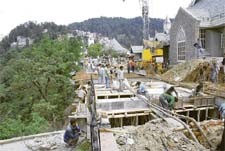 Road to progress
Rakesh Lohumi
Engineers engaged in the restoration of the Gaiety Theatre are racing against time to reopen the two main approach roads to the historic Ridge for the public meeting to be addressed by the Prime Minister Manmohan Singh on September 30.PM's scheduled visit is proving to be a blessing in disguise for the local residents, who have been facing a lot of inconvenience because of the closure of the main road from the Scandal Point and the inclined path from the Mall that leads to the Ridge between the Gaiety Theatre and the Ashiana restaurant.
Life term for triple murder accused
Kulwinder Sandhu
Una's additional district and sessions' judge of the fast-track court C.L. Kochar has sentenced triple murder accused Gurjant Singh to life imprisonment and imposed a fine of Rs 65,500.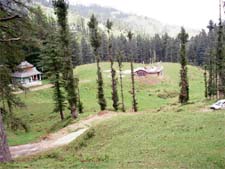 Call of the wild
Kuldeep Chauhan
Well-laid treks, historic temples, legendary tales of yoginis roaming in the jungles and magnificent streams and rivulets aptly describe the lush green bowl-shaped Janjheli-Shikari-Thachi route in the Seraj valley. Although teeming with tourism potential, the government has not done much to promote the hill station.
Highway Blues
Private bus drivers and conductors refuse to get into uniform
Kuldeep Chauhan
Even as the state transport department has made it mandatory to wear the dark blue dress for drivers and conductors and issuing of tickets to passengers for private bus operators in the state, but these rules remain only on paper as the traffic police and road transport departments have not done much about enforcing them.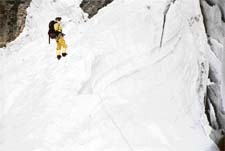 STEP OUT
Adventure in thin air
Yana Banerjee-Bey
Juley! I am just back from Leh and, despite being jaded because it was my sixth visit, I still had a great holiday. Ladakh offers mountaineering, trekking, rafting, and mountain biking. It also stages events. In August 2003, I covered the Great Tibetan Marathon for The Tribune (http://www. tribuneindia. com/ 2003/ 20030921/ spectrum/main4 .htm).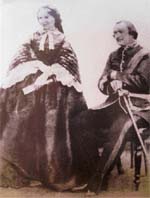 vignettes
Orphans under her care
by Shriniwas Joshi
I have recently read a book An Englishwoman in India-The Memoirs of Harriet Tytler borrowed from the Public Library of Hamilton County and Cincinnati. First, I will narrate an interesting remark made by a reader in the book itself and then go ahead with Harriet's story. She writes about thugs in India in the nineteenth century and says that they worshipped Kali who has six arms and has a European victim under her feet. The reader has 'underlined' it and pencil-remarked, "Kali statues are standing atop Lord Shiva, not a European." Thank you, unknown reader for correcting Ms. Harriet.
Missing Connectivity
S.R. Pundir
Non-availability of broadband facility in Sirmour has badly hit business in the district. Growth and expansion of Internet-based business activities here has come to a halt. Many globally reputed companies including a leading company of USA, have closed down their operations in the area due to this problem.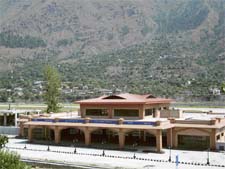 Waiting its turn
Subhash Sharma
The new terminal building of the Kullu-Manali airport at Bhuntar is waiting to be inaugurated. While civil aviation minister Praful Patel carries out his inauguration spree across the country, the Kullu airport patiently waits its turn. Patel has already opened the modernised Mumbai terminal, inaugurated a September 20 Delhi-Kanpur flight and now plans to launch Air India's flight to Kullu on September 30.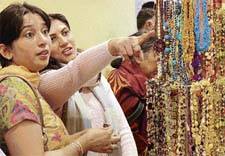 Dazzle-worthy
Pratibha Chauhan
Shopaholics rejoice. For, you can now lay their hands on interesting jewellery, ranging from ethnic and Victorian to trendy tit bits, all under one roof. Teenagers can also go in for belly tattoos and trendy nail art. The opening of Trenz, a jewellery outlet in Shimla, will offer a wide range of affordably priced jewellery to women of all age groups.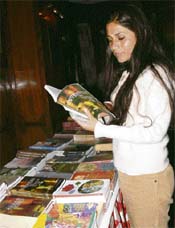 BOOKED: The two simultaneous exhibitions attracted a cross-section
of book lovers in the hill capital
SHIMLA DIARY
Books up for grabs
Rakesh Lohumi
It is quite unusual for the state capital to witness two book exhibitions simultaneously and that too during off-season. However, it happened when the National Book Trust of India (NBT) organised an eight-day exhibition of its publications and the state library in collaboration with the Raja Ram Mohan Rai Library Foundation held a three-day exhibition. The NBT had displayed a wide variety of books in English, Hindi and Urdu. The reasonably priced books attracted a good number of buyers and the maximum sale was recorded was of children books. Manager of the NBT Syed Haider M. Rizvi said the trust was publishing over 800 titles every year out of which about 500 titles catered to children. Some states were making bulk purchases of NBT books under the Sarva Shiksha Abhiyan for school and village libraries as the books were useful for the neo-literates and children.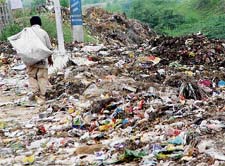 Banned in HP, found in Kangra
All in vain: Polythene bags from Punjab flood neighbouring Himachal areas
Rajiv Mahajan
Three years after polythene bags were banned in the state, these continue to come into the state from neighbouring Punjab. Nurpur and other sub divisions of Kangra that share borders with Punjab are worst-hit and it seems both consumers and vendors don't want to give up polythene. Use of coloured polythene carry bags manufactured from re-cycled plastic were first banned by the Prem Kumar Dhumal government in January 1999 to check indiscriminate throwing of plastic carry bags and to prevent unsanitary condition in the hill state.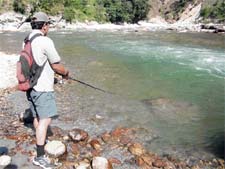 Lacklustre rainbow
Kulwinder Sandhu
The Indo-Norwegian project of rainbow trout farming in Kullu valley that started about 18 years back, had once resulted in successful transfer of technology for developing this high value species and opened new vistas for entrepreneurs to take up farming of rainbow trout to generate employment. But, even as more than 25 progressive farmers are presently engaged in trout farming and they are sending their produce to hotels at Delhi and Mumbai but allegedly nothing new has been done so far to improve the technology so as to increase production. 
Baddi-Barotiwala-Nalagarh's crime graph shoots up
Robbers' paradise?
Ambika Sharma
With a sudden spurt in the robbery incidents in the industrial area of Baddi-Barotiwala-Nalagarh, the police is having a tough time in trying to keep the crime graph low. While, two major incidents of loot have taken place here in the past week, a number of chain-snatching and robbery cases have sent shock waves among the investors.
Toxic death
Scores of dead fish have been seen floating on the surface of Sarsa River at Baddi in Solan, due to release of toxic effluents by industrial units here.
CITIZEN FIRST
Check traffic