BJP: We will oust the Cong
United we win
A sound methodology for distribution of tickets for the ensuing Vidhan Sabha polls would be soon devised to curtail undue factionalism among the aspirants. The decision was arrived at during a two-day training of BJP office bearers held on 6-7 October at Kumarhatti.
vignettes
Memsahibs' Pastime
Ordinary middle-class women put into an extraordinary situation, they sought excitement in hill stations
Memsahibs were magnificent. Memsahibs were awful. They wore voluminous clothes hostile to Indian climate. They wore little to cover their skins. They sauntered sporting broad-rimmed hats protecting their rose-petal cheeks from the alien sun. They roamed about bare headed. They were well behaved.
A poet tries to give a boost to the local dialect by portraying its beauty
Penning down Pahari
His aim is to keep the local literature and the pahari dialect alive. Meet veterinary officer Dr Kushal Katoch, who pens down poems in the local dialect pahari. Dr Katoch, who works as a senior veterinary officer in Himachal's state animal husbandry department, was born in Garh Jamula village near Palampur.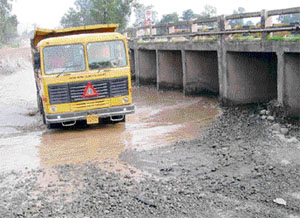 Chinks in the system
Illegal mining continues unabated in & around Baddi despite high court ban
Despite a high court ban on mining in riverbeds, the industrial belt of Baddi-Barotiwala-Nalagarh is facing worst kind of damage from illegal mining operations. What is baffling is that the authorities have accepted the fact that such illegal mining is well beyond their control and hence make little effort to curb it.

Vehicles are forced to use the riverbed after the Chikni Bridge was closed for repairs. — A Tribune photograph

A fight for survival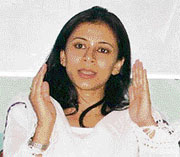 In a crusade against hunger and poverty at the world level, Art of Living and United Nations Millennium Campaign (UNMC) have decided to mobilise over 4 million people to observe 'Stand up and speak out' campaign to draw the world's attention towards this problem on October 17. In this campaign the participants would stand for two-minutes and take a pledge on this day to defeat extreme poverty from the busiest New York's Time Square to smallest schools world over, including those in the remote areas of Himachal Pradesh.
A Tribune photograph
SHIMLA DIARY
Threads of success
The cluster approach being adopted by the government to promote handlooms as a cottage industry has been a big success. This became evident from the products displayed at the 10-day exhibition-cum-buyer weaver interaction, which commenced on October 4.
Rajputs threaten to launch stir if their demands are not met
Voice of Rajputs
The Rajput Kalyan Sabha of the state has criticised the government for not providing compensation to affected land owners, whose lands were vested in favour of the tenants after the implementation of the state's chapter of Land Reforms and Tenancy Act-1974. The Sabha has also raised its voice for provision of adequate job opportunities for the youth and constitution of a welfare board for community development.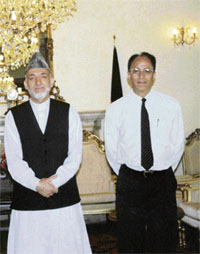 In his own way, Shyam Khanna contributes his bit in Afghanistan's fight for peace
The Afghan Connection
Sitting thousand of miles away, here, he can feel the pain and suffering of the innocent laborious Afghani people as he shares a special bond with the man who is leading the war-ravaged nation on the path to peace and prosperity. Local businessman Shyam Khanna, who shares a three-decade-long friendship with Afghanistan President Hamid Karzai, is confident of a bright future for the country, which has witnessed endless turmoil and bloodshed.



Shyam Khanna with Afghan President Hamid Karzai. — A Tribune photograph
10 visually-impaired children of Dhalli School do state proud, win 19 medals at national athletics meet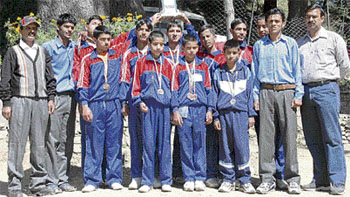 Golden Boys
Being tough and hardy comes naturally to them. It is for this very reason that the 10 visually-impaired children from the Dhalli School were able to excel at the Fourth National Blind Athletics Meet held at Ludhiana.

All Smiles: Students with their medal and trophy. — A Tribune photograph