HP votes
Now, SMS Campaigning
As tribals desert Lahaul-Spiti ahead of the harsh winter, campaigning acquires a new meaning in the valley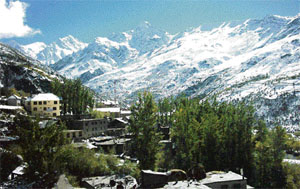 Winter chills in the cold desert of Lahaul-Spiti has made campaigning a dull and drab affair. The very few of the villagers who are still in the valley are being reached via E-camping. The three main contenders for the three Vidhan Sabha seats in the tribal-belt of Lahaul-Spiti-Bharmour and Kinnaur are canvassing through SMS and Internet, mainly in Lahaul-Spiti where over 90 per cent of residents have mobiles. The elections are to be held on November 14. — Tribune photograph

Urmil & Narinder Thakur join forces to fight Cong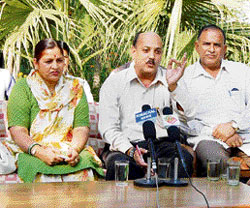 Hand-in-Hand
With the coming together of two rivals, Urmil Thakur and Narinder Thakur, who were opposing each other to claim the legacy of Thakur Jagdev Chand in BJP politics for quite some time, a new combination has emerged in Hamirpur politics. It took everybody by surprise when two members Urmil Thakur and Narinder Thakur, of the families held a joint press conference staking the claim for BJP ticket from Hamirpur Assembly constituency and also resolved to work in unison.
— Tribune photograph
Dear god, S.O.S.
Untrained drivers, irregular service by private operators inconvenience commuters and pose a threat to life
With virtually no check on the private bus drivers, norms and the allotted timetable are being violated flagrantly. The fact that the private buses have been given time, after pulling away Himachal Roadways Transport Corporation (HRTC) buses, this non-compliance of time puts the commuters in trouble.
All eyes on Himalyan run
Aimed at promoting sports and tourism in Shimla, the Great Himalayan Run will be held for the third consecutive year on November 15. Organised by the Department of Youth Services and Sports and the tourism and civil aviation authorities, participants from various parts of the country participate in the marathon event.
vignettes
Coffee, as we like it
If pillars and lintel introduced a new culture in construction in this hill station, then Indian Coffee House (ICH) on the Mall introduced coffee culture. Coffee till then was the drink of the elites served by restaurant like Davico's or those attached to the hotels. The common man's wallet was too thin to afford these suave eateries. Then in a building with exterior of Moorish architectural touch on the Mall purchased from Harjee Bhai, a Parsi, for Rs 85,000 only, ICH arrived in the winter of 1966-67.
Shimla Diary
Kathak demystified
Renowned Kathak dancer Mahua Shankar gave two scintillating performances organised especially for the school students. It was a rare opportunity for the girls of St Thomas School and Auckland House School to see the great artiste perform and learn the finer nuances of the art. During the performance she explained in details the various mudras and the pattern of steps that enabled the students to appreciate this fascinating form of performing art.
Cultural Bonanza
Dharam Prakash Gupta
Hamirpur came alive with the cultural and sports festival, Hamir Utsav. The festival has been a regular feature at the district for the past 25 years now and has created a special niche among the people.

Kulwinder Sandhu
A scintillating performance by lead singer of Silk Route band, Mohit Chauhan, conquered all hearts in the indoor hall of the Tibetan Institute of Performing Arts at McLeodganj on Saturday night.