Saints join in to save Renuka Lake
Saints along with residents of Renuka have joined hands to save Renuka 'tirtha' and submersion of Dadahu–Sangrah road in the dam water. The people have extended their support to the cause of protection of the lake. It is the biggest natural lake of the state, which has been declared a wetland by the union government.
vignettes
by Shriniwas Joshi
Annandale or Annadale?
| | |
| --- | --- |
| The 'picturesque piece of ground, charmingly adapted for recreation, and affording a pleasant change from the perpetual slopes above' about a quarter of a mile in circumference and surrounded by splendid deodars, the ground-area extended by cutting into the hillside during Dufferin's viceroyalty (1884-88), was first named Annandale by East Indian United Service Journal in 1834. Quite a few officers in Indian Services were from a small Annandale valley in Dumfriesshire in Scotland, they saw its replica here. | A view of Annadale ground in Shimla. |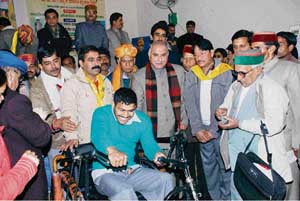 Differently-abled get new lease of life
For over 150 physically challenged persons, the free medical camp organised by the Narayan Seva Sansthan (NSS), a Udaipur-based trust came as a new harbinger of hope. These differently-abled persons, including children who have physical deformities due to polio or other congenital defects have been selected for free treatment and surgeries.

PWD minister Gulab Singh Thakur (centre) with NSS trust members and a differently-abled person, who was given a tricycle at a camp in Mandi.
Panchayats chip in for AIDS awareness


The district panchayat department has taken a new initiative to rope in elected members of panchayati raj institutions (PRI's) to create AIDS awareness among the people. In this context the district panchayat department held camps of panchayat secretaries, presidents and vice-presidents of panchayats, chairman and vice-chairman of the Block Development Committees (BDCs) and other elected members from January10 to 21.
Capt Shvet lived up to his oath
Duty came first and foremost for Capt Shvet Gupta, a local youth, who made a supreme sacrifice by trying to save other lives on the ship near Port Blair, without bothering for his own.
shimla diary
It's 'balle balle' for skiing enthusiasts
The snowfall has been a boon for skiing enthusiasts this winter. The state winter games association was able to host the national junior and sub-junior championships at the Dhomli slopes in Narkanda due to timely and adequate snowfall.