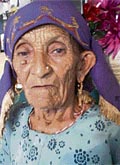 Saving environment was her passion
Courage and honesty were the qualities that differentiated Kinkri Devi from other women of the area. Because of these qualities, she became known as an environment activist and social worker of international repute. This illiterate woman, who hailed from a Scheduled Caste family of the Renuka area, waged a lone battle against the powerful mining mafia operating in the area. She fought to save environment by putting a curb on illegal and unscientific mining in the area.
Substandard drugs flourish, courtesy docs
The sale of substandard drugs has posed a serious threat to human health not only in Kangra district but also in the entire state as the state government had failed to come out with stringent legislation to deal with this menace. In the absence of any check from the state government this trade has flourished over the past five years.
SHIMLA DIARY
'White hopes' dashed to the ground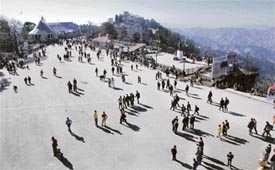 The weather god once again disappointed the throng of winter revellers that descended on the Queen of Hills to experience the thrill of snowfall. Until two decades ago, a white Christmas and a white New Year was the norm. However, with the once-green hills turning into a veritable concrete jungle, snow has been eluding the famous hill resort year after year. This year, hopes were raised when the region had snow in the first half of December after more than 15 years.
HYDEL PROJECTS
Harbingers of progress in Chamba
Even till as late as the seventies, people in far-flung corners of Chamba district in Himachal Pradesh lived in a world almost devoid of any modern facilities. Chruah ravine of the district was the most backward area and it was quite difficult to travel the entire Churah tehsil, including Salooni (now tehsil), stretching for several miles due to absence of a road network.
Literary genius to the core
Durga Dutt Shastri, a doyen of Sanskrit language who wrote 16 books, passed away on December 29. Ninety-one-year Shastri was born in village Naleti in Dehra subdivision of Kangra district on August 28, 1917.
vignettes
The muse rises in Shimla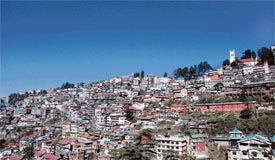 Deuteronomy, in the early 19th century, wrote in Views of Simla, a verse on the town, "A good land, / A land of brooks of water, / of fountains and depths that spring out of valleys and hills: / A land of wheat and barley, / and vines, and fig trees, and pomegranates; / a land of olive oil and honey." Most of the adornments are missing in the present day Shimla, but it is true that when the clouds come down the sky and caress you, when snow flakes fondle your face, when greenery below and azure sky above greets you, when the bracing sunlight gives you the warmth on a cold day, the muse rises in you.
Cabinet Formation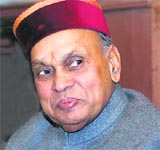 Dhumal faces a herculean task
Having already taken the stand that the BJP would not appoint chief parliamentary secretaries (CPS) and PS, it is the Cabinet formation which is proving to be the most difficult task for chief minister P.K. Dhumal for the moment. Back from Delhi, Dhumal is expected to expand his Cabinet on December 9. With a large number of senior party men, many of whom have remained ministers in the past having won the elections, accommodating everyone would be a near impossible task. P.K. Dhumal
Farmers write to PM, seek soft loans
Farmers and fruit growers of lower Kangra district have submitted a representation to Prime Minister Manmohan Singh demanding soft loans on four per cent per annum interest to the farmers and growers in Himachal Pradesh.
Academy honours artist
The Birla Academy of Art and Culture, Kolkata, a famous institution of India, recently honoured Vijay Sharma for his contributions to pahari paintings on the concluding day of a weeklong workshop in Kolkata, earlier this month.
Death mourned
The Himachal Pradesh State Journalists Federation, Bilaspur, has expressed shock and grief over the death of former Himachal director of public relations Hemender Lal Vaidya and expressed sympathy with the bereaved family.