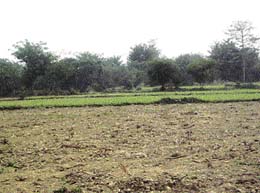 Surrounded by water, facing a drought
Despite being surrounded by water, residents of Kuthera are facing one of the worst droughts in three decades. Agriculture is totally dependent on rainfall here as residents of the tiny island in Pong Dam are not allowed to use water from the dam for irrigation. All 35 families on the island cultivate jowar, maize, wheat, vegetables and fodder.
BJP fields all new faces
The Bharatiya Janata Party (BJP) has decided to field fresh faces against Congress stalwarts in all five constituencies. In Shillai constituency, old-hand Jagat Singh Negi, who has been active in opposition politics for 30 years, is not in the fray due to health reasons. Newcomer Baldev Tomar may have surprised everybody by bagging the BJP ticket, but he faces opposition from within the party.
Sukh Ram ke dukh


Bids farewell to poll politics, campaigns for son instead; vows to serve
party till last breath.
Was Sukh Ram's "tearful farewell to electoral politics" a publicity stunt? When the founder of the now defunct Himachal Vikas Congress (HVC) burst into tears at a recent workers' meet in his hometown of Kotli near Mandi, his detractors declared those as crocodile tears.
Promises & lies
Civil hospital & 137-year-old church in Kotgarh in dilapidated state
Crying for attention
The Kotgarh civil hospital is presently in a sorry state of affairs due to lack of adequate facilities and insufficient staff. While there are just two doctors to cater to the patients, there is no ultrasound facility at the hospital to meet their needs. It also does not have a single gynecologist.
Heritage ignored
Established in 1870 and still standing tall in Kotgarh locality, the St Mary's Church is now starved of funds and crying for attention. While the majority of the Christian community in the region has migrated abroad, the 137-year-old Church reflects poorly on the heritage.
HP Votes
Grapewine knew it all
While the major political parties were still in the process of finalising the party candidates for the ensuing assembly elections in the remaining 65 constituencies for the second phase of polling, few party leaders, rumour mongers, highly placed sources and even few media persons were having a field day by making announcements of clearance of party tickets.
Vignettes
Nathu halwai turns 100
A century of ruling over the hearts, and stomachs, of Shimla's people & tourists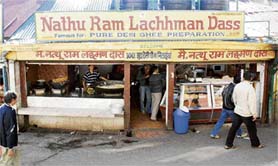 The only reference of sweetmeats seller in the lower bazaar of Shimla, prior to the year 1900, available to the people of this town is discouraging, rather repulsive. It was published in The New York Times of February 18, 1872 under the heading The Principal Street of Simla. Describing a halwai shop, it said, "The floor is honeycombed with numerous little clay ovens and there will be no little danger of being precipitated into a caldron of liquid toffee.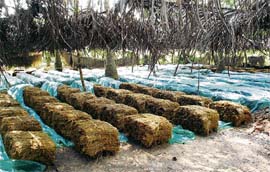 Cultivating Success
The city of Solan has being accredited as the mushroom city of the country, but sadly enough it's cultivation in the town and the surrounding areas is confined to a mere handful farmers. The activity if taken on a commercial scale can bring in huge gains for mushroom growers. A ray of hope in this context is the success of the mushroom growers in Orissa.
All hopes on weather gods
Only favourable weather conditions can ensure a good ice skating season in Shimla this year
Major changes in climatic conditions of Shimla over the past three decades has both affected the snowfall and severely cut down the duration of the ice skating season here.
Bond of love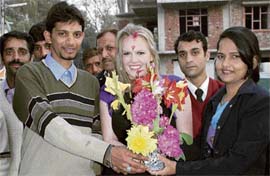 An American girl embraces the rich, strong and colourful Indian culture by marrying a local Hindu boy While on one hand large number of Indian youths are getting attracted towards western culture and adopting it, on the other there are many westerners who are so influenced by our culture that they are adopting our traditions readily.

Ani and Karam Chand after their wedding.
Tribune photo

Pen Power
His article has been chosen amongst the best 100 written by school children from all over the country. Manotosh Thakur, a class ten student of Dayanand Public School is on cloud nine as his expression on the topic- Ten Ways To Change The World made him win accolades in the national level competition.
Organised loot shocks Baddi
Due to meagre remuneration and abject lack of training in handling security arrangements the security guards are now conniving with miscreants to carry out thefts and robberies in the industrial areas of Baddi-Barotiwala-Nalagarh.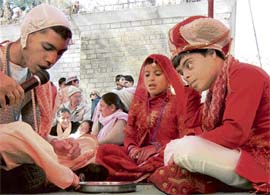 Shimla Diary
Children's day out
For these 100 children with special needs, the picnic and exposure trip organised by Sarv Shiksha Abhiyan (SSA) at the local Sankat Mochan temple was a real treat.    Children from various voluntary organisations, including Abhi, Udaan, Pehchan, Gramin Vikas Avam Manav Kalyan Samiti, day care centre, Tutu and Prerna, had fun playing games.
Not a welcome change
Attempt to rename Renuka Fair hurts sentiments of residents, politicians
Renuka Fair, this year left several controversies including efforts to change the ancient name of Renuka Fair allegedly by an organisation based in Delhi, which invited strong opposition from the social and political organisations and residents of the area.