It's raining complaints in Kangra
Kangra district saw a host of complaints related to the recent polls. One FIR has been registered and many other complaints have been noted in the daily dairy register of respective police stations in the district. So far, more than 45 complaints have been received by the district administration and more are expected.


Needed: A policy on disaster management
Albeit most of the districts in Himachal are prone to natural disasters such as earthquakes, landslides, avalanches, cloudbursts and floods, the
state government still lacks an effective disaster management policy to protect life and
public property.


File photos
Vignettes
Kalka-Shimla track record
One of the marvels of the world, this rail route completed in 1903 has a host of stories attached with its making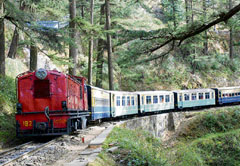 Kalka-Shimla Railway (KSR) is one of the most surveyed lines. The Delhi Gazette of 1847 with a proposed sketch route of KSR reads, "We might then see these cooler regions become the permanent seat of a government daily invigorated by a temperature adapted to refresh an European constitution and keep the mental powers in a state of health alike, beneficial both to the rulers and the ruled." File photo
Voices against regional bias
The issue of regional discrimination has often been raised during the assembly elections, and by a few other leaders of the lower regions at other times. There is a feeling among people that the issue of balanced regional development has not been taken up seriously.
Crying for attention
The four-century-old town fails to find a place on the tourist map of Himachal even after
60 years of Independence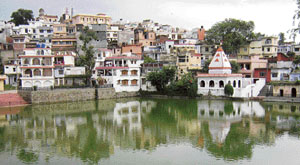 Four-century-old Nahan, which is among the oldest six towns of Himachal Pradesh, is still out of the tourism map of the state. Residents here claim that this town has everything nature has to offer — a number of ancient temples, water bodies, historical buildings, a fort and other places of tourist interest. However, due to official apathy
most of these places are in a dilapidated condition. A Tribune photograph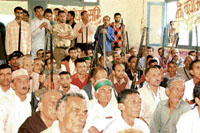 Simian snag
A glimmer of hope for farmers: Poll manifestos of political parties promise a check on the growing monkey menace
There is a glimmer of hope in the form of election manifestos of the main political parties for thousands of farmers in the state, who are suffering huge damages due to the havoc being wreaked by monkeys, wild boars and other stray animals in various parts of the state.
Rajgarh farmers want licences to shoot monkeys. — A Tribune photograph
Shimla Diary
Chopper-envy
It seems to be a perfect case of neighbours envy, owner's pride. The powerful Congressman of Indira Gandhi days, R.K. Dhawan, AICC general secretary and incharge of party affairs in Himachal, seems to have made his BJP counterpart, Satya Pal Jain jealous.