Miss Tibet was told to either wear a 'Miss Tibet-China' sash or pull out of a pageant in Malaysia
Beauty queen slams Chinese govt
Miss Tibet 2006 Tsering Chungtak, who withdrew from the Miss Tourism Pageant held in Malaysia last week, has lashed out at the Chinese government for "violating rights of Tibetan people" after she was asked to wear a sash labelled Miss Tibet-China during the competition or withdraw.
Virbhadra-Dhumal slugfest in full swing
Electioneering often results in the game of one-upmanship, so the case of present chief minister of Himachal Virbhadra Singh and former chief minister and BJP leader Prem Kumar Dhumal is hardly surprising. Both the leaders do not miss out a chance to score a point over the other during the election rallies, albeit issues discussed by them are of immense public interest.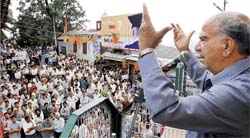 HP Votes
As campaigning enters the last phase, voters find themselves caught up in a fierce barrage of promises, claims & counter-claims
Promises galore, little later
Election fever has heated up the chilly weather conditions in the hills of Himachal Pradesh, which is going to polls on December 19. Albeit BJP, CM, CPI and BSP have come out with their respective election manifestos, the Congress is yet to officially release the same.
With

nominees of both BJP and Congress possessing assets worth several crores, the fight among political parties appear to have been tilted away from the problems of the common man and shifted towards material gains.

BJP's Dr Rajiv Bindal woos women voters in Solan. The two-time MLA and his wife have land, luxury cars and jewellery besides bank accounts of lakhs.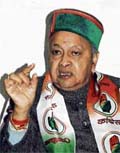 Bold Talk
'My govt will complete its term'
Himachal Pradesh chief minister Virbhadra Singh, who is in the midst of an intense election campaign and has been sour about the decision of the Election Commission of India to hold early polls, says there is no legal and constitutional hitch in this. In an exclusive interview with The Tribune he sounded confident that his government would complete its full term till March 9, 2008, and discussed various other issues.
HP Votes
Now, missives in campaigns
The Election Commission has forced political parties to come out with novel methods of campaigning. Thanks to the strict vigil being maintained by the Commission on conventional styles, including use of loud speakers, hoardings and advertisements in print and electronic media.



BSP posters, banners and pamphlets dot Solan.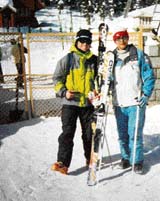 shimla Diary
Skiing into the world of glory
It was at the tender age of two that she started skiing in the slopes near her house in Narkanda. At the age of 14 today, Rashael is totally into the adventure sport and is participating in events within and outside India. A student of class IX at the local Convent of Jesus and Mary, she spends her entire winter holidays skiing and aspiring to make a name for herself in the national and international level.
Individual agendas ruling the roost?
Individual agenda and not that of the party, being followed by political bigwigs in Himachal, has left many party workers nonplussed, who term it as just an attempt to enter the corridors of power through fair means or foul.
Rekindling the flame of art
A five-day workshop was organised for the rural school students to rekindle the flame of art on the eve of the 106th birth anniversary of legendry artist Sobha Singh in the art gallery of Andretta, near Palampur, recently.