Campaigning at what cost?
Campaigning in the 65 non-tribal constituencies in Himachal ended on Monday evening, with all political parties and individual candidates having given their best shot. However, even amidst all the hectic activities surrounding a poll campaign one could barely miss out on the mindless spending of the taxpayers' money — something that could have been used for upliftment of the masses in general.


A Tribune photograph
Sabha alleges neglect of Sirmour
Several times in the past, residents of district Sirmour have cried foul over the apathetic attitude of the state government as far as ushering in developmental works in the district was concerned. Some problems of the residents here have been hanging fire since independence!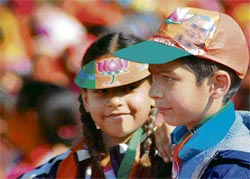 HATS OFF: What's a little cold when one is allowed to skip school, don the party hat and be part of the heated election scene? These children were spotted having fun in Shimla on poll eve.
STEP OUT
Conquest of fear
India's foremost woman skydiver was once so terrified she nearly crashed the plane!
MANY youngsters say they would like to try a tough adventure sport but "feel scared". Well, I would like to share with you the fascinating story of how skydiver Rachel Thomas conquered fear.
Style made affordable
Anyone would love to dress in the top international brands and when they come at an affordable price then why not be chic and stylish. The opening of the second Style Check store in the region offers an opportunity to the label conscious to pick up Gucci, Ralph Lauren, GAP, Tommy Hilfiger, Armani and Diesel garments at almost half the price. Neatly stacked with chic western outfits, the outlet has separate sections for men, women and kids.
vignettes
Shimla theatre down the ages
Indian Peoples' Theatre Association is credited with staging Kursi at Kalibari Hall in Shimla, immediately after independence. Directed by Khwaja Ahmad Abbas, Bhishm Sahni had acted in it. Incidentally, Bhism wrote his last play Alamgir (on Aurangzeb) as a fellow at the Indian Institute of Advanced Studies in Shimla in 1995-96.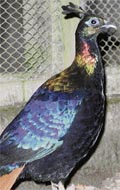 Preserving priceless pheasants
The Himachal Pradesh wildlife department is all set to expand and strengthen its ongoing programme for conservation and breeding of highly endangered pheasants. Besides initiating captive breeding of two more important endangered species — the Monal and the pure blood Red Jungle fowl — the department has plans to remodel its aviaries at Sarahan and Chail, where captive breeding of Western Tragopan and the Cheer pheasant will be carried out.
Common Man's Man
Neelmani Upadhayay, who died after suffering a massive heart attack last fortnight in New Delhi, was a great Sanskrit scholar, proponent of Aanandvad of Bhagvad Gita, an educationist, a bi-linguist, traditionalist and a humanist — all rolled into one.
Karyana shops dying slow death
There is a marked decrease in the sales of karyana shops in Kangra district since the last few days and shopkeepers have attributed it to the subsidy on ration being given by the state government through fair price shops.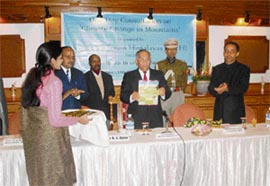 shimla Diary
Heading for doom?
In the years to come, there will be more Pareechu lakes and all major rivers originating from the Himalayas will become increasingly flood-prone. Reason: Melting of glaciers, thanks to global warming! Rivers like Sutlej and Ganges will experience frequent floods during the next 15 to 20 years and the discharge will become irregular due to erratic patterns of precipitation.

Experts talk on latest in biotechnology
A week-long course on "Current Inclinations in Bio-technology" organised by NIT, Hamirpur, from December 11 onwards was a special occasion for participants and the faculty as they got the opportunity to hear international and national experts on latest trends and findings in this field.
Reviving natural dyes
Realising that chemical colours are slowly but surely elbowing out the wonderful tradition of natural dyes in the state, forcing many communities of traditional weavers and dyers into unemployment, serious efforts have been initiated in Himachal Pradesh to revive the same.
Image makeover
Faced with the challenge of maintaining good media relations in the wake of a virtual media revolution, with scores of dailies, both national and regional, as well as electronic channels coming up, the police headquarters (PHQ) in the state have woken up and decided to spruce up their image.
Honey Delight
Gobble up junk food without guilt as all these are prepared in healthy honey
IF you think that junk food like burgers, pies and popcorn is all too harmful think again. There is a place where all eatables, be it muffins, burgers or popcorns have a scoop of pure honey, considered most healthy for its many medicinal properties.  Honey Hut, the latest eating joint in town has been a big hit from day one. The joint, a venture of Khadi Gramudyog, is selling pure honey flavoured with medicinal and herbal plants. S. Chandan