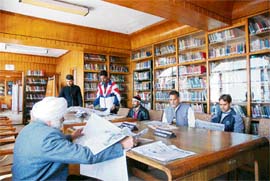 vignettes
Library with a rich history
Cicero had once said: "To add a library to a house is to give that house a soul." The Himachal Pradesh state secretariat got its soul along with its formation in 1948, when the foreign office building, renamed 'Himachal Dham' (present Akashvani Bhawan), housed the state secretariat. The library was shifted to the assembly secretariat in 1952 with the formation of the state legislature, to convey the message to legislators that 'books are either dreams or swords, you can cut or you can drug with words.'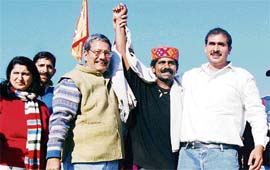 Scaling new heights
Unbelievable ! This is how achievements of Mali Mastan Babu can at best be described. Not only can he complete a run of 42.175 kilometres in around five hours, Mastan has scaled all highest peaks of the seven continents of the world in a record 172 days. In addition to many awards, this man from Gandhijansangam village in Nellore district of Andhra Pradesh has his name in the Limca Book of Records also.
STEP OUT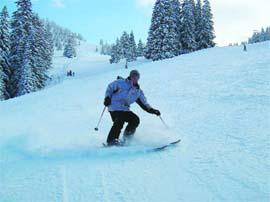 You may fall but mastering the ski is just a matter of time. Just head to Manali!
Meandering through
snowy slopes
Apart from Goa, the other favourite holiday destination for most people here is Manali. So, if you are heading there do try to get in a spot of skiing among all your other activities. Now, if you are getting acquainted with skis for the first time in your life, don't blame me every time you end up sprawled on the slope on your back or face down in the snow! You cannot learn to ski without taking falls.
shimla diary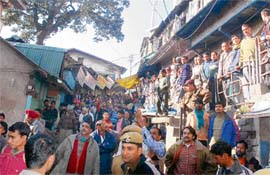 Fire threat looms large
Unauthorised extensions by shopkeepers in the narrow and crowded Lower Bazaar area of Shimla have become a major cause of worry for fire control authorities here. Although incidents of fire during winter months is on a higher side, this year seems to be exceptionally bad and there is little that authorities can do to effectively control any outbreak. The damage due to the fire that broke out last week in Subzi Mandi and in a travel agency office in Fingask Estate area of the town.
Vegetative measures
Himachal Pradesh is perhaps the first state in the country to take up the initiative of combating climate change at the micro-level. Authorities here have decided to develop suitable eco-sensitive models of forest plantation for various agro-climatic zones, which will not only help meet requirements of the local people for fuelwood and fodder but also help conserve water.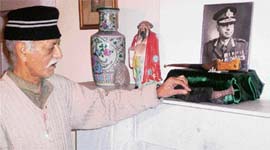 Soldier to the core
A decorated World War II fighter, the first Indian officer to command the Gorkha Rifles and get a Military Cross — Major General Anant Singh Pathania (retd) breathed his last in Dharamsala on December 19, 2007. He was 95 years old. Anant Singh is survived by his octogenarian wife, three sons and two daughters. Son of Lt. Col. Raghubir Singh Pathania, Anant Singh was born on May 25, 1913, at village Re in Kangra district of Punjab (now Himachal Pradesh).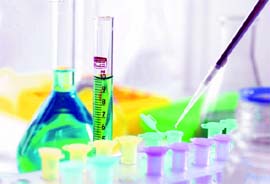 Reprieve for pharma industry
The multi-crore pharmaceutical industry in Himachal has heaved a sigh of relief with the Madras High Court ordering a stay on the manufacture of hundreds of Fixed Dose Combinations (FDCs). The Drug Controller General of India (DGCI) had earlier withdrawn permission for those combinations which had been accorded permission by the state governments. Since these combinations had not been permitted by the DGCI, their manufacturing had been adversely hit.
Virender Mohan Trehan was recently awarded President's gold medal for his contribution towards development of technology in the country
Technology, his forte
His lifetime efforts have finally borne fruit. Virender Mohan Trehan, chairman of Parwanoo-based Mekaster Group, has been conferred with the Presidential Gold Medal recently. Trehan has been honoured by the Indian Science Congress Association (ISCA) for the key role played by him in promoting latest technology.


Trehan receiving the award from Prime Minister Manmohan Singh.
Bamboo project hangs fire
Solan forest division's ambitious project to regenerate the bamboo forest on 1267 hectares of land has failed to take-off for want of an approval from authorities concerned. The project was planned after Dharampur forest range, under the division covering this area, witnessed flowering on a large scale.