Is govt practising what it preaches?
Even after Chief Minister Prem Kumar Dhumal asked his party leaders/workers and the official machinery not to make wasteful expenditure, the Kangra district administration issued advertisements from the funds of various temple trusts in the newspapers, besides, making other arrangements to welcome the new government on its arrival for the winter session of the state legislative assembly held at Dharamsala, last week.
vignettes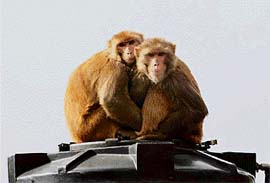 Gleesome fleasome bandar
The English dictionary has many words of Hindustani origin but bandar (monkey) frequently used by Nobel Laureate Rudyard Kipling is missing. Khushwant Singh in an article, The Hills of Deodar written in 1950s, speaks of Rudyard drinking the whole night and while staggering homewards on a fragrant morning found 'Tara Devi softly shaking', he met a bandar, who was no less poetic than him. Rudyard wondered,
Kayakalp aims at arresting ageing process
Kayakalp, a naturopathy centre being run by the Vivekanand Medical Research Trust, has proved a boon for residents of the northern region.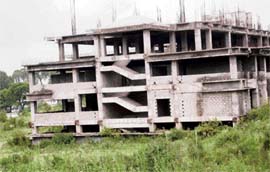 Financial crunch hits Vivekanand trust work
The construction of Rs 80-crore Vivekanand Medical College and Research Trust (VMRT) being set up here has come to a standstill for wants of funds. The trust has spent over Rs 30 crore on the project so far. However, the hospital block, the nursing hostel, residential blocks and the guesthouse have been left half completed.

An incomplete building of the Vivekanand Medical Education and Research Trust. This project has been delayed for want of funds. — Photo by writer
Bhavan kids re-invent chullah
An energy saver chulha devised by students of Bhavan Vidyalaya, Panchkula, will prove useful for the people living at high altitude, who use wood as fuel for cooking. Simultaneously, the chullah, which is a modified version of traditional chullah, can be used as a geyser and roaster.
Crime against women on rise
Crime against the 'fair sex' was on the rise in the hill state of Himachal Pradesh that was otherwise known for its peaceful, cool and serene environment.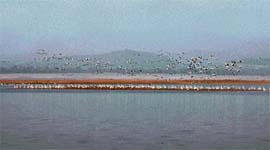 That migrant cackle again
Like every year migratory birds have thronged the lakes and have settled in dozens in the state, wildlife experts have said. Not only is this a source of attraction for tourists and visitors, but a large number of ornithologists also visit the lakes to study these migratory birds during these months.
2,500 mahila morcha activists for Delhi rally
Over 2,500 activists of the BJP Mahila Morcha from the state will participate in the rally being organised in front of Parliament to press the demand for 33 reservation for women in the Lok Sabha and state legislatures.
Floriculture to be promoted
Horticulture minister Narinder Bragta said today cultivation of medicinal plants and floriculture will be promoted on a commercial scale to help maximise returns from the small land holdings.
SHIMLA DIARY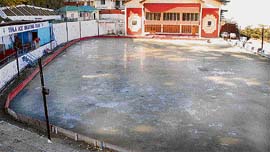 No ice ice, baby
The weather God seems to be unhappy with the "queen of hills" this winter. It spread an impeccable white mantle over all hill ranges, which normally experience snow during this period but left the erstwhile British summer capital high and dry, much to the disappointment of the hoteliers, taxi operators and all those connected with the tourist trade.
Meet the mastermind of TV thrillers
The producer and director of the longest running fiction TV serial CID, B. P. Singh, has been inspired by the works of Vijay Anand, who gave suspense thrillers like Teesari Manzil and Jewel Thief.
Kinnaur Special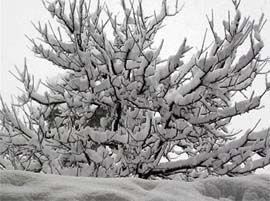 In Kinnaur district, snowfall comes without notice and in big quantities. Often it chooses to stay on and on. In some villages like Chango, Nako, Kunnu and Charang in Pooh subdivision, it is not uncommon to see icicles on beard and moustaches of Kinnauris, much to children's delight... Text and photos by Kulwinder Sandhu
On The Health Front
Local MLA, their only hope
The induction of Dr Rajiv Bindal as the health minister in the state cabinet has lit hopes of Solan district as it will now get due importance while building the health infrastructure. Since the district had failed to attract facilities in the healthcare arena, the people were now pinning their hopes on their local MLA.
Himachali Ramkatha on VCD soon
Though Ramlila is the most popular form of viewing the epic of Lord Ram, there are thousands of oral narratives in different parts of the country, which tell the story in local expressions. Himachal Pradesh, which is also referred to as the "Dev Bhumi," has centuries-old traditions concerning Ramkatha.
Revival of Nahan Foundry top priority: Kush Parmar
Congress MLA from Nahan Kush Parmar said that he was committed to all-round development of the constituency. Addressed his first press conference after his election as an MLA, he said announced that the over 100-year-old Nahan foundry would be revived to open new employment avenues for the unemployed youth of this town.