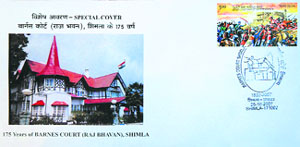 vignettes
Parking place for portraits
George Ade thinks that a stamp is a parking place for portraits of bygone personalities. The policy of the International Postal Union is that, a stamp cannot have a living person on it; it has to be a person who is dead.
shimla diary
Catch me, get Rs 400


The state government has come out with a new solution to combat monkey menace and provide employment to the youth.
The 'monkey business' could well become an attractive source of earning for the youth in the state, if the scheme announced by Chief Minister P.K. Dhumal takes a practical shape.
Imported varieties will help hop production go up
With the introduction of the imported high yielding and aromatic varieties of hops from the USA, the production is now likely to go up in the tribal district of Lahaul Spiti, which is the lone area of the country, where hops are being cultivated.
Flowers are the way to go, but first equip farmers
Diversion from traditional agriculture to floriculture has of late emerged as an attractive proposition for the farmers of the state, but certain inherent constraints are holding them back from exploiting its full potential.