Solan Panchayat nattiest
Gets Best Sanitation Award
It was the firm resolve of the villagers of the Nauni-Majgoan Panchayat led by pradhan Baldev Singh, which has transformed this rural habitation into a total sanitation- cluster today. This panchayat has not only bagged the national award for total sanitation, but the pioneering efforts of their pradhan Baldev Singh has led him in getting a life time achievement award by a social organisation, Nepal-India Dalit Friendship Organisation at Kathmandu recently.

Man with magic fingers
Abhishek Jain from Goraya village in Punjab began fiddling with the keyboard of an old typewriter at the tender age of seven. He became the state champion in speed accurate typing at the age of 10 and a national champion at the age of 12 in 1987 and 1989 respectively. Abhishek Jain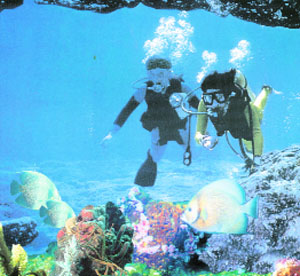 STEP OUT
Yana Banerjee-Bey
Diving into the depths
Now is a nice time for adventure activities in the sea. Not only will you get a respite from the cold in North India, but the tourist hordes that descend on beaches for Christmas-New Year and mid-winter holidays have thinned and adventure tour operators can give you more slots. Room rates are also lower, and shops and restaurants less crowded! Diving is a hardcore adventure sport that is very rewarding because it takes you into a world as different from ours as outer space!


Eco-tourism will boost employment
Kinnaur is one of the most scenic but a less known district of the hill state of Himachal Pradesh situated on the Indo-Tibetan border and mainly inhabited along the mighty Sutlej. The economy of this district like other districts of the state is mainly dependent on horticulture and need-based agriculture.



Four govt-aided colleges reeling under financial crunch
Four '95 per cent government-aided' colleges are reeling under an acute financial crisis for the past one year as these colleges have not received a single instalment out of the pending Rs 5.64 crore due from the state government under the grant-in-aid rules for the current financial ending on March 31.
Vignettes
Kitchener of Khartoum in Shimla
Posters, till 1914, were used as commercial tools. Kitchener's poster designed by Alfred Leete during World War I with the slogan —'Your country needs you'— was the beginning of creating sense of a common goal, building morale in wartime and encouraging young men to enlist in the military.
Shimla Diary
Cong loss is BJP's, too
There are many BJP MLAs, who are now cursing their own party's stand on moving the high court against the appointment of chief parliamentary secretaries (CPS) and parliamentary secretaries (PS) during the Congress regime. "Had it not been for the stand many of us too could have got the opportunity of serving in the government, but unfortunately today we feel we could have avoided this stand," said an MLA.


It doesn't snow like the good old days
Every winter residents and tourists eagerly await snowfall even though it brings along both cheers and miseries. Indeed, it has its own charm as it transforms the landscape dramatically. The snow weaves its own magic as the soft feather–like flakes deposit on trees, bushes, sloping rooftops, power lines, roadside railings, terraced fields and on everything around. It virtually transforms the landscape into a fairyland.


Tourists enjoy snowfall in Shimla.
They go by celestial navigation
Ducks and geese constitute about 85 per cent of population of the migratory species
The Pong Dam and its surrounding areas these days are home to more than 96,000 birds, including a large number of migratory. Most of these have winged their way to the cool environs of Kangra district by covering thousands of miles from trans- Himalayan region.
Bar-headed geese, winter migrants, take flight at Pong Dam wetlands.
Chintpurni Temple Offerings Skyrocket
Ban on pujaris in garbh griha a boon
The decision of the Chintpurni Temple Trust management to ban the entry of hereditary pujaris inside the temple (garbh griha) in November last had proved to be a boon for the temple management as it has led to the increase in the offerings (by Rs 40 lakh) made in the temple in November and Rs 28 lakh in December.
'Jukaru' in pangwali means to greet and wish the well-being of one another; says Geet Singh Thakur, a resident of Pangi. 'Jukaru' is the most important festival of pangwalas in the snowy tribal valley of Pangi in Chamba district. Jukaru festival begins on the next day of 'amavas' at the fag-end of January or early February and continues for consecutive 15 days.

LIVING TRADITION: An old man relaxes with a traditional hukka during the Jukaro festival in the Pangi valley