Study loans a boon for poor students
The interest-free study loan scheme launched by the Himachal Pradesh Scheduled Castes and Scheduled Tribes Development Corporation has yielded encouraging results. It has proved a 'godsend' for the poor but intelligent students, enabling them to find suitable job opportunities.
Punish them: Saurabh's family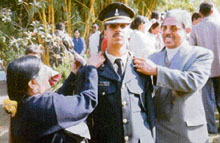 Dr N. K. Kalia, father of martyr Captain Saurabh Kalia, who died fighting for the country in the Kargil War, seven years ago, has been moving from pillar to post and has approached several national and international organisations to pressurise Pakistan to identify, book and punish those who tortured him brutally, as they kept him in captivity for three weeks.

A file photograph of Capt Saurabh Kalia during the passing-out prade at the IMA, Dehra Dun. — A Tribune photograph
Organic manure from mushroom abstract
Himalaya International Ltd of Paonta valley has a plan to contribute in a big way in the development of agriculture sector in the valley. The export oriented company started its business in 1992 in Paonta valley by exporting mushrooms of international standard in frozen conditions to the USA.

Blakey continues to live in hearts of destitute kids
Parents and friends of late Michael Blakey, a British charity volunteer, had raised a sum of 22,585.87 pounds in UK for setting up a centre for destitute children here at Dharamsala to fulfill their son's dream.


A file photo of Michael Blakey sitting with a polio-affected child in Dharamsala. — A Tribune photograph
shimla diary
Is govt suffering from inquiry mania?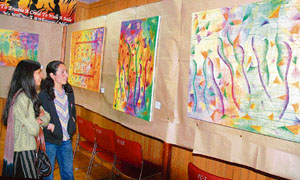 With the BJP regime ordering probe into decisions taken by the previous Congress regime every now and then, it is literally raining inquiries with complete 'inquiry mania' hitting the state these days.




A view of a painting exhibition at the Rotary Town Hall in Shimla. — Photo by S. Chandan

vignettes
Himalayan Brahmo Samaj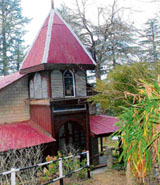 Walking towards the Vidhan Sabha in Shimla, one finds huge deodars and green patches of land on the left and right by the side of Gorton Castle that houses the accountant-general's office. The patch on the left is in safe hands of the central government but that on the right, adjacent to the ugly, monstrous structure of a newly built hotel, is thankfully with the Himalayan Brahmo Samaj Trust (HBST) that has not succumbed to the 'filthy lucre' and is maintaining it as it was in the year 1886, when the Brahmo Samaj temple was consecrated here.

The oldest Brahmo Samaj temple in Shimla. — Photo by S. Chandan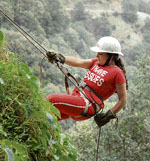 STEP OUT
Bee safe
Doing an outdoor adventure sport often involves exposure to natural hazards such as insect stings and bites that are far more dangerous than the actual activity. Low-altitude rock climbing, trekking, hiking and camping are activities during which you might come across bees and snakes.


Winged attackers and reptilian passers-by are hazards
of outdoor adventure.

CITIZEN FIRST
Apple dues


Readers, write in