Mini Tel Aviv
Shalom banners, Hebrew indications, yiddish chitter-chatter, kosher cuisine, reggae, pop, moonlight parties and Smoking Joes . . . the pattern repeats itself in this hamlet of Dharamsala.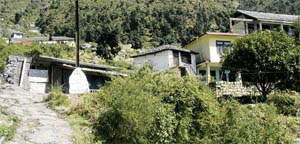 After landing in this village, one feels being on a foreign land. Israeli and continental cuisines are served here in the restaurants are and the clocks in the local PCO's show the time in Tel Aviv. Solicitations in Hebrew script entice customers into shops selling statues of Tibetan Buddhist deities.
A panaromic view of Dharamkot village. — Photo by the writer
Threat to Saurabh Van Vihar
Despite the ban imposed by the state government, the reckless and unscientific mining in Neugal river is going on unchecked. It has posed serious threat to the existence of famous tourist resort Saurabh Van Vihar, built on the right bank of Neugal river at Bundla, 3 km from Palampur. Besides, the newly constructed bridge is also in danger because of the reckless mining.
vignettes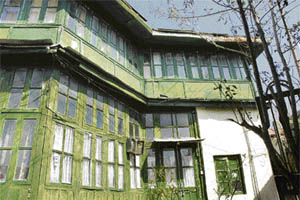 Modern voice of India's genius
Nirmal Verma, the Hindi author having amazing understanding of the cultural roots of India, was the acclaimed modern voice of its genius. He was born in Shimla on April 3, 1929 to Nand Kumar Verma and Chakko Devi in the first floor of Bhajji House at Kaithu (see photograph).

Bhajji House at Kaithu in Shimla. — Photo by S. Chandan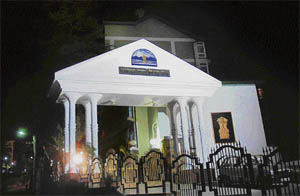 shimla diary
Vidhan Sabha losing sheen
With another Vidhan Sabha complex coming up at Dharamsala, the historic state assembly building of the British era here has lost some of its importance. It was for the first time in the history of the state that the first session of the new assembly was held outside the state capital at Dharamsala.

A view of illuminated Vidhan Sabha in Shimla. — Photo by S. Chandan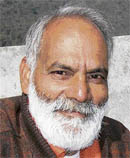 Mumbai is open to everyone
Himachali writer yet to come to terms with Raj's campaign
Supreme Court's recent verdict pulling up Raj Thakre and his goons of the Maharashtra Navnirman Sena came as a big relief for the migrants from the cowbelt and others from North India. But small-time film script and screenplay writers, who have made a beeline for the mad bad world of Mumbai dreaming to make it big on the silver screen of Bollywood have yet to come to terms with Thakre's "anti-migrants hate campaign".
Nagesh Bhardwaj
Mehar Singh has left a legacy that lives on
Mehar Singh, who represented Dehra constituency in the Assembly three times during 50s and 60s, had such a great passion for wrestling. He not only popularised this sport during his lifetime but also has left a strong tradition of wrestling in the area.
l CITIZEN FIRST
Monkey woes