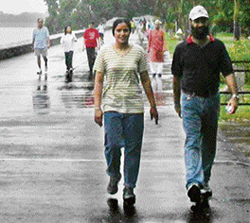 STEP OUT
Road to fitness
THERE are a lot of people who would like to do some form of adventure activity, if not a proper adventure sport, but hesitate because they feel they are not fit enough. The most common reason they feel not up to it is because they have more body fat than they should be having. Also, many people with sedentary jobs – and that includes most of us (!) – have weak muscles because they are not being exercised regularly. Both problems can be tackled easily.
Shimla diary
Kids bring capital back to life
The town is returning back to its old hustle-bustle with the schools reopening and all those who had moved to warmer climes to escape the harsh winters returning back to the state capital.
Micro-irrigation technologies need of the hour
Given the typical irrigation needs of the Himalayan states, there was an urgent need to popularise and encourage micro-irrigation and low-cost rain water harvesting technologies. The agrarian community could be provided 50 per cent subsidy for installation of this system under the 11th five-year plan.
CITIZEN FIRST
Readers, write in
Make Himachal Plus your very own forum and do yourselves and your neighbours a good turn.