The Sibling Act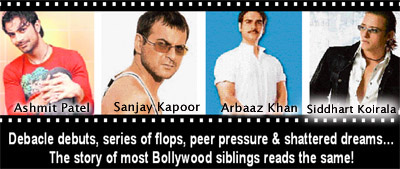 COPYCATS, little ones, cheater cocks or shorty, we call our siblings by many such names. And yet, despite the teasing and the hidden rivalry, the sibling bond is one beautiful irreplaceable bond. Hmm... perhaps that explains why we all grow up with a dream to be like our siblings.
Beerable!
IT'S the greatest drink ever invented, they say. Benjamin Franklin called it a proof of god's loves and his way of keeping us happy. Some think it could well substitute water. A few say there is nothing it can't solve. And a lot many just swear by their love for it. The brew in question is beer. A true sign of 'the real man', a frothy taste that sends the tongue rolling on a free-spirited experience — that's how city's beer drinkers passionately describe 'the men's drink'.
First Day First Show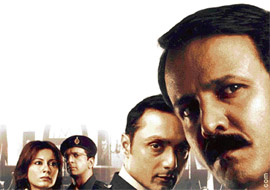 Gutsy attempt
Rajiv Kaplish
Shourya: Watchable
YOU really need shourya (courage) to reinvent a Hollywood hit. Director Samar Khan has plenty of it. He quietly lifts the story of A Few Good Men, makes some changes and passes it off as a film with a contemporary theme. Major Siddhant Chowdhury (Rahul Bose) is a carefree officer defending Capt Javed Khan (Deepak Dobriyal), accused of revolting against his senior and killing him during an operation in Kashmir.
Doing away with misconceptions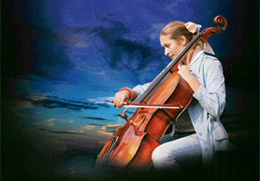 Khuda Kay Liye
They live in troubled times. If their modernity is reviled in their own country, their religion evokes xenophobic tendencies in the rest of the world. That's the dilemma of liberal Muslims caught between fundamentalists and cynics after 9/11, which director Shoaib Mansoor of Khuda Kay Liye, the first Pakistani film to be released commercially in India after 43 years, wanted to depict.
Write to Renee
at lifestyletribune@gmail.com or Life Style, The Tribune, Sector 29-C, Chd
I am a 22-year-old girl in love with a guy who is just not bothered. All my friends have been advising me to forget about him since he does not care for me. However, I think otherwise, I feel that love is not about possessing somebody. Don't we love God despite having never seen him? Then why can't we love someone without expecting something in return? He is my first love and I can never forget him. It is not his fault, he did want to meet me but I backed out. We've talked over the phone at times but have never spoken to each other face to face. Tell me whether my friends are correct or am I right?
Sheetal's new passion
AS one of the models of Kingfisher calendar (2008), Sheetal Menon needs no introduction. She is concentrating on her new passion — acting. She is going all out to prove to Bollywood that models can act too in Nari Hira's film Brahm. In conversation with Life Style.
Reflection of Style
No longer just a tool for the vain, the humble mirror has indeed come a long way
WHAT'S adding shine and sparkle to your home décor? Well, it's none but the shiny snazzy mirror. The modest accompaniment of your dressing table has emerged as the stunning accessory for your interiors! Perfect for any room, this truly beautiful piece of glass is the perfect accessory for your bar, lounge or just about any space. We cue you to the range of designer mirrors available around town.
The Artist's Space
A new platform to exhibit colours of the country
THE city's artscape is definitely getting bigger and brighter. After the spate of mushrooming small galleries at people's homes and basements, we now have one more, (quite professional at that too, with proper lighting and compartmentalisation of space) right at the top of the BMW showroom in Industrial Area-I. Curators Pooja Passi and Rajiv Tipnis rightfully call the gallery Artscape.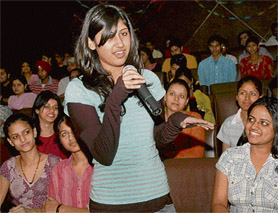 Music, Masti & a Mission
WHILE you sat glued to your TV, smiling, laughing and crying with the contestants of Sa Re Ga Ma, Indian Idol or VOI, 'they' didn't just join you. Rather, 'they' wanted to grab that mike and share telly space with your fave contestant. So when Big 92.7 FM knocked at their radios, announcing the Sing with Sonu contest, these excited bunch of city singers leapt at the chance.

Photo by Manoj Mahajan




Wah Wadali!
CLEAN-SHAVEN, denim-clad, minus gold rings, he doesn't really look like a Punjabi singer. But Sufi singer Lakhwinder Wadali is very desi at heart. He talks in a very American accent, (peppered with a lil' bit of Punjabi) no doubt, but Wadali has his roots firmly tugging at his heartstrings, "I'm a true blue Punjabi and very proud to belong to the Patiala musical gharana.
Matka Chowk
Straight street talk
CHANDIGARH street kids are getting sharper. They are getting good at verbal harangue. Somehow, I try to see the spirit that lurks behind the banter and the mean talk. After all, it takes grit to attack the windshield with a dirty rag in mid-traffic or follow adults who are making strange 'shoo-away' sounds while walking away from outstretched hands.