Lure of cure
It is the time of the year when thousands of students across the country will be vying for limited seats to one of the most
respected and sought after careers---medicine. The power to heal has traditionally placed the medical field several rungs above any other profession.
Samsung to hire 2,000 engineers for R&D
Korean consumer durables maker Samsung plans to double its total number of research and development engineers in India to 4,000 by 2010, to strengthen product development and introduce customised technology for the domestic market.
Demand for engineers on upswing
Union Minister of State for Human Resources Development D Purandeswari recently said that the demand for engineering professionals is going to be tremendous in the next 10 years due to advances in technology.
South set for strong hiring trend
Firms in the southern region expect the strongest recruitment plans in the current quarter with a net employment outlook of 39 per cent, ahead of the northern, western and eastern zones, a study has said.


Careercature
Sandeep Joshi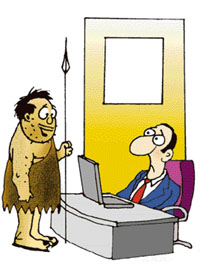 I believe there is a demand for head hunters in your office.

What India Inc wants: women
Refer a female worker, get a bonus
With an increasing number of women climbing the competitive corporate ladder, companies seem to be leaving no stone unturned to lure them and are even offering existing employees an additional bonus of as much as 25 per cent for referring a female employee.
Career Hotline
Fear not recession
Q. I have been working as a temp for the last two years in an IT firm in Mohali. People say that the economic slowdown in the US will jeopardise temporary jobs the most. If so, what should I do?
— Rimpy Khetrapal
BITS & BYTES
UK qualifications now in India
The Association of Business Executives (ABE), an international examining body and provider of Business and Management qualifications, launched its British qualifications programmes for India in Chandigarh recently.