Lure of cure
Usha Albuquerque
It is the time of the year when thousands of students across the country will be vying for limited seats to one of the most respected and sought after careers---medicine. The power to heal has traditionally placed the medical field several rungs above any other profession.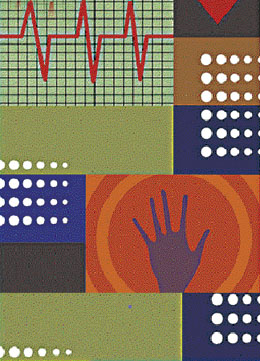 And while it requires years of hard work and dedicated study before you can see the light of day, the scope and prospects in the medical field have continuously attracted the brightest and the best. The enormous strides made in medical research for alleviating pain and curing diseases, pose great challenges to young men and women who opt for this profession.
Doctors are responsible for the overall health and well being of their patients, and for looking after their physical ailments when stricken by disease or disorder. Their work involves examining patients, discerning their problems, and providing them with medicinal treatment as well as the confidence and support required to overcome their ailments.
Medical training can enable you to work as a physician, diagnosing and treating ailments and disorders of the human body, by prescribing medicines to patients, or as a surgeon, who also diagnoses and treats injuries, diseases and disorders of the human body, by prescribing medicines and by means of surgical operations.

Most doctors combine clinical and scientific work, but there are some who opt for research and training work, developing new forms of treatments and new drugs and studying their effects on patients, or work in the area of community health, concerned with the promotion of the health of a whole community, primarily handling preventive medicine.
The field of medicine is very vast and specializations in medicine are increasing by the day. While an M.B.B.S. degree prepares a candidate for practice, it is not sufficient for providing specialist treatment to patients. It has become necessary for those who practise medicine to specialise in a particular aspect of medicine, so as to keep pace with important developments. A further three-year MD/MS course in any area of specialization is therefore essential. Thereafter, the specialist can also go in for further super specialisations within the specialist areas.
Specialised work
The major areas of specialisations include:
Paediatrics: Diagnose and conduct treatment of the diseases peculiar to children, they study the nature of growth and development of children to measure and assess against the established form of growth for children.
Cardiology: Deals with ailments and diseases of the heart. Cardiologists also perform specialized work, including by-pass surgeries, angiographies, angioplasties and other forms of surgery for the heart.
Obstetrics and Gynaecology: Diagnosis and treatment of diseases and disorders in females in the reproductive age group. While gynaecology deals with the problems of diseases and disorders of the female reproductive organs, Obstetricians handles pregnancies and childbirth. However, most practitioners of this field handle both areas. Neurologists specialise in diseases and disorders related to the human brain, and handle the treatment of problems related to the nervous system.
Dermatologists deal with the diagnosis and treatment of problems and diseases of the skin and related problems.
Ophthalmologists are eye specialists who diagnose and conduct treatment for the diseases of the human eye and its related parts, including lazer surgeries of the eye, operations for the removal of cataract, treatment of glaucoma and other such diseases and infections of the eye.
Orthopaedic Surgeons deal with the disorders and defects of the skeletal structure and the bones of the human body. They also suggest therapies and exercises for patients, which are then conducted by Physiotherapists.
Ear, nose and throat specialists deal with the diseases and disorders of the ear, nose and throat. These three organs are physiologically interconnected and so one specialist can handle nasal problems as well as throat and ear ailments.
Psychiatry: This is an area of specialisation that diagnoses and treats mental disorders by means of counselling or therapy and medication.
There are a host of other specialised courses in medicine, including community medicine, pathology, communicable diseases, venereology, preventive and social medicine, anesthesiology, plastic surgery, internal medicine and several more. Some of the newer super-specialisations include the research oriented assisted reproductive technology, dealing with in-vitrio fertilisation, andrology, which treats male infertility, embryology, cosmetology, geriatrics, which deals with old people's problems, and so on.
Eligibility
Entry into the medical profession, is tough and competitive, so as to select the most able and competent to deal with human life. If you wish to practice as physicians or surgeons you must have completed the four-and-a-half year MBBS training from a recognised medical college, and have completed one-year internship to be eligible for a license to practice as a doctor from the State Medical Council. This only qualifies you to practice as a general physician.
Those who have cleared the plus two examination, with physics, chemistry and biology and a minimum of 50 per cent marks are eligible for the MBBS course. The MBBS (Bachelor of Medicine and Bachelor of Surgery) course is of five-and-a-half year duration, which includes four-and-a-half years of classroom study and practicals followed by 1year of internship.
To become a specialist in any field of medicine you need to take up the master's programme - MS or MD. The postgraduate programmes are generally of three years' duration leading up to the Doctor of Medicine ( MD) or Doctor of Surgery (MS) degree. You can also do diploma courses of one-two years' duration in the field of specialisation. Those who go in for a postgraduate diploma course need to undertake a minimum of one years' course for full registration with the State Medical Council.
After the completion of M.D/MS, doctors can choose to go in for super-specialisation in different fields of medicine and surgery. These could include neuro surgery; cardiothoracic surgery, gastroenterology, endocrinology, and other subjects.
Testing time
Admission to medical colleges is through a highly competitive entrance examination. There are several entrance tests, and most prospective candidates sit for at least 5-6 entrance examinations. Admission seats to medical institutions in the country are governed by restrictions of domicile status. There are however 83 medical colleges where domicile status is not required, and selection is based on the all-India entrance examination.
The major entrance exams include:
The All-India PMT which admit students on an all-India basis to medical colleges, which include the All-India Institute of Medical Sciences (AIIMS), New Delhi; Armed Forces Medical College (AFMC), Pune; Jawaharlal Nehru Medical College, Aligarh Muslim University, Aligarh; Benaras Hindu University Institute of Medical Sciences, Varanasi; Christian Medical College, Vellore; Jawaharlal Institute of Postgraduate Medical Education and Research (JIPMER), Pondicherry; Mahatma Gandhi Institute of Medical Sciences, Wardha (Maharashtra); and the Christian Medical College, Ludhiana, and to 15 per cent of the seats of state medical collges
The State Medical College Exams for 85 per cent of seats to domiciled candidates of the state. Most states consider those who have been residing in the state continuously for between 5-10 years, or whose parents are permanent residents of the state, as domicile citizens.
Open payment seats are available in certain private medical colleges, in Karnataka, Andhra Pradesh, Tamil Nadu and Maharashtra. In these states most private colleges offer 50 per cent seats as free seats for all courses, and 50 per cent as payment seats. Selection is based on merit and fees range from Rs.2000-8000 for free seats, and Rs.1, 00,000 to 5,00,000 for paying seats, while NRIs and foreigners pay US $50,000 or more.
After obtaining the M.B.B.S. degree, candidates are eligible for taking the entrance examinations for admission to the specialised MD/MS courses. They should also have completed 1-year house-job prior to their admission to a postgraduate degree/ diploma course. Postgraduate medical students get a stipend too, which starts from the internship period.
Job prospects
After completing the MBBS, doctors can either start practicing as general physicians, or study further for postgraduation. With the general state of health in the country, it would be assumed that any general physician with a valid qualification will never be without a job. But sadly, this is not the situation. With the existing trends and the requirements for specialists, most MBBS doctors opt for postgraduation which offers a variety of specialisations, and good career growth prospects.
There is, however, a bottleneck in the number of seats for postgraduate specialisations, with the result that there are many disheartened MBBS qualified doctors who leave medicine for better prospects in another field.
General practitioners can seek employment in government hospitals and dispensaries, primary health centres and clinics. Today, there are hospitals and dispensaries spread all over the country, and. every village block has access to at least a Primary Health Centre. There is a huge need for doctors and medical facilities in rural areas where there is ample scope for registered general practitioners to set up their own Clinics. But few qualified doctors are ready for this option.
Recruitment for government jobs is handled by the UPSC, which conducts the Combined Medical Services examination once a year for recruitment of doctors for the railways; central health services; ordinance factory health services; and the Municipal Corporation of Delhi.
State governments recruit medical professionals through the State Staff Selection Commissions.
The Employees State Insurance Corporation (ESIC), which has hospitals and dispensaries all over the country to provide medical aid to industrial workers, fill their vacancies through advertisements and employment exchanges.
Medical Services of the Army, Navy and Air Force, under the Ministry of Defence, also offer excellent employment opportunities to doctors.
Private avenues
You can also look for jobs in Private Nursing Homes and Polyclinics, although most private hospitals and clinics require specialists with several years of experience. General Practitioners as well as specialists can also work in private clinics to build up experience, or set up their own Private Clinics, independently, or in partnership with Specialists in other fields of medicine, provided they have adequate capital for setting up the establishment, with the necessary equipment, medicines and instruments.
Research institutions, councils and clinical laboratories run by the Central and State Governments also provide employment to Doctors. Moreover, medical colleges and training institutions also employ various Doctors for purposes of teaching and research.
So, if you believe you have the qualities to be a good doctor, and are prepared for at least 8-10 years of study after school, then don't let the hardship and struggle deter you from your goal. You also need to b e in good physical health, have the energy and stamina for working long, irregular hours, have a strong sense of responsibility, with an urge to serve and heal the sick. You must also have keen and minute observation, good judgement and decision making ability, patience, a sympathetic temperament and objective approach. In addition, those who take up surgery must possess high concentration, manual and finger dexterity and stamina, and the ability to stand on your feet continuously for several hours dealing with life and death.
With these qualities and the determination to put in several years of toil despite poor remuneration and working conditions will reap you rich dividends in the long run. The doctor's profession can not only earn you a lucrative income, but also provide a tremendous satisfaction at having cured people, and in many cases, of having saved their lives.
The writer is a noted career expert.