Pollution ruining crops, fruit plants
Samba, April 10
Before the Indo-Pak ceasefire, empty industrial buildings in the J&K State Industrial Development Complex (SIDCO) at Samba provided a shelter to residents of nearby villages from shelling from across the border, saving many lives. Today after the shelling has stopped, allowing the chemical and pesticide industry to come up, the industry has become the biggest hazard that, villagers allege, is slowly poisoning their water and crops.
Poll year: Cong, PDP appear at loggerheads
Jammu, April 10
Even as Congress and People's Democratic Party (PDP) top brass try to project an unflinching camaraderie, the coalition partners seem to be at loggerheads, thanks to "political compulsions" in election year.
Mufti: PDP's formula generating support
Poonch, April 10
People's Democratic Party (PDP) patron Mufti Mohammad Sayeed has said the futuristic and workable Kashmir resolution agenda pioneered by the PDP has been attracting overwhelming public support throughout the sub-continent.
Education dept on mission admission
Udhampur, April 10
Following the footsteps of the Health Department which achieved its target in administering pulse polio drops to all children, the Education Department in Doda district has launched a comprehensive door-to-door campaign, to persuade parents to get their wards admitted in schools for elementary education.
Azad launches public information campaign
Srinagar, April 10
Chief Minister Ghulam Nabi Azad today cautioned people against political leaders who wanted the create an atmosphere of violence in the state.
Doc refuses to attend, baby girl dies after birth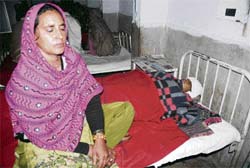 Poonch, April 10
She was forced to give birth to a girl on the hospital corridor and that too just five feet away from the labour room. Reason: The gynaecologist at the district hospital here didn't attend to this pregnant woman. Result: The baby girl died after her birth. Noor Jahan (32), wife of Mehboob Hussain of Salani in Mendhar, was shifted to the district hospital here by her relatives at 12.00 pm yesterday.

Noor Zehan lies in a hospital bed. — Tribune photo by Anand Sharma
Free people from shackles of security syndrome: Mufti
Poonch, April 10
Former chief minister and PDP patron Mufti Mohammad Sayeed has expressed hope that the proposed upcoming visits of Prime Minister Dr Manmohan Singh and external affairs minister Parnab Mukherjee to Pakistan would reinforce the resolve of the two democratic governments to reactivate and carry forward the sagging peace process.
India to train Afghan army in counter-insurgency
Jammu, April 10
The Army would soon be sharing its experience with their Afghan counterparts as it has agreed to provide counter-insurgency training to the Afghan army. According to highly-placed sources in the Ministry of Defence, decision to this effect was taken during the ongoing official visit of the Afghan Defence Minister Abdul Rahim Wardak to India. Wardak who is currently on a weeklong visit to India discussed military cooperation with his Indian counterparts in New Delhi.
Court work paralysed
Jammu, April 10
In protest against alleged assault on a lawyer by the police, the Bar Association, Jammu, today boycotted work in the state high court and subordinate courts.
Mattoo felicitated
Jammu, April 10
Prof Amitabh Mattoo, Vice-Chancellor of Jammu University, was felicitated at Bhaderwah for his contribution to the peace process of the region and for elevating the standards of higher learning. The felicitation function was organized by Ignited Minds-an NGO working for the peace in the subcontinent. — TNS