Accident victim alleges police inaction
Chandigarh, April 13
If the allegations of Joginder Singh, a resident of Sector 41, are to be believed, the Chandigarh police are just not interested in nabbing a person involved in a hit-and-run case.






Shobha yatra marks Ambedkar's anniversary
Chandigarh, April 13
As part of Dr B.R. Ambedkar's anniversary celebrations, a shobha yatra was organised here today.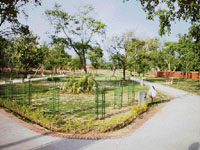 Poor lighting at Sec-29 park
Chandigarh, April 13
Even as the Chandigarh police is devising ways to check incidents of snatching, the Sector 29 park appears to be an open invitation to snatchers.



The park in Sector 29 that has no lights till
10 pm. — A Tribune photograph

Shamlat Land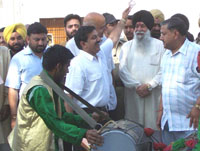 'Govt will help panchayats fight for ownership'
Zirakpur, April 13
Punjab cabinet minister Capt Kanwaljit Singh said the government would help panchayats fight for the ownership of shamlat land.

Punjab cabinet minister Capt Kanwaljit Singh during
the Ram Naumi celebrations in Zirakpur on Sunday.
— A Tribune photograph

Satta racket flourishing in periphery
Mohali, April 13
This is one crime everyone seems to know of but no one does anything about. According to a lottery shopkeeper in Zirakpur, a well-organised satta racket was flourishing in Zirakpur, Lalru, Dera Bassi, Handesra and Dappar.
Milk plant to distribute profit among members
Mohali, April 13
The Mohali milk plant working under The Ropar Cooperative Milk Producers' Federation Ltd, has decided to distribute its profit of Rs 2.2 crore for the year 2004-05 and 2005-06 to its member milk producer cooperative societies.
Councillor's Abduction
INLD to hold protest rally today
Panchkula, April 13
The alleged kidnapping of an Indian National Lok Dal (INLD) councillor has snowballed into a major political controversy.
Land for sheds
Lawyers meet Hooda
Panchkula, April 13
A delegation of the Panchkula District Bar Association met the Haryana Chief Minister Bhupinder Singh Hooda at his residence this morning.
Senior citizens celebrate Baisakhi
Panchkula, April 13
The Senior Citizens' Council of Panchkula teamed up with Saraswati Kala Sangam, a leading cultural organisation engaged in promotion of Indian classical and regional folklore culture cultivation in the region, to celebrate Baisakhi here today.
Painting competition marks Baisakhi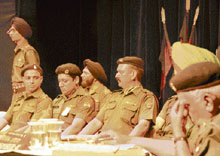 Chandigarh, April 13
On the occasion of Baisakhi, the Chandigarh tourism department, in association with
Chandigarh Lalit Kala Academy held the second series of 'On the Spot Painting Competition' on the theme 'Chandigarh in April' at the Leisure Valley, here today.


The play 'Court Martial' being staged at Punjab Kala Bhawan in Chandigarh on Sunday. — A Tribune photograph
Election held for Jamaat-e-Ulema-e-Hind
Chandigarh, April 13
Elections to the Haryana, Punjab, Himachal Pradesh and Chandigarh chapter of the Jamaat-e-Ulema-e-Hind were held at Manimajra, yesterday.
Water supply to be affected tomorrow
Chandigarh, April 13
Water supply will remain affected on April 15 due to the replacement of high-tension panels for augmentation of water supply schemes in Phases I and II, Kajauli.
Rath yatra to be held on April 15
Chandigarh, April 13
A host of dignitaries, including Satya Pal Jain, former MP, and R.C. Sobti, vice-chancellor of Panjab University, were amongst the distinguished personalities, who expressed their views on 'chanting of the holy name is the best and easiest means to attain God in kalyug' during the ongoing 38th annual seminar organised by the devotees of Sree Chaitanya Gaudiya Math, Sector 20B, here today.
MC sanitation committee floats tenders
Chandigarh, April 13
The sanitation committee of Chandigarh municipal corporation has accorded approval for floating open tenders for purchasing various items, including pesticides and slaked lime for the pest control department.
New chairman nominated
Chandigarh, April 13
The Chandigarh Beopar Mandal has nominated an architect, Vinod Joshi, as the chairman of the Building Byelaws Coordination sub-committee. The chairman would work out the possible modification in the existing commercial buildings and propose the same to the Chandigarh administration. — TNS
Guv conveys Ram Navami greetings
Chandigarh, April 13
The Punjab Governor and UT Administrator Gen S.F. Rodrigues (retd) has conveyed his greetings to the people of Punjab and Chandigarh on the auspicious occasion of Ram Navami. The Governor has appealed to the people to celebrate this festival collectively, and in a spirit of traditional gaiety, amity and devotion. — TNS
Kuoni Holidays office opened
Chandigarh, April 13
Kuoni Holidays today inaugurated its office in the city. This is the fourth location in the country that the luxury travel agency has set shop in. The agency caters to only the luxury tourism sector and is expecting a good business from the city and neighbouring areas of Punjab and Haryana. — TNS


CIIP transfers Rs 1 crore to PU fund
Chandigarh, April 13
For cash starved Panjab University, the Centre for Industry Institute Partnership Programme (CIIP), has proved to be a golden hen, as the CIIP has transferred around one crore rupees to the higher education fund.
PU teachers' fast enters 7th day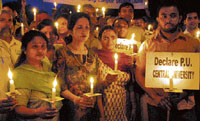 Chandigarh, April 13
The chain fast for pressing the demand for central status by the students and teachers on PU campus today entered the seventh day.


Panjab University Teachers Association and Panjab University campus students take out a candle light procession on PU campus on Sunday. — Tribune photo by Vinay Malik
GCG-42 releases 'Biospectrum'
Chandigarh, April 13
As many as 120 delegates participated in the Indian Association of Biology Teachers' (Colleges) Conference held at Government College for Girls, Sector 42, here today.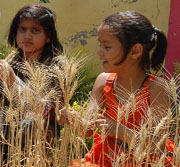 From Schools
Baisakhi spirit pervades
Mohali, April 13
Ashmah International School celebrated Baisakhi here today. The school wore a festive look and students performed bhangra.


Tiny tots of Ashmah International school,
Mohali, during Baisakhi celebrations on Sunday.
— A Tribune photograph
PMT, CET classes for poor
Chandigarh, April 13
Dr Ambedkar Study Circle, Sector 37, Chandigarh, has announced the introduction of PMT and CET coaching classes at very nominal fee, today.
9000 take IIT exam in city
Chandigarh, April 13
Around 9000 students appeared for the most prestigious engineering test, IIT, conducted at various centres of the city, here today.