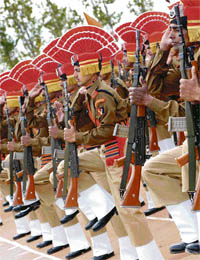 BSF jawans parade during the oath ceremony of 282 trained constables at BSF Training Centre at Humhama Budgam in Srinagar on Tuesday. — Tribune photo by Mohd Amin War
Kashmir-Ladakh highway opens
Srinagar, April 15
Chief Minister Ghulam Nabi Azad today flagged off a fleet of Srinagar-bound vehicles from zero point near Gumri across Zojila, marking opening of the 434 km Srinagar-Leh highway, which is closed in winter months.
Snow, heavy rains bring down temperature
Srinagar, April 15
Snowfall in upper reaches and heavy rains lashed the Kashmir valley since last night bringing temperature further down by 4 to 5 degrees Celsius, and raising water level in river Jhelum and its tributaries and the low-lying areas. Traffic on the Srinagar-Jammu national highway, the only surface link connecting Kashmir with the erst of the country, plied normally.
Jaundice breaks out, medical teams rushed
Udhampur, April 15
Medical teams comprising specialist doctors and para- medical staff have been rushed to Sudhmadev and adjoining localities of Chenani where water-borne diseases, especially jaundice, reportedly broke out due to the supply of contaminated drinking water to the villagers. Two dozen cases of jaundice have been so far reported from this area and more reports are continued to pour in.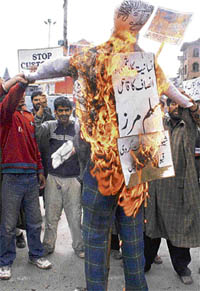 Activists of Peoples Freedom League burn an effigy of the Tihar jail superintendent during a demonstration in Srinagar on Tuesday. — A Tribune photograph
Sale of spurious drugs continues
Jammu, April 15
Despite the Drugs and Food Control Organisation cancelling 123 drug licenses and sealing 119 unlicensed drug shops last year, the practice of unethical trade hasn't stopped.
Family Pension
HC rejects adopted son's plea
Jammu, April 15
The Jammu and Kashmir High Court dismissed writ petition filed by one Goutam Kumar holding that husband/wife is entitled to family pension only during his/her lifetime and have no right to transfer this right of family pension either by way of will or adoption.
Sex Scam
4 more cases transferred to sessions court
Chandigarh, April 15
Four more cases of Jammu and Kashmir sex scam have been transferred to the sessions court in district courts here. Sources confirmed that the full-fledged trial of the high-profile sex scam would be held in the local court.
'Unmarked graves': UN inquiry sought
Srinagar, April 15
The Peoples Freedom League, a separatist organisation, today claimed that the police held over a dozen of its workers, including party general secretary Rafiq Ahmad Ganai, during a protest.
60 lakh spent on cancelled project
Jammu, April 15
The Ministry of Defence (MoD) has incurred an unwarranted expenditure of Rs 60 lakh on construction of accommodation and allied works for a project even after it was decided not to go ahead with the same.
Soldier ambushed
Udhampur, April 15
A solider was killed when militants ambushed a search party of Rashtriya Rifles in Banihal district early this morning. According to the official sources, a team of the 23 RR and the police on a tip-off launched a search operation at Trigam area of Banihal district during wee hours today.
Govt bans rice export
Jammu, April 15
The state government has decided to impose ban on export of brown (unpolished), Sarbati and Coarse rice. The decision was taken at a high-level meeting held here today keeping in view the steep hike in prices of food grains, edible oils and fresh vegetables in the state.
Cut in central benefits threatens industry
Jammu, April 15
Withdrawal of incentives to the industry in Jammu and Kashmir could result in a cut of thousands of jobs in the strife-torn state besides having an adverse impact on the inflow of investments, commerce and industry associations have cautioned.
Antique from Shiva temple stolen
Srinagar, April 15
A valuable piece of antique dating back to hundreds of years into the times of Hindu kings has been stolen from a site in Sheeri in Baramulla district.