Case study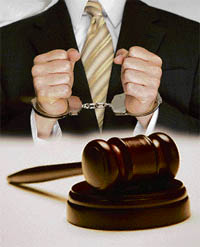 Corporate law has taken legal practice from the mustiness of courtrooms to the airconditioned sophistication of boardrooms,
writes Usha Albuquerque
Along with engineering, medicine and civil services, the legal profession, that third wing of the democratic system, is one of the better-known and more sought-after careers. Law is one of the most basic social institutions. It establishes the rules that define how society will live, and each individual's rights and obligations. It also determines how the state will enforce the rules to maintain law and order, and prescribes penalties for those who break these laws. It is one of the oldest professions known to man.

n Indian law firm Asia's 4th for M&A deals
Careercature
Sandeep Joshi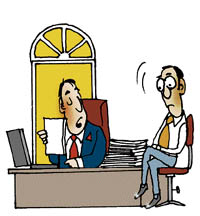 You know I want to simplify the workflow. Please take this and meet the plant manager, branch manager, accounts manager, marketing manager... then bring it for my approval.
Loan survivor
The recent fee hike by the IIMs and others may push up the demand for education loans by over 25 pc, writes S.C. Dhall
The recent hike in the fees of IIMs and IITs is bound to push up the demand for education loans. This would be in addition to the loans being sought by the students rushing overseas and those seeking admission to private colleges, enabling banks to further build up this portfolio.
Small towns big on talent
There is a growing market in small towns and many companies are setting up base in Tier-II and III cities, as revealed by the surveys below:
The key findings of The Ernst & Young's report on "The Great Indian Retail Story" revealed the following trends, according to a Press release:
Career Hotline
Software clicks
Pervin Malhotra
Q. Our son is very good with computers. He has been designing small programmes ever since he was a kid. He is at present studying in a boarding school. What can we do to sustain his interest?
Bits & Bytes
ICWAI to launch course in accounting technicians
The Institute of Cost and Works Accountants of India recently said it is launching a 'Certificate Course in Accounting Technician' to cater to junior accounting job requirements in rural areas. The course is being introduced in both English as well as Hindi languages and the fee is Rs 8,600, the institute said in a statement.
IIM-K to have facilities for post-doctoral studies
The Indian Institute of Management-Kozhikode(IIM-K) is working on a plan to create physical and academic infrastructure to play a major role in post-doctoral studies in management in the country,its Director Krishnakumar said recently.
Youth not keen on career in sports
With exception of the money-spinning game of cricket, a majority of India's urban youth is disinclined toward taking up sports as a career and prefer jobs in sectors like finance, retail and IT, according to an Assocham study.