Case study
Corporate law has taken legal practice from the mustiness of courtrooms to the airconditioned sophistication of boardrooms, writes Usha Albuquerque
Along with engineering, medicine and civil services, the legal profession, that third wing of the democratic system, is one of the better-known and more sought-after careers. Law is one of the most basic social institutions. It establishes the rules that define how society will live, and each individual's rights and obligations. It also determines how the state will enforce the rules to maintain law and order, and prescribes penalties for those who break these laws. It is one of the oldest professions known to man.
But more often than not, young people associate law with those who wear black coats and hang around musty civil courts waiting for work. Today, lawyers are not only making news, they are also making more money than ever before. As the legal system covers and regulates practically all aspects of our social, political and economic inter-actions, lawyers can specialise in specific areas of legal interest. And besides the areas of work that lawyers traditionally specialised in, like civil cases, criminal cases, taxation law, labour law, and constitutional law, today's lawyers can choose the sophistication of corporate boardrooms. Corporate law, human rights law, international law, environment law, patents law, cyber law, intellectual property law and so on are making law fashionable once again.
Jobs galore


ARGUMENTATIVE INDIANS
Some prominent institutions for training lawyers:
n Indian Law School (ILS), University of Pune, Ganeshkhind, Pune 411007 (Mah): www.unipune.ernet.in
n Nalsar University of Law, 3-4-761, Barkatpura, Hyderabad-500027 (AP) www.nalsarpro.org
n National Law School of India University (NLSIU), Nagarbhavi, PO Bag No. 7201, Bangalore -560072 (Kar): www.nls.ac.in
n National University of Juridical Sciences (NUJS) Bhavan, LB Block, Salt Lake City, Kolkata-700098 (WB): www.nujs.edu
n Symbiosis Society's Law College (SSLC), Senapati Bapat Road, Pune-411004 (Mah): www.symlaw.ac.in)
n University of Delhi, Faculty of Law, Delhi-110007: www.du.ac.in
n University of Mumbai, M.G. Road, Fort, Mumbai-400032 (Mah) (Government College of Law): www.mu.ac.in
n University of Bangalore, Jnana Bharathi, Bangalore - 560056 (University College of Law & Bangalore Institute of Legal Studies): www.bangaloreuniversity.net
n University of Hyderabad, Hyderabad-500134 (Mahatma Gandhi Law College): www.uohyd.ernet.in
n Aligarh Muslim University, Faculty of Law, Aligarh-202002 (UP): (www.amu.ac.in)
Every business organization, big or small, working in a global marketplace requires lawyers to define the rules, advise business houses, work out mergers and acquisitions, and generally enable companies to work within the parameters of the law. A large number of business enterprises are involved in foreign transactions of some kind, and so require the services of corporate lawyers who are well-versed with international law. Every acquisition, merger, joint venture deal, foreign collaboration, public listing or de-listing requires dozens of lawyers for drawing up contracts and interpreting statutes and statutory provisions. Moreover, with businesses growing in size and new business enterprises opening up every year, which compete fiercely for customers' favours, often treading on each other's toes, contravening agreements, side stepping contracts, overlooking patents, ignoring trademarks, etc. there is a growing need for lawyers to advise their clients, draw up contracts, argue cases in court.
As the stock market fluctuates with bull and bear phases, securities and banking laws are also gaining importance and there is also a demand for lawyers with experience in securities, and transactions and with a knowledge of e-commerce. There are also many law firms that specialise in intellectual property management services, where they manage and monitor the property rights of their global customers.
Corporate law deals with all such aspects of law and the legal entity known as the company. Today, every company has a strong legal department, and following the economic boom, corporate law has become one of the most lucrative of legal practices
Work profile
As most other lawyers, corporate lawyers working in private law firms or in the legal department of companies usually work for long and irregular hours meeting clients, researching and reading about new developments, drafting contracts and agreements or preparing briefs. Most corporate lawyers never see the inside of a courtroom, as much of corporate and civil law is paperwork, reading up case studies, listening and noting briefs, counselling, negotiating and writing/drafting are absolutely vital for a successful lawyer. With the computer and the Internet, much of the background work is easier. While lawyers had to previously pore through huge legal books looking for precedents, there are now many websites that one can subscribe to which will give you a citation in a matter of seconds.
Lawful entry
You can study law after Class XII with any subject, and take up the integrated 5 year BA LLB programme, or opt for a 3-year LLB course after graduation in any subject.
Almost all universities offer the three-year full-time/part-time LLB course for graduates. Eligibility is based on marks obtained in graduation, although some universities also hold entrance tests.
The integrated 5-year law course (BA LLB) is now offered at over 50 universities in India. For a 5-year course candidates need to have completed plus two with a minimum of 55 per cent and appear for an entrance exam conducted by the university or institute. There is an All-India entrance test for admission to the five-year degree course which comprises of a test in English, numerical aptitude, general knowledge and aptitude for legal studies.
The full-time five-year course incorporates a lot of practical training, which includes court attendance, legal research projects as well as assistance in legal aid centres. The course curriculum usually includes not just lectures, but also discussions and case studies and an internship in the final year. The case study method helps students understand and discover the principles underlying court rulings.
While there is no specialisation at the BALLB level, those interested in entering corporate law can take up internships with a corporate house or law firm and pick up experience in corporate law. Some law graduates specialise in corporate law with a postgraduate degree or diploma.
Placements
After graduating, a lawyer has several professional options. Those looking for a career in corporate law can take up assignments with the corporate sector, with financial institutions, in a law firm, consultancies or private practice.
As a trained lawyer you can work directly with companies. Besides large corporate houses, some of the big accounting firms like PWC and KPMG have opened their own legal departments. Many of the larger companies, in management consulting and financial services also hire lawyers straight out of college through campus placements.
You can also become the 'junior' of an established lawyer and start as an assistant to a more experienced lawyer making drafts and doing routine research and paperwork leaving the senior to come up with arguments and appear in court This period lasts for 4-5 years during which you pick up the required knowledge, skills and contacts required to later on, start your own private practice.
You can also join a law firm which is essentially made of partners, senior lawyers working together as one entity, offering a full range of legal expertise. Most of them bring in the clients and also get a share of the profits, much as it is portrayed in the popular Grisham novels. While the number of law firms in India is still relatively small - this trend is growing, as more and more corporate clients prefer to deal with legal firms rather than individual lawyers. In India, while it is not very easy to make partner, since few partners retire and even then, mostly hand over their partnership to their children, salary packages offered with law firms, is normally higher than working with an individual lawyer. Moreover, with the opening of the market and the entry of international law firms career growth in this area is bound to increase considerably.
Skill set
How you fare as a lawyer depends greatly on your ability to deliver results and on the reputation you build. While this is a profession where networking and family connections still matter, your credibility and reputation is what clients go by, and this has to be earned.
While older and more experienced lawyers can make a lot of money very easily, it's quite difficult for those starting out. Most fresh lawyers are paid Rs 5000 -8000 and start work as assistants. Some companies recruit the best students straight out of a reputed law college and can pay them as much as Rs 7 - Rs 10 lakh pa. In three years, you could be earning Rs 15 - 16 lakh and within five to seven years, depending on your merit, you could make around Rs 20 – 25 lakh. Senior lawyers and partners earn huge amounts – calculated according to the percentage of the deal worked out on behalf of clients. While you still have to work 12-14 hours a day at law firms, the early years can be an investment for the future.
Corporate law has definitely bought more glamour and money into the legal profession, and the large salary package promised to students passing out of the top law colleges puts law on par with the best MBAs. But if you want to make it big as a lawyer you need hard work, a practical approach, common sense, honesty towards your profession, and willingness to work long hours. You also need to have a strong reasoning ability, analytical and memorizing skills, and excellent communication skills and articulation.
For those with abilities there are growing opportunities in the corporate sector, particularly with the entry of international law firms which will provide greater opportunities for lawyers to work in India and abroad. In a globally extending economy where outsourcing IT and BPO work is being done on a large scale and companies are coming to establish business in India, there is a growing need for lawyers. So, before you dismiss the thought of putting on black robes, remember John Grisham's very popular 'Rainmaker', if you think you can also become one, then the law is on your side.


Indian law firm Asia's 4th for M&A deals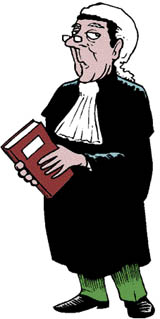 After billionaires and billion-dollar firms, it is the turn of an Indian law firm to reap accolades on international arena with Khaitan and Co being ranked as Asia's fourth biggest legal advisor for merger and acquisition deals during 2007.
Helped by some high-profile deals like the sale of mobile phone player Hutch to British giant Vodafone, Khaitan and Co had role in completed M&A deals worth about $ 17.41 billion last year.
This is the fourth highest for any law firm in the Asia-Pacific region, according to the latest issue of M&A Asia, published by Hong Kong-based Asian Venture Capital Journal. The Indian law firm had a role in a total 17 announced M&A deals worth about $ 17.82 billion during the year, including 13 completed deals worth $ 17.41 billion.
The M&A Asia list of legal advisers has been topped by US-based law firm Paul Weiss with completed deals worth $ 29.54 billion. It is followed by Europe's Freshfileds Bruckhaus with $ 29.4 billion worth completed deals and Sullivan & Cromwell at third place ($ 24.5 billion).
Rabindra Jhunjhunwala, Partner and M&A division head at Khaitan and Company, said, "Time and again, we have been leading from the front with several leading transactions under our belt. We have been helping several Indian companies become multinationals." — PTI
The writer is a noted career expert