Mind Matters
Now, aspiring soldiers will have to clear psycho tests
Jalandhar, April 15
Candidates appearing for army rallies being organised for recruitment as soldiers will soon have to undergo psycho-analysis tests as well, failure in which may lead to their rejection.
Plan to raise retirement age of medicos: Sud
Jalandhar, April 15
Admitting that there was scarcity of medical teachers in the medical colleges of Punjab, medical education minister of Punjab Tikshan Sud on Monday revealed that extending the retirement age of medical teachers up to 65 years was under consideration.
Dining Den
This Shao-Lin has an aromatic chamber
Jalandhar, April 15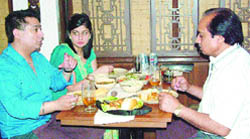 Tangy, titillating and lip-smacking describe it all. You name it and they have it. The one and only one special Chinese restaurant in the city "Shao-Lin" has not only ample choice to choose from but an out-of-world Chinese ambience as well.
Known for its seafood, the restaurant is a huge hit among city residents. Photo: S.S. Chopra
Women show the way
Jalandhar, April 15
In an attempt to pay an ode to the innate sense of women aesthetic, the Art Dot - a venture in visual art, has organised a four-day exhibition "Sublime Expressions" at Dr Satya Paul Art Gallery in Virsa Vihar.
End anti-farm labourer policies: Convention
Jalandhar, April 15
Farm labourers dwelled on the problems being faced by them at a state-level convention held at Desh Bhagat Yadgaar Hall here today.
Jalandhar-born steers ahead of UK royalty in online voting
Jalandhar, April 15
Jalandhar-born Harjit Gill, mayor of Gloucestershire, has raced ahead of the British royalty and Hollywood celebrities in an online voting to select the Top-100 people of the English county.
Bhandari rules out change in party ministers' portfolio
Jalandhar, April 15
The ruling BJP in Punjab on Monday ruled out change of portfolios of two of its ministers, Laxmi Kanta Chawla and Tikshan Sud, in the state's Akali Dal-led coalition government in the wake of reports that they were ignoring party workers.
BJP sees 'big scam' behind inflation
Jalandhar, April 15
Holding the Centre responsible for the extraordinary rise in prices of essential commodities, the BJP on Monday said there was a "big scam" behind the inflation.
Young World
UK teachers visit city schools
Jalandhar, April 15
A delegation of teachers from state-run UK schools is on a visit to the city schools as a part of a link-up programme. The delegation visited Police DAV School, MGN Public Schools, Adarsh Nagar and Kapurthala, and Cambridge International School for Girls. At Police DAV School, the UK teachers attended the morning assembly. "We were amazed to see the various aspects covered in the assembly, including an invocation to the Almighty, cultural show, motivational lessons and current awareness issues. It was a complete package for the students to begin their day," said Jaswinder Grewal, a sociology teacher from Wolver Hampton and Leanne from Tregony village school.
'Early detection of thalassemia important'
Jalandhar, April 15
Dr Anil Sud, a senior paediatrician, is back in the city after attending a trainer's workshop for the management of Thalassemia.
Letters
Pensioners' plea