Soaring prices fallout of privatisation: CPI
Jalandhar, April 17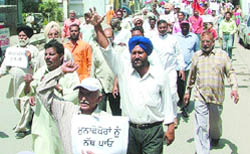 The CPI's local unit staged a rally at Desh Bhagat Yadgaar Hall here today to protest against the government's inability to control inflation. Addressing protesters, CPI's state secretary Bhupinder Sambhar said the masses were groaning under the steep price rise and majority of households were struggling to put two square meals a day.

A protest rally being held by CPI activists in Jalandhar. Photo: S.S. Chopra
Attack on party men: BSP seeks Akali workers' arrest
Jalandhar, April 17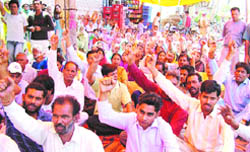 The Bahujan Samaj Party (BSP) organised a dharna to demand the arrest of Akali workers who thrashed their party activists on April 14. Hundreds of agitators assembled at Bootan Mandi here today and raised slogans against the administration and police, which, they alleged were shielding the accused.
BSP men stage dharna in Jalandhar on Thursday. — A Tribune photograph
Hans is back with 'Yaara-O-Yaara'
Jalandhar, April 17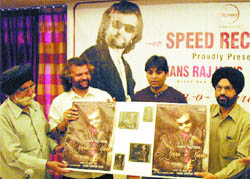 Renowned Punjabi singer Hans Raj Hans is back after a two- year hiatus with his latest album- Yaara-O-Yaara. The album has been brought by Speed Records. Music director Charanjit Ahuja has composed the music for the Punjabi after a gap of 14 years. They last teamed up for the hit album 'Ishqe de barsaat.'



Hans Raj Hans' new album being released in Jalandhar on Wednesday. Photo: S.S. Chopra
'Youth can make world a better place'
Jalandhar, April 17
In this fast paced life when people are struggling with stress and anxiety, the Art of Living (AOL) has virtually come up as a ray of hope. World Alliance for Youth Empowerment (WAYE), a part of AOL, director Dinesh Ghodke was in city for a workshop at Lovely Professional University to encourage youth to join their campaign "Clean inside, clean outside".

Dinesh Ghodke
DC launches website of NGO
Kapurthala, April 17
Deputy commissioner J.M. Balamurugan has launched a website, www.sidharthatrust.com, of a non-government organisation (NGO) Siddhartha Sharma Charitable Trust.
Young World
New evaluation techniques to reduce burden on kids
Jalandhar, April 17
Darshan Academy organised an orientation programme for parents to make them aware of new evaluation techniques that the school would follow in the new academic session. The parents of students from class nursery to III attended the programme.
Now, Hinglish fashion course at INIFD
Jalandhar, April 17
International Institute of Fashion Design (INIFD) organised a fashion show 'Maujan-ee-Maujan', showcasing designs inspired from Punjabi culture, at Gymkhana Club here on Wednesday evening. The event comprised five rounds.
Managing the adolescent
Kapurthala, April 17
A workshop on 'managing adolescence' was organised at Army Public School, Beas, on Wednesday.
Trouble with phoren dreams
Jalandhar, April 17
Comedians Santa and Banta have released their latest video album 'Ghasita Canada Vich', which highlights the problems arising out of Punjabi youth's fetish to settle abroad. Both of them have been entertaining radio and TV audiences for the past 20 years and their previous video, 'Ghuggi Choo Manter; was awarded the best comedy film by ETC Channel in 2005. The video has been a hit with the Canadian diaspora. — TNS