Empowering Women
Govt to set up women co-op societies
Bathinda, April 19
The Punjab government is planning to set up village-level women cooperative societies.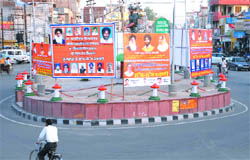 Politicos wax eloquent, MC loses moolah
Bathinda, April 19
The installation of congratulatory flex boards has become a common trend to project oneself in the eyes of the common man. With the declaration of the new panel of the ruling SAD, this trend seems to have gained further momentum.
Congratulatory flex boards overshadow the soldier at Fauji Chowk in Bathinda.
Tribune photo: Malkiat Singh
Short circuit ruins standing wheat crop
Bathinda, April 19
Major Singh, in his late 50s, is a small-time farmer from Kutti village on Bathinda-Dabwali road. Today in the afternoon, due to a spark from overloaded electricity cables passing through his fields, his entire nine acres of standing wheat crop was destroyed in fire. His months of tireless toil and financial expenditure have literally turned into ashes. He has suffered a loss of around Rs 3.5 lakh.
Farmers demand compensation
Mansa, April 19
Wheat crop in nearly 20 acre was burnt today at Bachowani and Ralli villages near Budhlada.
Trident Issue
Pending references cleared, case settled
Barnala, April 19
With the Special Lok Adalat clearing all the references put before it except for one, the much-talked Trident Land Acquisition issue was finally settled here today.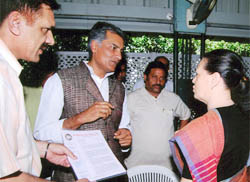 Heritage status sought for Amarnath shrine
Abohar, April 19
UPA chairperson Sonia Gandhi has reportedly assured a deputation of NGOs that crucial issues relating to the Shri Amarnath Gufa Yatra, scheduled to start on June 18, would be taken up with the Shri Amarnath Shrine Board and the Jammu and Kashmir chief minister, a press release said here today.
MLA Sunil Jakhar makes a point while speaking to UPA chairperson Sonia Gandhi during a meeting in New Delhi on Friday. A Tribune photograph
Irregularity in Recruitment of Lecturers
NCSC summons chief secy, education secy
Moga, April 19
The National Commission for Scheduled Castes (NCSC) has summoned the chief secretary and the education secretary of Punjab. They have been asked to appear in person at its office in New Delhi on May 9 to explain their position with regard to the alleged irregularities in the selection of teachers in the lecturer cadre of various subjects.
Bar Association elections
Bathinda, April 19
Amanpal Singh Sekhon and Sandeep Singh Jeeda have been elected unopposed to the post of vice-president and secretary, respectively, of the District Bar Association, Bathinda.
2 nabbed with 5 kg opium
Ferozepur, April 19
The Ferozepur police arrested two inter-state smugglers and recovered 5 kg of opium from their possession.
SAD dist chief Mander killed in road mishap
Mansa, April 19
District president of the Shiromani Akali Dal (Amritsar) Balbir Singh Mander was killed in a road accident near Budhlada today.
Youths try to outrage modesty of ASI
Bathinda, April 19
A lady assistant sub-inspector, Jaswinder Kaur, posted at crime against women cell in Bathinda, lodged a complaint with the Nehianwala police that two youths, Kewal Singh of Amargarh and Kuldeep Singh of Romana Ajit Singh, attempted to outrage her modesty. In her complaint, she said that she was coming back from Nehianwala, where she was deputed on that day, when her colleague arranged a lift from one of his acquaintances, in his car, for Bathinda.