Rebate can be claimed on STT
by S.C. Vasudeva
Q. I am a permanent government teacher. Besides, I also do share investment and trading in options through internet trading. My annual income from salaries for this financial year is Rs 1,92,000. My profit from stock options trading is about Rs 10 lakh and loss from stock options trading is about Rs 7.50 lakh giving me net profit of Rs 2.5 lakh. My short term capital gain from share investment is Rs 52,000 and short-term capital loss from share investment is Rs 41,000 giving me net short-term capital gain of Rs 11,000. My long-term capital gains from share investment is Rs 98,000 and long term capital loss is Rs 28,000 giving me net long-term capital gain of Rs 70,000. STT, stamp duty and turnover charges have been paid on all these transactions. I made Rs 1,00,000 investment under Section 80C in various income tax saving instruments.
Please calculate my income-tax in the light of above:
(i) May I give details of my salaries only to my department in my annual salary statement due to be given to my department upto February 28, 2008, and show my other profits and tax paid as advised by you separately at the time of my filing income-tax return after March 31 2008, after exactly calculating my tax upto March 31 2008.
(ii) Can I claim deductions of STT, stamp duty, brokerage, turnover charges from my profits.
(iii) Can I claim deduction in respect of my telephone/ internet connection broadband charges, annual charges paid for internet trading, monthly bill of depository for transactions etc. from my profits.
— Sunita, Ferozepur
A. The answer to your queries is as under:
(i) The act gives you an option to provide details of other income to your employer for including the same in the total income so as to compute the tax deductible at source. It is for you to decide whether to accept such an option.
(ii) You can claim a rebate for the securities transactions tax (STT) under Section 88E of the Act. This rebate is available up to assessment year 2008-09. You would, however, be entitled to above rebate if the profit from the derivative business is declared under head profits and gains from business. You would be entitled to the deduction of brokerage and stamp duty while computing taxable profits and gains from business. The turnover charges, if incurred wholly and exclusively for the purposes of the business, should also be deductible under Section 37 of the act.
(iii) You can also claim deduction for the amount paid towards the telephone charges, internet connection, annual charges for internet trading and monthly bill for depository or transaction from your taxable profits. The claim for telephone charges should be restricted to the expenses incurred in connection with your business and any personal expenditure towards such expenses should not be claimed.
Tax liability
Q. Kindly advice me tax liability for the year 2005-06 (assessment year 2006-07). I am not a senior citizen. I have purchased N.S.C. Rs 50,000 during 2005-06, Rs 1,076 deducted as T.D.S.
— Amarjit Singh, Ludhiana
A. On the basis of the figures given by you in the query, the total income after taking the benefit of amount of national saving certificate purchased by you would works out at Rs 1,70,319. The net tax payable by you on the said income for assessment year 2006-07 would be Rs 20,442 (Rs 21,518 — Rs 1,076, including the education cess of 2 per cent on income tax. The tax has been computed after including the agricultural income for rate purposes. The above tax does not include interest payable under Section 234A, 234B and 234C of the act. In making the computations, it has been presumed that (a) the amount of leave travelling has been spent and is within the block period, therefore, not taxable and (b) medical reimbursement is also exempt from tax and (c) interest received on RBI bonds is duly taxable.
Senior citizen
Q. I have completed 65 years on March 2, 2008, and became senior citizen. Can I avail taxable limit of Rs 1,95,000 for the financial year 2007-08?
— Bhagwan Singh, Patiala
A. Yes, you can avail the limit of Rs 1,95,000 applicable to a senior citizen as you have attained the age of 65 years within financial year 2007-08. Your status for assessment year 2008-09 would be that of a senior citizen.
Accrued interest
Q. I am a senior citizen. My total income for the year April 1, 2007, to March 31, 2008 as under: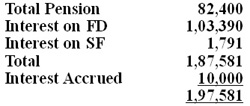 I am told that accrued interest of Rs 12,000 is exempted and if so, my income would be less i.e. below Rs 19,500.
— L.R. Khanna, Ludhiana
A. The amount of interest accrued on national saving certificates is covered within the provisions of Section 80C of the act and, therefore, is deductible from the total income subject to, however, a total ceiling of Rs 1 lakh provided for by Section 80C of the act. The figures given by you do not indicate that interest accrued referred by you is such an interest. In any case, such an interest would also be included in the total income. Your taxable income being above Rs 1,95,000, the Income-tax return for the assessment year 2008-09 will have to be filed by you. The last date of filing the return in your case would be July 31, 2008.