MC fails to improve drainage system
Authorities attribute it to lack of govt funds
Rajouri, April 28
More than three years after the Municipal Committee was elected in this border township, it has failed to improve the drainage and sewerage system. While as the municipal committee authorities here wait for the funds from the government to improve the drainage and sewerage, the district administration says that the urban body has to generate income on its own for carrying out such activities.
Bridge becomes peoples' lifeline
Akhnoor (Jammu), April 28
Residents of this frontier tehsil of Jammu district are happy with the construction of a bridge over the Chenab, inaugurated by Prime Minister Dr Manmohan Singh, during his recent visit to the state.
2 Hizbul militants killed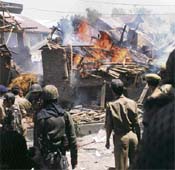 Srinagar, April 28
Two local militants of the Hizbul Mujahideen (HM), one of whom was the outfit's financial chief, were killed in an encounter with the security forces in Pattan area of Baramulla district, last evening. Six others, including a policeman, were injured in a grenade explosion at Sopore on Sunday evening, while two security forces personnel were injured in an attack by armed militants in Handwara area of north Kashmir today.
Jawans of the Jammu and Kashmir Police inspect the damaged house where two Hizbul Mujahideen militants were killed during an encounter in Pattan on Monday. — Tribune photo by Mohd Amin War
Parked vehicles to be charged Rs 50
Srinagar, April 28
After failing to check wrong parking on busy city roads, the authorities have decided to charge Rs 50 per hour, for parking vehicles in unidentified places.
Army recruitment drive
Srinagar, April 28
Defence authorities in the Kashmir have decided to conduct recruitment rallies for candidates belonging to all districts in the valley and for the Ladakh region from next month.
Miss India launches aviation course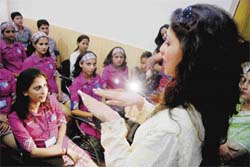 Jammu, April 28
Recently crowned Femina Miss India, 2008, Tanvi Vyas launched an aviation course at a private air-hostess training institute here this afternoon. She interacted with the students and shared her experiences with them. Later in the evening the institute hosted a dance party.— TNS
Femina Miss India 2008 Tanvi Vyas interacts with students of a private air-hostess training institute in Jammu on Monday. —Tribune photo by Anand Sharma
Man held for stealing human bones
Jammu, April 28
In an unprecedented incident, a man was arrested by the state police for "stealing" human bones from a cremation ground here, official sources said today.
30 houses gutted in Hungai fire
Udhampur, April 28
As many as 30 houses were gutted when a devastating fire broke out in remotest village of Paddar area of Kishtwar district. Although there is no report of loss of human lives in the incident, unconfirmed reports said scores of cattle had been died in the incident, which took place in Hungai village, Kishtwar district.
2 Hizbul ultras held
Udhampur, April 28
Security forces today arrested two militants of the Hizbul Mujahideen (HM) outfit from two different areas of Kishtwar and Doda.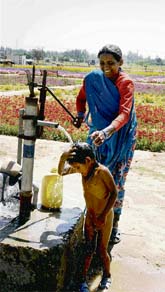 A woman bathes her child under a handpump in the newly laid flower garden in Jammu on Monday. —A Tribune photograph
Water, power blues irk residents
Jammu, April 28
With the mercury unexpectedly soaring four to five notches above normal, erratic water and electricity supplies have started haunting people in the winter capital.
Nameless Graves
APDP seeks support from media, people
Srinagar, April 28
Akbar Bibi from a remote village of Machkrinde in Uri area, near the LoC, is hoping against hope for the return of her two sons, who had been picked up by the security forces during a crackdown on their village 10 years ago.
Voter I-cards obtained from Pak militants, election clerk held
Srinagar, April 28
An election clerk has been arrested in connection with reports of foreign militants being in possession of electoral photo identity cards in Handwara area of Kupwara district.
Ground situation in J&K improved significantly: Antony
New Delhi, April 28
Defence minister A.K. Antony today said the ground situation in Jammu and Kashmir had shown signs of improvement with incidents of violence going down significantly.
Azad: Changing people's belief, my mission
Jammu, April 28
Chief Minister Ghulam Nabi Azad recently said he was trying to restore peoples' trust in politicians which had suffered a dent during the past decades due to their false promises.
Mehbooba on carrying forward peace process
Srinagar, April 28
Expressing the hope that substantive action would follow the Prime Minister Manmohan Singh's latest assertions on the opening of cross-LoC road links, PDP president Ms Mehbooba Mufti has stressed the need for carrying forward CBMs between India and Pakistan.