Legally bond

Pervin Malhotra
Q. Can you please tell me something about IPR practice and suggest a few courses?
A. There are barely 1,000 practicing patent professionals in the country. According to a NASSCOM report, 33 per cent of the IP demand is from the Knowledge Process Outsourcing [KPO] sector. According to a McKinsey report, the market demand for IP professionals is likely to touch 15,000 in the next three years.
The study and application of Intellectual Property Laws has gained further momentum due to the IT and entertainment revolution and globalization of the business environment. The importance and goodwill of a brand in the modern scenario has driven the demand for registering Trademarks and Patents.
Anyone pursuing law can opt for IPR as a specialization during the final year of LLB.
Practicing advocates and Company Secretaries can also practice as trademark agents. A practicing lawyer can also practice patenting.
Non-lawyers need to acquire the IPR qualification to practice trademarks by giving a one-day exam and viva at the Trademark office.
Similarly, you need to take a one-day exam at the Patent Office to be eligible to practice Patenting.
Patenting being a somewhat techno-legal area, you also need the basic skill of writing patents, which is honed only by experience.
You can either top up a Bachelor's in Law with a degree in IP Law or if you have expertise in a given domain, that too can be topped up with a qualification in IP Law.
You could check out some of the following courses:
National Law University, Jodhpur (Raj) www.nlujodhpur.ac.in)
Course: Master's Degree in IPR; PG Diploma in IPR Laws (Dist)
Amity Law School, Delhi (www.amity.org)
Delhi University, Department of Law, (www.du.ac.in) Diploma in IPR.
FICCI Institute of Intellectual Property Development, New Delhi. Course: PG Dip in Intellectual Property Management Admin & Law (6-mth, evn). Recog by MHRD. Elig: Bachelor's degree (any). Ph: 2378760-70 (extn 316/368)
The Global Institute of Intellectual Property [GIIP] has tied-up with the
University of Washington's Centre for Advanced Studies & Research on Intellectual Property [CASRIP] to offer an Advance Certificate Programme on Patent & Intellectual Property.
The programmes are offered through Software Technology Group (STG) training centres in Delhi, Bangalore, Kolkata and Mumbai. IGNOU & Queensland University of
Technology Australia, are jointly developing an online course on Intellectual Property Rights. The two-year master programme will be a unique course and it will aim at developing knowledge, awareness and practical skills in Intellectual Property Rights. The course will commence from January next year.
Distance learning
Q. Please tell me about recognised institutions and universities from where I can do M.Ed through the distance mode.
— Prerna Kaushik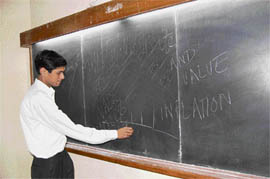 A. Working teachers who have completed their B. Ed can opt for M. Ed from January, 2008, through distance learning offered by various institutions/universities approved by the Distance Education Council (DEC).
The DCE and the National Council for Teachers Education (NCTE) have joined hands to develop a national-level curriculum for the MEd programme.
More than 30 universities offer M. Ed (DE) courses. I am listing a few of them in north India for you:
Indira Gandhi National Open University (IGNOU) www.ignou.ac.in
Barkatullah Vishwavidyalaya, Bhopal-462026
Himachal Pradesh University, International Centre for Distance Education & Open Learning, Shimla-171005 (http://hpuniv.nic.in)
Vardhaman Mahaveer University, Akelgarh, Kota (Raj) (www.vmoukota.com)
Kurukshetra University, Directorate of Distance Education (www.kukinfo.com)
Maharshi Dayanand University, Directorate of Distance Education, Rohtak 124001 (Har) MEd (2-year Corresp)
Nalanda Open University, Patna (Bih)
Panjab University, Department of Correspondence Studies, Chandigarh 160014 (www.puchd.ac.in)
Punjabi University, Department of Correspondence Studies, Patiala 147002 (www.universitypunjabi.org)
University of Jammu, Directorate of Distance Education, Jammu (J&K)
University of Kashmir, Centre of Distance Education, Hazratbal, Srinagar 19006
For further details, log on to the website or write to Director, Department of Distance Education of the respective universities or the Distance Education Council (DEC).www.dec.ac.in .
You could also get the relevant information on www.ncte-in.org which is the website of the National Council for Teacher Education which governs all education in this field.
Art of working
Q. I want to do Master's of Fine Art (MFA) in Applied Arts by correspondence. Can you please suggest some universities?
— Vibha Goel
A. Leaving aside the merits or demerits of studying art (that too, Applied) through correspondence, you could check out the following options:
Jiwaji University, Institute of Distance Education, Gwalior (www.idejug.org ) offers MA in Drawing & Painting. Madurai Kamraj University, Directorate of Distance Education, Madurai (TN) (www.mkuniversity.org )
MFA (Master of Fine Arts), M.Sc. in Visual Communication
SNDT Women's University, Centre for Distance Education, Sir Vithaldas Vidyavihar, Juhu Road, Santacruz (W), Mumbai 400049 (www.sndt.digitaluniversity.ac.in) offers MA in Fine Arts with specialisation in Art & Painting (2-year).
Guru Nanak Dev University, Centre for Distance Education, Amritsar offers a PG Diploma in Commercial Art (1-yr) www.gndu.ac
Sikkim Manipal University, Gangtok (www.miteindia.com) offers PG Diploma in Graphics & Animation (1-yr)
Heart of the matter
Q. Can you please tell me something about the scope of perfusion technology? I have done B.Sc nursing.
— Harpreet Chaddha
A. A perfusionist is a skilled and qualified allied health professional who works as a member of an open-heart surgery team, responsible for the selection, set-up, and operation of a heart-lung machine and other life support systems such as artificial lungs, lABP LVAD, RVAD, & ECMO.
Clinical perfusionists are required to operate circulation equipment when it becomes necessary to temporarily and artificially replace the patient's circulatory or respiratory functions. They also control the patient's body temperature during surgery.
The perfusionist ensures blood supply to each cell during an open-heart surgery even when the heart and lungs are not functioning. The removal of carbon-dioxide from and addition of oxygen to the blood takes place through the machine when blood is pumped through it. This enables surgeons to make necessary cardiac repair. Understandably, this is a highly specialised job that requires total dedication.
Where to study:
AIIMs, New Delhi offers MSc Perfusion Tech. Elig: BSc Biol/Perfusion Tech
CMC, Vellore (TN) (www.cmch-vellore.edu) PG Diploma in Perfusion Tech (1-year)
ISECT (Indian Society of Extra Corporeal Technologists), Vadodara (Guj)
JNTU, Guntur (AP) offers PG Diploma in Perfusion at Yashodha College of Nursing, Hyderabad
Nizam Institute of Medical Sciences, Hyderabad (AP).
Rajiv Gandhi University of Health Sciences, (Kar) www.rguhs.ac.in: offers BSc PerfusionTech (Fr Muller Med College, Mangalore 575002; Jawaharlal Nehru Medical College, Belgaum 500001, St John's Medical College, Bangalore 560034, Narayana Hrudayalaya Institute of Medical Sciences, Bangalore www.hrudayalaya.com). Elig: PUC with PCB (50 pc)
SV Medical College, Tirupathi
Sri Chitra Tirunal Institute of Medical Sc & Tech, Thiruvananthapuram 695 011 (Ker) (www.sctimst.ac.in/academic/allprogram.htm+perfusion
PG Diploma in Clinical Perfusion (2-yrs). Elig: GNM (+ 1-yr wk ex)/ BSc. Nursing.
KEM Hospital, Mumbai (Mah) Diploma in Extra Corporeal Perfusion Technology (1-year) Elig: BSc
You can find jobs in speciality / super speciality hospitals like Apollo, Escorts, Wockhardt, Fortis etc.
Managing malaria
Q. I want to become a health and malaria inspector. What are the requirements and from where can I do it?
— Beena Gautam
A. The Railway Recruitment Boards (RRBs), of the respective Zonal Railways / Production Units under the Ministry of Railways, GoI, recruit Health & Malaria Inspectors Gr. III in the Pay Scale of: Rs. 5500-9000. Age: 18-33. The eligibility is a BSc (Chemistry) plus 1-year course in Health/Sanitary Inspector. Candidates usually undergo 6-months of training upon joining.
Selection is on the basis of a written/online exam To know more about the vacancies, eligibility and selection procedure for this and all the other different jobs in the Indian Railways, please refer to Rozgar Samachar or Employment News, wherein vacancies in different zones are advertised through the respective notifications. This information is also available on the websites of respective RRBs (there are 19 of them).
The writer is a noted career consultant

Please send in your query, preferably on a postcard, along with your full name, complete address and academic qualifications to: Editor, Jobs and Careers, The Tribune, Sector 29, Chandigarh-160030, or at careers@tribunemail.com