PUNJAB

HARYANA

JAMMU & KASHMIR

HIMACHAL

REGIONAL BRIEFS

NATION

OPINIONS

LETTERS

BUSINESS

SPORTS

WORLD


W O R L D

PPP-PML (N) talks on reinstating judges fail
Dubai, April 30
The crucial talks between the ruling Pakistan People's Party (PPP) and Pakistan Muslim League-N on the issue of reinstatement of deposed Supreme Court judges tonight failed to break the deadlock between the two sides. With the 30-day deadline for reinstating the deposed judges expiring today, the two main partners in the ruling coalition said they would continue talks tomorrow to resolve their differences on modalities for restoring the judges.
Pak journalist shot by wife
Senior Journalist Khalil Malik and his wife were found shot dead on Wednesday reportedly after a fierce feud. The police said Malik was shot by his wife Saira, who later committed suicide. Saira was Malik's third wife and the couple were facing months of troubled relationship, the police said. Malik had shifted from print journalism to electronic media about five years ago and had also acted as speechwriter for former premier Shaukat Aziz. He had four children from first wife. Saria was also a TV journalist whom he married about a year ago.
Stabbed Indian student stable
Melbourne, April 30
The Indian student working as a taxi driver, who was brutally stabbed and left bleeding on the roadside here, is said to be "stable" and has been taken off the critical care list, a hospital official said today.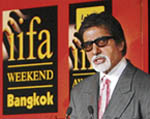 Bollywood actor Amitabh Bachchan speaks during a news conference of the International Indian Film Academy (IIFA) awards in Bangkok on Wednesday. Thailand is set to host the awards from June 6 to 8 in Bangkok. — Reuters photo