The X-ray factor
Diagnostic jobs the latest to be outsourced
Ashwini Shrivastava
Ater business, knowledge and legal process outsourcing, Indian industries are now eyeing 'diagnostics jobs' outsourcing from other countries.
According to industry experts, a number of hospitals in the US and Europe are outsourcing laboratory and diagnostic tests to India as it helps in saving cost and money while maintaining quality.
The Indian diagnostics and pathology laboratory business is around USD 864 million and is growing at a rate of 20 per cent annually, they say.
Accordng to the FICCI, the size of the global clinical trials market was nearly USD 10 billion and estimated to have touched USD 26 billion by 2007. "Diagnostics and lab testing outsourcing is certainly the most potential business domain. We are trying to tap available opportunities in it," says Dr G.S.K Velu, managing director, Metropolis Health Services India Ltd.
"There is an excellent outsourcing opportunity to test around one million samples a year," he says. The other emerging sector —Clinical Research Outsourcing (CRO)— is also witnessing a surge in the country. The drug manufacturing units are outsourcing different phases relating to the development of medicine to India.
In the case of diagnostics, X-rays and other procedures are done abroad and the reports by experts are written here and sent back, while in the case of lab tests,the photomicrographs are electronically sent here and the doctors send back the results, says Velu.
"We plan to offer tele-pathology services to cater to the needs of foreign clients faster," he says, adding that countries like West Asia, Sri Lanka, Africa, Nepal, Bangladesh and UK outsource tests to India.
At present, the volume is not very high but the market potential is huge as European countries as also the US are in talks to outsource their work in this area.
Metropolis, that provides hospital laboratory management services and outsources a number of diagnostic-related works to India, has a number of labs in West Asia and South-East Asian countries, including Thailand, Indonesia and Vietnam.
"We process more than 10 million sample tests per year and around one per cent from outsourcing," Velu adds.
"There is a great opportunity for tapping CRO in the nation. The volume of business is expected to touch the USD 1-1.5 b mark by 2010," says Dr Umakanta Sahoo, managing director, Chiltren International, a global CRO firm.
There are as many as 30 global CROs and 100 companies involved in doing clinical research-related jobs in the country.
Most of the work comes from the US (almost 20 per cent) and Europe (70-80 per cent). We undertake approximately 300 studies a year, he says.
"It is not the lack of expertise behind outsourcing clinical research-related jobs, but availability of manpower and time saving," he says.
The sector is also poised to deliver excellent job opportunities and career options to research fellows. McKinsey estimated that the Indian CR (clinical research) market will grow to USD 1.5 billion in value by 2010.
"A research job is not regarded much in our country. We need to train researchers to meet the growing demands in CRO," he adds.
Asserting that the country has a bouquet of products to offer to foreign clients and attract outsourcing, he says: "There is an urgent need to market our products globally. The government has to start speaking globally about diagnostics and lab work outsourcing in the same way as information technology."
— PTI

Work shifts
40 pc BPO jobs may move to Tier-II cities
Second-grade or Tier-II cities in the country are likely to account for about 40 per cent of the total projected IT-BPO jobs by 2018 if the government, in tandem with the industry, provides a conducive environment, a study has said.
However, big cities like Mumbai, Chennai, Bangalore, Hyderabad, Kolkata, the National Capital Region (NCR) and Pune are still the preferred destinations for setting up an IT or a BPO company, a Nasscom-A.T. Kearney study on "Location Roadmap for IT-BPO Growth" said.
These centres are closely followed by Ahmedabad, Kochi, Bhubaneswar, Chandigarh, Coimbatore, Indore, Jaipur, Lucknow, Madurai, Mangalore, Nagpur, Thiruvananthapuram, Vadodara, Tiruchirapalli and Visakhapatnam, it said.
"If the industry follows a balanced growth, these non-leading cities could provide three million direct jobs, 40 per cent of the projected employment by 2018," it added.
At present, the leading locations account for over 85 per cent of the IT sector employment and over 90 per cent of the BPO jobs in the country, it said.
"The development of only a few select set of cities has put severe pressure on the infrastructure, costs and also increased migration of resources," Nasscom president Som Mittal said.
There is a lot of potential in the next set of locations if the government, IT-BPO companies and infrastructure providers pitch in to create a conducive environment, he said.
With the maturing industry, it is imperative to expand the geographical spread of IT-BPO growth to enable a more balanced economic development of the country, lower migration across cities and reduce the burden on the stretched infrastructure in the current hubs, he added. — PTI

Financial services witness executive shake-up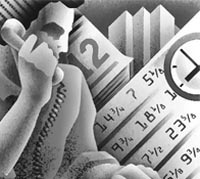 A major top management level churn is on in the country's financial services space, with the Aditya Birla group emerging among the biggest beneficiaries of this shakeout as it has attracted a large number of executives from other companies.
There is hardly a corporate house present in the financial services business that has remained unscathed from the ongoing shake-up, be it domestic majors like ICICI, Reliance and Birla or foreign giants like Citigroup and Merrill Lynch, said a senior executive at a leading head-hunting firm.
Reliance Capital, the financial services arm of Anil Ambani group, recently appointed Sam Ghosh as its new CEO, in place of Amitabh Chaturvedi. Ghosh was previously with Allianz and was responsible for ramping up its Indian insurance ventures.
Besides, the Aditya Birla group has taken in Pankaj Razdan, formerly CEO of ICICI Prudential Mutual Fund, as its Financial Services business Deputy CEO.
About a dozen recent recruitments at the senior level of Aditya Birla group's various financial services businesses include Gautam Chainani, joining it as Chief People Officer, from American Express.
Besides, Birla Sunlife AMC also got a new CEO in Anil Kumar, who comes with varied experience with investment banking major Citibank NA. Birla Sunlife has also pulled in Kalpen Parekh and Naveen Tiwari from ICICI Prudential AMC to co-head its retail sales business, while Rajiv Joshi has joined as head of compliance and legal from HDFC Ergo General Insurance. However, Birla group has also seen its share of exits in this churn. Taurus MF appointed Amit Gupta as its Vice President and Country Head for retail sales.
Experts in the space believe change is key to success for any business as it helps in enhancing the business growth and bring in new experiences.
"Right now we are concentrating on building a firm foundation, with the help of our strong and committed team.
Simultaneously, we are also making some key hirings, to aid our growth needs," Aditya Birla Group Financial Services Chief Executive Ajay Srinivasan said.
According to industry sources, Kumarmangalam Birla interacts regularly with the heads of all his group companies and that helps in building camaraderie between the executives.
The regular interactions are dubbed as 'Coffee with Kumar' among the Birla group executive circles.
Leading private life insurer ICICI Prudential Life appointed Avijit Chatterjee as appointed actuary of the company with effect from January 18 this year. Chatterjee was earlier serving in a leading UK life insurance company.
Further, Principal PNB AMC, a joint venture between Principal Financial Group (Mauritius) with Punjab National Bank (PNB) and Vijaya Bank, has appointed Sudipto Roy as business head for the asset management business.
Roy has been with Principal India for over two and half years and has contributed to the growth of insurance broking business at PNB Principal Insurance Broking Pvt. Prior to which he served as Vice President-Alternate Channel at Kotak Life Insurance.
Besides, global investment banking major Merrill Lynch & Co Inc, appointed Kevan Watts as president of its Indian unit, DSP Merrill Lynch, to strengthen its management team, while Citi has hired Nalin Nayyar as managing director in the bank's Indian investment banking team. — PTI

Smart Skills
Fair chance
Usha Albuquerque
The hand that rocks the cradle rules the world, says the proverb. Anything a man can do, a woman can do better…says an old song. With so many young women storming the traditional male bastion of jobs, the latest being the permanent commission in the Army, it is just the kind of thinking young women have today.
Over the last couple of decades, more and more women in India have not only stepped out of their cradle-rocking roles to slip into the world of work, but have silently but surely made sizeable inroads into gender stereotypes.
Information Technology offers a huge area of opportunity and a wide variety of jobs. IT is cool, in demand, and pays fat bucks too! It is also an area of technology where the more fastidious young ladies don't need to get their hands dirtied! Sitting at a computer console in an air-conditioned environment is one that has attracted many a young thing. Large IT companies are bagging bigger contracts and driving new projects and development work in India.
The IT-enabled jobs in call centres and BPOs are recruiting young people in even larger numbers. What's more, you don't need engineering or computer qualifications. BPO firms on an average add between 200-300 people per month.. So, if you have good English speaking skills, are friendly and presentable, even if you are not good in computers or not academically inclined, you can get a good placement with a call centre or BPO.
Along with IT, telecom is another fast growing sector in the country today. Currently, there are around 200 million mobile users and this figure is increasing rapidly. The top jobs right now are in the area of marketing of different telecom services, for which a management or sales and marketing degree is useful. Most service providers prefer to recruit women, as studies have shown, women are better at marketing and customer skills.
Customer services in fact are the new mantra for all companies looking to attract new buyers and new markets. Fast food eateries, department stores, banks, call centres, telecom outlets and even petrol pumps are sporting a new breed of customer care professionals – with confidence and presentation skills. Who better to fill the roll, than women? The red hot banking and finance sector is also increasingly on the look out for smart, confident young women with the knowledge and skills in areas where customer interface is important.
Insurance is an area of work waiting to explode. There are currently around 17 insurance companies in the market today which cover only 24 per cent of our population. Growing at 15 per cent per year, insurance will see the entry of many more private companies looking to insure over 300 million potential people. Here too, companies find women generally good at marketing insurance schemes.
You can also get your career onto a flying start in aviation. The fascination of flying with the exciting promise of travelling to different places and interacting with a variety of people has attracted thousands of young hopefuls from across the country. Once again the girls win out, as many of the airlines, only recruit women as cabin crew, or recruit more women than men. With attractive salary packages, a glamourous, though demanding, work environment, and private airlines being set up fast and furiously there is a huge demand for air hostesses. So, why not launch your career with flying colours?
As more and more Indians join the growing middle class with discretionary incomes, their spending will also increase. That is why the retail sector is probably the second largest source of employment in India. It is growing the fastest, already there are around 100 shopping malls across the country, with 100 more slated to be set up in the next 5 years, estimated to create 1,00,000 jobs in the next five years. Shopper's Stop and Big Bazaar are now moving to B & C class cities, so too are Spencers, Music World, Reliance Fresh and Food World, while international names like Walmart and Carrefour are coming in shortly. There are a variety of jobs and responsibilities in a retail showroom. Here again, women are in demand, as they also form the largest bulk of shoppers. You can be expected to handle a particular brand , product or service, or be involved in multi-tasks with some of the larger department stores, or retail chains, handling food items, health and beauty products, clothing and footwear, home furniture, household goods and durable goods.
As India has made a name for itself in the IT sector, so it will be in biotechnology. This is a sector that already has a woman breaking all records of success. Kiran Majumdar Shaw started Biocon, a small biotechnology unit in her garage in Bangalore 20 years ago. Today she is the richest and most successful woman in India. Biotechnology is not a single discipline, but weaves in several other technologies including medical, agriculture and marine. With the increasing demand for medicine and healthcare, for high yielding food crops, and the need for environmental protection, biotechnology is a big global growth area. Biotechnology provides many opportunities for young women in the development of healthcare products, in agricultural and environment research requiring patient, and meticulous work that women at best at.
Healthcare will soon join the ranks of hotspot careers as more and more corporates set up hospitals and clinics across the country. Beside the growing domestic requirement, medical tourism is bringing foreigners coming to India for cost-effective medical treatment. With large companies like Apollo, Wockhardt, Max, Fortis ( Ranbaxy), Tata and Duncans setting up state-of-the-art hospitals and clinics across the country, there are growing opportunities for healthcare professionals, and not just doctors but also nurses, para-medics, managers and administrators as well. Indian Nurses are also in great demand today in countries like the USA, UK, Germany, Japan, the Philipinnes, Norway and Sweden, particularly for geriatric care, operating theatre nursing, cardiac care, and specialised areas of surgical nursing.
This increased focus on health and well-being has greatly benefited the personal care and fitness industry too. As more salons open up there is a growing demand for beauticians, both trained and untrained, even in smaller cities and towns. Looking good is no longer a luxury. Hair styling, beauty treatment, skin care and fitness has opened up vast opportunities for young women. You can choose not only to work in a salon, but also to set up your own salon, join beauty consultants who cater to the film and advertising industry, or become in-house stylists and grooming specialists for fashion houses. Every fashion show or display of garments requires beauty specialists to handle the make-up, hair and draping of garments.
While working conditions have been slow to accept women, today more and more women are coming into jobs that were dominated by males – and in many cases, performing better than men. Today in areas such as journalism, television and even hoteliering, there are many more women than men, and recruitment trends show they are preferred. The armed forces have been opening its doors wider and wider to accept women officers. Although women have been traditionally recruited in the armed forces only in the medical and nursing corps, today the Army offers a satisfying career for women in most non-combatant areas including the Army Service Corps, Ordinance Corps, Education Corps, Signals, Electrical & Mechanical Engineers, the Judge Advocate General's branch and the Army Intelligence Corps.
In the corporate set-up too, it has been observed to a larger extent that there is marked acceptance of women as managers. Indian women are seen to be judicious and responsible in the use of their authority, without being authoritarian. Indra Nooyi is no exception. Women as managers have been better handlers of human emotions and their non aggressive attitude are their biggest plus point. In such a positive climate, there are umpteen career choices for a woman. More than that, women today can plan for a career, rather than just a job, seen as a stop gap until marriage – a career of choice, irrespective of her domestic situation. Each individual has talents, interests and aspirations, and your career should match that potential rather than be based on one's whims and fancies or dictates of parents, peers and societal norms.
The job market is crying out for talents and skills.There is a whole world of opportunities waiting to explode. Young lady, you can really take your pick!
The writer is a noted career expert