Issue of contaminated canal water boils over
Congress flays govt
Abohar, May 7
Former MP and AICC member Jagmeet Singh Brar today lambasted the SAD (B)-BJP government for "playing" with the health of millions by supplying contaminated water through canals in the Malwa region. While visiting some of the canals and sub-canals here on Wednesday, he told newspersons that the matter might be brought to the notice of the National Human Rights Commission (NHRC), as scores of residents in rural areas were suffering from jaundice and diarrhoea. The chief whip of the Congress Parliamentary Party (CPP) would be requested to raise the issue in Parliament also, he informed.
Farmers vent their ire at minister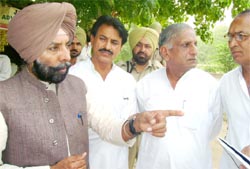 Abohar, May 7
Scores of farmers from different villages today virtually gheraoed irrigation minister Janmeja Singh Sekhon in Seetogunno village, 21 km from here, today to express their anguish over the supply of contaminated water in regional canals.

Former MP Jagmeet Singh Brar inspecting canals in Abohar on Wednesday. — A Tribune photograph

Mall proliferation dampens moolah hope from land auction
Bathinda, May 7
The proliferation of shopping mall projects in the city seem to be dampening the expectations of the administration from the sale of the PWD (B&R) site measuring 16,973 square yards, located on 100-feet road. Officials feel that while commercial auction of the place might fetch a higher price, it is unlikely to be so, because of too many shopping malls being set up in the city.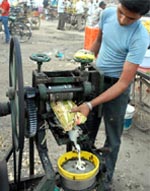 Despite ban, sale of cut fruits on
Bathinda, May 7
Despite ban, the sale of cut fruits continues in Bathinda these days, with vendors doing a brisk business. Also, with the onset of summer, roadside vendors selling chaat, chana-kulcha and coloured drinks have mushroomed here. "The notification banning the sale of cut fruits in the district is just a routine annual feature of the local administration in the wake of the threat of summer ailments," says Gurpreet Singh, a city resident.
Unhealthy drink: A swarm of bees and flies sipping cane juice that a vendor was preparing for customers on Goniana Road. Tribune photo: Malkiat Singh
Relief to Farmers
Markfed to give 2.5 lakh Bt cotton seed packs
Bathinda, May 7
The farmers of this cotton belt, who have suffered huge losses in the last season due to spurious Bt cotton seeds, have found a saviour this time. Markfed has taken up the task of distributing more than 2.5 lakh packets of certified Bt seeds in the cotton belt of the state this season. Last year, Markfed had distributed around 85,000 packets of certified Bt cotton seeds here.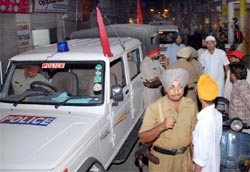 Cops stage flag march to defuse tension
Bathinda, May 7
Tension gripped the city when a SAD leader Gurdass Garg arranged a satsang of Ashutosh Maharaj, head of the Noormahal sect, at his residence on Amrik Singh road, here today. Though the administration had given the permission for holding the ceremony, but some Sikh organisations took a serious note of it and expressed their resentment.
Police staging a flag march in Bathinda on Wednesday. Tribune photo: Kulbir Beera
Zila Parishad, Panchayat Samiti elections
Cong raises pitch against water contamination
Number of booths increased
Abohar, May 7
Congress MLA Sunil Jakhar, during a hectic campaign for the PRI elections, was shown samples of "unfit" water today, being supplied by the water works.
SAD launches poll campaign
Number of booths increased
Mansa, May 7
The SAD (B) here has launched its election campaign in support of party candidates. Balwinder Singh Bhunder, general secretary of the Akali Dal, visited Bhamme Kalan, Bhamme Khurd, Jaurkian, Raipur, Bajewala, Sahnewal and Jhuneer and other villages of the Sardoolgarh area.
Congmen visit villages
Mansa, May 7
District Congress president and MLA from Sardoolgarh, Ajitinder Singh Moffer, and Budhlada MLA Mangat Rai Bansal today visited different villages in support of the Congress candidates and also addressed public meetings. They visited Bhamme Khurd, Jhanda Kalan, Jhanda Khurd, Kauri, Aaloopur, Khera Khrd, Rourki, Beerewala, Rianod, Maghania, Cherkala, Uddat, Jheengar and Mandran villages.
Sankalp Mahotsav on May 10
Abohar, May 7
The Shaheed Bhagat Singh Janam Shatabdi Samaroh Samiti will remember the martyrs of 1857 by organising a Sankalp Mahotsav at the Nehru Park here on Saturday.