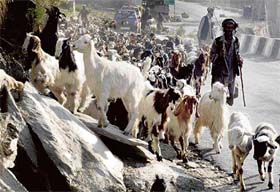 As snow melts on higher reaches, nomad Gujjars and Bakkerwal tribes start moving their cattle to greener pastures. — Tribune photo by Anand Sharma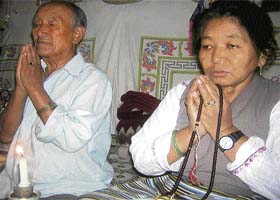 Tibetans offer special prayers for victims of China earthquake in Srinagar on Tuesday. — A Tribune photograph
Pak-trained militants go hi-tech
Jammu, May 13
To baffle the Indian security agencies that have been guarding the line of control and international border Pakistan-trained militants have gone hi-tech and are being given special trainings across the border in modern means of navigation and communications.
Infiltrators 'hoodwinked' BSF in Samba
Eyes now on Amarnath yatra
Jammu, May 13
The intrusion bid that was foiled by the BSF in Samba sector was just a "drama" managed by the infiltrators to divert the attention of the force and provide the opportunity to another group to sneak into Indian side, said an intelligence source.
Dusk-to-dawn curfew in border villages
Jammu, May 13
A dusk-to-dawn curfew has been imposed on all villages along the 187-km India-Pakistan international border in the Jammu region to check infiltration following gun battles with militants over the past two days in which nine people were killed.
Dispute Over GI Tag
India, Pak claim rights on Kashmir handicrafts
Srinagar, May 13
A government attempt to give an exclusive identity to prized Kashmiri handicrafts by the way of rendering them Geographical Indicator (GI) patent is embroiled in dispute after similar claims from officials from Pakistan-occupied-Kashmir (PoK).
Accident Check
20-seater buses on narrow, hilly routes soon
Srinagar, May 13
In order to check increasing number of road accidents, which have taken a heavy toll on humans in the state recently, the government is working on effective measures particularly in the hilly areas.


Farmers get land ownership rights
Srinagar, May 13
Chief Minister Ghulam Nabi Azad today distributed ownership rights of 2,846 kanals of state land to 1,077 beneficiaries under the Roshni Scheme free of cost in Budgam district.

Chief Minister Ghulam Nabi Azad hands over the ownership rights of agricultural land to a farmer in Badgam on Tuesday. — Tribune photo by Mohd Amin War
16,000 posts to be filled
Srinagar, May 13
The Jammu and Kashmir Government has decided to fill 16,000 posts in various departments on fast track basis while other posts are being identified. An official spokesman said 16,000 vacancies have been referred to the Service Selection Recruitment Board (SSRB) for recruitment on fast track basis.
Armymen frisked near PDP rally
Rajouri, May 13
As fallout of the recent militant strike, wherein militant in Army combat dress, in Samba the police today reportedly frisked some armymen just 100 metre from the venue of a public meeting of the Peoples Democratic Party.
It serves as an input, says DIG Khan
Jammu, May 13
DIG Farooq Khan today said the police was fully prepared to defuse the damage potential of the terrorists in case they have succeeded in infiltrating into the Indian side of the border.
Two booked for graft
Srinagar, May 13
The vigilance department has registered a case under the Prevention of Corruption Act and other appropriate Sections against Balwant Raj Kotwal, a patwari, and one Major Ram, posted in a Jammu village, for demanding and accepting illegal gratification.
Tributes paid to scribe
Udhampur, May 13
A meeting of the Journalist Association of Doda was held today at Bhaderwah in which journalists and social activists participated. The meeting strongly condoled the death of senior photojournalist Ashok Sodhi, who lost his life while performing his professional duties at Samba.
IIM: Vakil hails Centre's decision
Srinagar, May 13
Welcoming the Centre's decision to set up three high-level educational institutions to Jammu and Kashmir, social welfare minister Abdul Gani Vakil today said the education sector in the state has witnessed a revolution over the last three years.