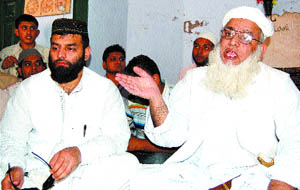 Muslims want end to Aroosa-Capt relations
Amritsar, May 16
All-India Majlis Arhar chief Habib-ur-Rehman has sought a fatwa against Pakistan journalist Aroosa for maintaining relations with Capt Amarinder Singh, former Chief Minister of Punjab.

All-India Majlis Arhar chief Habib- ur- Rehman addresses mediapersons in Amritsar.
Pensioners to float political party
Amritsar, May 16 Hundreds of government pensioners here today decided to form a political party for making their presence felt in the political arena of the state for getting their grievances redressed.
Brimming Over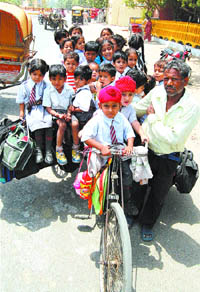 Overloaded school rickshaws pose a serious threat to the safety of kids. — Photo by Vishal Kumar
Work suffers as Tarn Taran waits for new DEO
Tarn Taran, May 16
The functioning of the district education office (secondary education) lies crippled after the retirement of district education officer (DEO) Piara Singh Talwar on April 30.
Green matters don't excite environ minister: NGO
Amritsar, May 16 An NGO, Mission Aagaaz - Earth and resources care group, has alleged that the environment minister Bikram Singh Majithia was not taking any interest in environmental issues. In a report issued to the press, the body led by Deepak Babbar, claimed that so far no meeting or seminars had been organised by the minister which clearly shows his interest in the green matters.
Tapping Tourism
'Holy city has miles to go'
Amritsar, May 16
The tourism potential of the holy city is far more than what has been tapped, provided facilities like tourist information centres, transportation and civic amenities are improved.
Wake up to home truths, Luthra tells Bush


Food Remarks: 'It's Americans who need to mind their eating habits'
Amritsar, May 16
US President George W. Bush's remark on the Indian middle class has evoked widespread criticism in India. Taking a jibe over Bush's controversial statement, Vandana Luthra, the woman who has changed the world of hundreds of 'plus-sized' persons, said, "It's absolutely wrong to say that the Indians are consuming more. If this is true, then why the USA continues to be the obese capital of the world."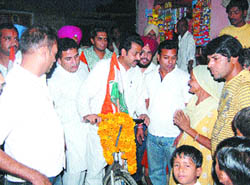 Poll campaign: PYC takes out cycle rally
Amritsar, May 16
The Punjab Youth Congress (PYC) here today took out a cycle rally to campaign for the Congress nominee Navdeep Singh Goldy for byelection to the Amritsar (South) seat to be held on May 22.


PYC chief Vijay Inder Singla during an election rally in Amritsar on Friday. — A Tribune photograph
City Star
Local lad wins bronze in international karate championship
Amritsar, May 16
Little karate champ Aryan Khanna has added another feather to his cap by winning the bronze medal in the International Karate Championship held in Durban, South Africa, on April 26.
Exhibition on insect photos
Amritsar, May 16
A two-day exhibition of photographs of insects by Arsh Rup Singh on the theme of "Tiny but mighty inhabitants of planet Earth" will be held on May 17-18 at Art Gallery here.
Mann: Nothing wrong in promoting turban
Amritsar, May 16
The criticism of Akal Academy School by the Dal Khalsa for forcing the Hindu students to wear turban is politically motivated. This was stated by SAD (A) chief Simranjit Singh Mann while addressing mediapersons here today. He said nobody had the right to denigrate turban as it was the symbol of Sikhism and epitomised the Sikh glory.
'Stop construction of wall or face stir'
Amritsar, May 16
The central and state governments will be responsible for any untoward incident if they failed to stop the construction of a wall by the Army at the local Dasehra ground area near Durgiana Temple dividing it into two parts.