NC, PDP for edge in Jammu
Jammu, May 19
With the valley being claimed by them as their "bastion," arch-rivals the National Conference (NC) and the People's Democratic Party (PDP) have been focusing hard on Jammu region in election year.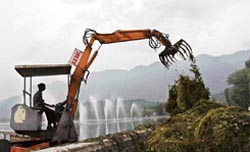 Weeds are unloaded from a machine after they are removed from the polluted Dal Lake in Srinagar on Monday. The lake which once covered 30 sq km has shrunk to half the size over the past four decades because of silt, weeds and development and is dying very fast, say environmentalists. — Reuters
Candidates supported by NC make clean sweep
Jammu, May 19
Though party affiliations hold little relevance in elections to the Jammu Cantonment Board, yet all seven seats were won by the candidates supported by the National Conference here today.
BJP fears govt will manipulate poll results
Jammu, May 19
Accusing the collation regime of violating the electoral exercise in Jammu and Kashmir, the state wing of the BJP has demanded that the government be dismissed and elections be conducted under the Governor's rule.
Nothing can hamper Indo-Pak peace process: Mufti
Rajouri, May 19
Former chief minister and PDP patron Mufti Mohammad Sayeed has asserted that no power could hamper the Indo-Pak peace process initiated by his party. Mufti added that the confidence building measures (CBMs) being taken by both India and Pakistan would facilitate to restore lasting peace in the sub-continent.
Pak mobile towers stand tall despite India's protest
Jammu, May 19
Despite India's protest, Islamabad has not yet removed the mobile towers, which were installed on its side on the border.
'Dead' woman cop found leading love life
Srinagar, May 19
More than two years after her disappearance, a policewoman, who according to her parents was allegedly murdered due to her knowledge about the high-profile sex scam, has been found living a secretive but happy conjugal life in Jammu.
Jawan commits suicide
Srinagar, May 19
An Army jawan allegedly committed suicide by shooting himself with his service rifle in Anantnag district today.
2 electrocuted, villagers block traffic
Srinagar, May 19
After two persons were electrocuted and two sisters and their brother were injured due to electric shock, residents of Uri village blocked traffic on the Baramulla-Uri road today.
Medical conference on May 24
Udhampur, May 19
The Army's Northern Command is set to hold a medical conference on handling emergencies caused by counter-insurgency operations in the state, which has been battling terrorism for the past 18 years.
Sack Karra: Panthers to Governor
Jammu, May 19
Panthers Party chairman Bhim Singh has urged Governor Lt-Gen S.K. Sinha (retd) to immediately sack finance minister Tariq Hamid Karra from the state Cabinet.
No infiltration, ceasefire violation in Kargil: Brig
Kaksar (Kargil), May 19
There has been no report of any infiltration attempt and violation of ceasefire since 2003 in the Kargil sector and villagers feel secure and are working in fields near the Line of Control (LoC), Brigadier S.C. Rangi said today.
APHC accepts Pak invite for talks
Srinagar, May 19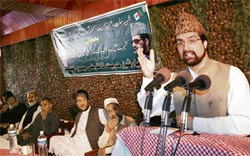 The All-party Hurriyat Conference (APHC) led by Mirwaiz Umar Farooq has accepted Pakistan's invitation for talks on the Kashmir issue scheduled for next month. This is the first step by the newly constituted coalition government in Pakistan to resolve the long-pending issue.
Hurriyat Conference(M) chairman, Mirwaiz Umar Farooq addresses a gathering at a seminar "Right to represent people in negotiated settlement of Kashmir issue" at Srinagar on Monday. A Tribune photo
Probe vigilance working, says Farooq
Srinagar, May 19
The opposition National Conference (NC) has sought a probe into the allegations made by senior PDP leader and finance minister Tariq Hameed Karra on the working of the state Vigilance Organisation.
Hailstorm claims life, damages crops
Srinagar, May 19
Normal life was severely hit by dust and hailstorm in the valley today. According to unconfirmed reports reaching here, one person was killed in Budgam district, due to heavy hailstorm.