Grill erected near Amarnath shrine
Jammu, May 28
Taking a cue from unsavoury rows of the past two years, the Shri Amarnath Shrine Board (SASB) has initiated various measures to steer clear of any controversy ahead of the annual Amarnath yatra, starting June 18.
NC: Govt politicised Patil's visit at Bhaderwah
Udhampur, May 28
The National Conference (NC) today flayed the state government for politicising the visit of President Pratibha Patil who visited Bhaderwah on Monday to inaugurate the extension campus of the Jammu University.
Train cancellation creates chaos at station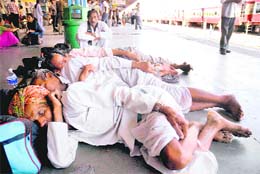 ammu, May 28
Chaos prevailed at the Jammu railway station as passengers of a Mumbai-bound train protested after the train was cancelled. The agitated passengers alleged that the railways staff had not given them prior information about the status of the train and kept them waiting for hours before announcing the cancellation.
IN DEEP SLUMBER: Stranded passengers whose train was cancelled sleeping on a platform of the Jammu railway station on Wednesday. —Tribune photo by Anand Sharma
Be flexible on Kashmir during Pak visit: Farooq to PM
Srinagar, May 28
National Conference patron Farooq Abdullah has asked Prime Minister Manmohan Singh to adopt flexible approach on Kashmir during his visit to Pakistan saying peace could be restored only when the Kashmir issue is resolved.
More reservation sought for OBCs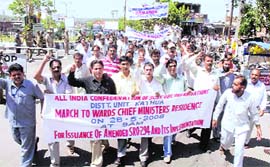 Jammu, May 28
A large number of people belonging to the Scheduled Castes, Scheduled Tribes and other backward classes (OBCs) today took out a protest rally demanding immediate modification and implementation of SRO 294.
Members of the Kathua district unit of the All-India Confederation of SC/ST/OBC Organisations protesting for the acceptance of their demands in Jammu on Wednesday. —Tribune photo by Anand Sharma
Denied 'leave', jawan commits suicide
Rajouri, May 28
Even as the defence ministry has liberalised the leave policy for Army troops, a soldier whose leave was not reportedly sanctioned by his higher-ups, allegedly committed suicide by shooting himself with his service rifle here today.
Economic union needed in South Asia: Governor
Srinagar, May 28
Stressing the need for regional cooperation between India and Pakistan, Governor Lt-Gen S.K. Sinha (retd) today called for an economic union in South Asia on the pattern of the European Union (EU).
Cloudbursts claim 2 lives in Anantnag
Srinagar, May 28
The bad weather continues to play spoilsport in people's lives. Two persons fell prey to cloudbursts and two received injuries when struck by lightening at different places in south Kashmir.
Cops come to rescue of addicts
Srinagar, May 28
The state police has excelled in a field which one does not associate with policing - running a de-addiction centre. The de-addiction centre was set up in Srinagar in February this year by the police and has treated 67 patients so far.
Refugees seek relief
Jammu, May 28
Protesting against the "apathetic attitude" of the state government, the Jammu and Kashmir Refugee Front 1947, 1965, 1971 took out a rally in support of their demands in Akhnoor today.
Relief policy for victims of militancy
Jammu, May 28
The state government has formulated a new policy for relief and rehabilitation of victims of militancy in the state, official sources said today.
Writers recall late Saqi's contribution
Srinagar, May 28
Remembering Moti Lal Saqi, a legendary Kashmiri writer, scholar and poet, on his ninth death anniversary, writers and poets recalled Saqi's contributions towards promotion and propagation of Kashmiri language and culture.