Fun On The Run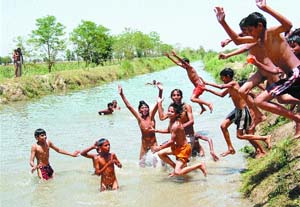 Village kids beat the scorching May heat with a splash in cool canal waters in Amritsar. — Photo by Vishal Kumar
Ban The Bane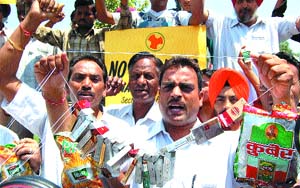 Members of the SC, ST cell of the Punjab Pradesh Congress Committee take out a rally for the ban on tobacco products on No-Tobacco Day in Amritsar. — Photo by Vishal Kumar
Indians genetically more prone to heart ailments: US expert
Amritsar, May 30
A renowned cardiologist and electro-physiologist from Canada Dr Eugene Donvar said they are exploring the possibilities of setting up joint Indo-Canadian research in cardiology.
Asian gold medallist gets hero's welcome at school
Tarn Taran, May 30
Jagwinder Kaur, handball player of the sports wing of Government Girls Secondary School, Kairon, was given a warm welcome on her return today at the school after becoming an Asian gold medalist.
Campus Flavour
Big placement pie attracts students to GND varsity
Amritsar, May 30
Guru Nanak Dev University is fast proving to be the new Mecca for admission seekers in various disciplines, especially science and technology. Reason: excellent placement record. Around 3,000 students have been placed in various MNCs so far.
Shiv Police DAV topper
Amritsar, May 30
Shiv Handa of Police DAV Public School has topped the institution with 94 per cent marks in the CBSE Class X exams, results of which were declared yesterday.
Medical camp: Girls examined for anaemia
Amritsar, May 30
The local Krishi Vigyan Kendra (KVK) organised medical check-up camps regarding anaemia in young girls at Daburji and Nagkalan villages recently.
Exhibition on textile designing held
Amritsar, May 30
The postgraduate department of textile designing and fine arts of Khalsa College for Women organised an exhibition of items prepared by college students as per their course scheme at Art Gallery here. The exhibition is held every year.
Biz Buzz
New HDFC branch
Amritsar, May 30
The HDFC Bank opened its 10th branch in the holy city today which was inaugurated by municipal corporation additional commissioner Vimal Setia.
Income tax refresher course ends
Amritsar, May 30
A three-day refresher course for the income-tax officers at Guru Nanak Dev University concluded here today.
Letters
College campus turns green
In November, 2004, a letter appeared in The Tribune pointing out that acres of land behind Guru Nanak Hospital was lying waste where weeds were growing. The letter writer suggested that this land could be used to grow trees, vegetables and flowers.