3 more Cong men murdered in Bathinda
MLA Kangar seeks CBI probe
Puneet Pal Singh Gill and Rajay Deep
Tribune News Service
| | |
| --- | --- |
| Hargobind Singh | Swaran Singh |
Rampura Phul (Bathinda), May 30
The political scene in Bathinda district is getting murkier with Congress leaders accusing SAD workers of masterminding the killings of its activists.
Barely days after the alleged killing of Congress MLA from Rampura Phul Gurpreet Singh Kangar's partner, the alleged killings of his another supporter, Veerpal Veeru (26), and two Congress activists, Swaran Singh (27) and Hargobind Singh (35) of Ghaso Khana village, find the SAD again under a cloud.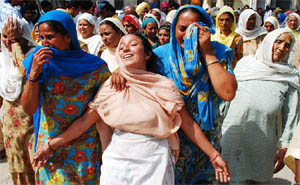 Jamna Rani, sister (centre) of slain Congress worker Veerpal Veeru, grieves at Rampura Phul Civil Hospital on Friday. — Tribune photo by Kulbir Beera
Lachhman Singh, brother of Hargobind, said he and Baljeet Singh, cousin of Swaran, were riding pillion on two motor cycles being driven by Hargobind and Swaran as they were returning home at around 7 pm last evening. Balwinder Singh, husband of Gurpreet Kaur, who was elected panch with the SAD backing, and his accomplices attacked them with sharp-edged weapons.
He and Baljeet escaped. They spent the night at Bhunder village. The suspects, Balwinder Singh, Boota Singh, Gulab Singh, Gurmail Singh, Gurmeet Singh, Gurjeet Singh and Charanjeet Singh, along with other unidentified persons, attacked Swaran and Hargobind. As they hit them, the suspects reportedly said: "It would be a lesson for the people who dare to oppose us in the elections."
Volunteers of an NGO took Hargobind's body to the Civil Hospital, Bathinda, and got Swaran admitted to a private hospital. He succumbed to his injuries.
Swaran was earlier in the SAD and had recently joined the Congress.
In the evening, the kin of the deceased staged a dharna at the civil hospital. They alleged that despite their repeated requests, the police had not registered a case even 22 hours after the incident.
DSP (D) Surinder Pal Singh, who was investigating the case, said investigations were on into the case.
Meanwhile, another Congress worker of the Rampura Phul constituency was allegedly murdered by a Block Samiti member of the SAD and his accomplices. Veerpal Veeru (26), whose body was found in the Bathinda-Sirhind branch canal near Sadhana village last night, was a resident of Rayaa village and was a supporter of Congress MLA from Rampura Phul Gurpreet Singh Kangar. He was the youngest member of his family.
The main suspect, SAD Block Samiti member from Rayya Gurcharan Singh, reportedly had an altercation with Veeru during the Gram Panchayat elections. The latter had gone missing On May 28.
Meanwhile, Kangar demanded a CBI inquiry into the murder.
Talking to The Tribune, Veeru's mother, Satya Devi, said: "Gurcharan Singh, along with his accomplices, has been harassing and threatening our family with dire consequences since the Gram Panchayat polling."
Both Sham Lal and Veeru's families have pointed finger at former minister and district in charge of the SAD Sikandar Singh Malooka.
However, Malooka refuted all charges. He said: "The Congress MLA from Rampura Phul has himself got Veeru murdered so that he can settle scores with me".