Hotels 'encroach' upon city roads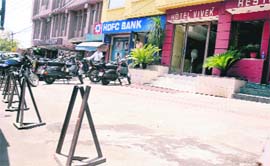 Jammu, June 3
People travelling on the city roads, who are already troubled by frequent traffic jams and mishaps, face more danger and less space for their movements. Why? The hotel and restaurant owners have "encroached" upon the main roads in various parts of the city.
Hotel owners encroaching upon the roads in Jammu. —Tribune photo by Anand Sharma
Refugee front goes on hunger strike
Jammu, June 3
Irked over what they termed as the callous attitude of the successive state and Central governments towards the issue of the rehabilitation of more than 15 lakh refugees of the 1947, 1965 and 1971 India Pakistan conflict, members of the Jammu and Kashmir Refugee Front today launched a hunger strike.
SHRC refers murder case to DGP for reinvestigation
Rajouri, June 3
Acting chairperson of the State Human Rights Commission (SHRC) Habibullah Bhat has referred a murder case allegedly involving a Congress minister to the director general of police for reinvestigation.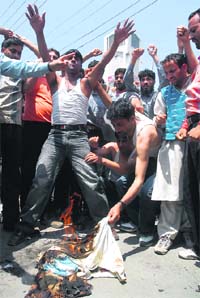 Members of the Jammu and Kashmir Unemployed ITI Electrician Diploma Holders Association burn clothes during a demonstration against the state government in support of their demands, in Srinagar on Tuesday. — Tribune photo by Mohd Amin War
More CRPF companies for Amarnath yatris
Jammu, June 3
Acting upon the communiqué of the state government to provide adequate security cover to Amarnath pilgrims, the exercise of airlifting additional companies of the CRPF from Hyderabad to Jammu and Kashmir has started.
Centre releases grant to modernise police force
Jammu, June 3
The Centre has assured the government of its support to modernise the state police force. As per the Centre's commitment on liberal financial assistance during 2007-2008, the state had received Rs 115 crore to upgrade the weapon system, forensic science laboratories and communication system.
Implement SC ban on felling of trees: Panel
Srinagar, June 3
Expressing serious concern over the constant degradation of environment by way of deforestation, the Environment Committee of the Legislative Assembly stressed the need for introduction of alternative for timber for construction of buildings and furniture.
Tourism industry laughs its way to bank
Jammu, June 3
With hordes of tourists flocking to picturesque destinations of Sonmarg, Pahalgam and Gulmarg in the valley, all those associated with the tourism industry these days are laughing their way to the bank.
Sikh bodies condemn Geelani's house arrest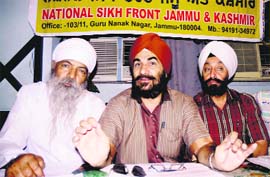 Jammu, June 3
Various Sikh organisations in Jammu have condemned the government's decision to house arrest senior Hurriyat leader Syed Ali Shah Geelani to prevent him from participating in a Sikh conclave in Punjab on June 4.

Members of the National Sikh Front Jammu and Kashmir addressing a press conference in Jammu on Tuesday. — A Tribune photograph
Azad stresses on job-oriented education
Kathua, June 3
Chief Minister Ghulam Nabi Azad today said emphasis should be laid on job-oriented education which stressed on respect for elders and trained the youth to fight communal, sectarian and regional tendencies.
Wife of IAF official dies mysteriously
Udhampur, June 3
Wife of an Indian Air Force official died under mysterious circumstances here. Although no arrest has been made so far, the police has registered a case under Section 174 of the RPC and called parent of the deceased woman to further investigate the mysterious death.
Army busts militant hideout
Rajouri, June 3
Troops of the Army today busted a militant hideout and recovered cache from the Thanamandi area here.