With steep hike in the price of LPG cylinders, people in Kashmir have reverted to the traditional earthen chullah, using wood as fuel. Tribune photo: Mohd Amin War
Fake Encounter
DNA report reportedly confirms suspicion
Rajouri, June 5
In a report that may prove to be a jolt to the Army, the central forensic laboratory has reportedly confirmed that the DNA sample of a person allegedly killed by army troops in a fake encounter whose body was exhumed from a pit in Peer Badeswar area has matched with one of his parents. This reported findings of the laboratory mean that the assertions of his family members that he was killed by troops and buried in a pit may well prove to be right.
Samba encounter still gives sleepless nights to villagers
Samba, June 5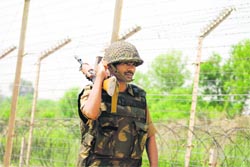 Even after a month, the residents of this village are finding hard to come to terms with the encounter, which took place in Kaily Mandi village of Samba district near the international border. They now say that they are worried about their future in the village. They feel threatened as and when there is a knock on their doors.


A BSF jawan patrols the international border in Samba. A Tribune photo
Brother hacked to death over piece of land
Udhampur, June 5
A piece of land was reason enough for a man to kill his younger brother.
World Environment Day
Jammu gasps for breath
Jammu, June 5
On the World Environment Day, the residents of the winter capital continue to grapple with air, water and noise pollution.
While the world celebrates World Environment Day on Thursday, the river Tawi in Jammu is filled with filth that flows in from the entire city. All this happens under the nose of the Jammu Municipal Corporation. Tribune photo: Anand Sharma
Soldiers returned to Pak army
Jammu, June 5
Two Pakistani soldiers arrested by the Army in the Mirpur Sidhr area of Khour block in Pallanwala sector close to the Line of Control (LoC) were handed over to the Pakistan army today.
Finally, Kundal takes oath today
Srinagar, June 5
Curtains would be falling down on the weeklong drama over the induction of B.R. Kundal into the Azad-led council of ministers. He would be administered oath as a minister here tomorrow.
2 years of rural service must for docs before PG course: HC
Jammu, June 5
The Jammu and Kashmir High Court has held that the in-service doctors must serve in the rural areas for two years in order to become eligible to appear for the Entrance Examination Test for undertaking post graduate/super specialty courses in the medical colleges of the state.
Shivalingam growing in size
Srinagar, June 5
There is an auspicious news for intending pilgrims to the holy cave shrine of Amarnath. The Shivalingam has been showing signs of growth for the past few days as the temperature has dipped. Moreover, the ice lingams of Parvati and Ganesh have also formed fully.
Challan against officials, suppliers
Jammu, June 5
The State Vigilance Organisation (SVO) today produced a challan against a former chief engineer, two executive engineers and two suppliers in a case pertaining to misappropriation of government funds.
Hurriyat team to visit Pakistan
Srinagar, June 5
A four-member delegation led by Hurriyat Conference chairman Mirwaiz Umar Farooq would be visiting Pakistan later this month to hold talks on the resolution of Kashmir issue.
Grenades lobbed at police quarters
Srinagar, June 5
Militants made an abortive attempt to target family quarters of police personnel with a grenade in Ganderbal district, police sources said today.
Longest bridge opens next week
Srinagar, June 5
The valley's "longest" bridge, which is in the making for close to 20 years, is set to be thrown open to the public next week, officials have said.