HJC delegation to meet President
Chandigarh, June 12
A 30-member delegation of the Haryana Janhit Congress(BL) will meet the President of India to apprise her of the "worsening law and order situation" in Haryana and increasing incidents of atrocities and crime against women.
Snapped phone lines hit BSNL subscribers
Gurgaon, June 12
A large number of BSNL subscribers are bearing the brunt of telephones lines, which were cut off a week ago in the process of laying sewer pipes by the public health department. The pipes have not been repaired yet.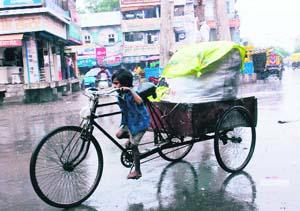 World Anti-child Labour Day observed
Panipat, June 12
The state labour department organised a function to observe World Anti-child Labour Day at Shivaji Stadium here today. The function was presided over by cabinet minister for labour and employment A.C. Choudhry.


A child pulls a loaded rehri during rain in Karnal on World Day against Child Labour on Thursday. — Tribune photo by Ravi Kumar
Haryana officer moves HC against chief secy
Levels serious charges against deputy CM
Chandigarh, June 12
In a petition filed before the Punjab and Haryana High Court, a Haryana district food and supplies officer has alleged attempt to implicate him in cases following deputy chief minister Chander Mohan's annoyance with him.
Roadways' driver damages buses
Was awaiting confirmation for 6 years
Yamunanagar, June 12
In a bizarre incident, a contractual driver of the Haryana Roadways, awaiting confirmation for the past six years and "frustrated" because of the "indifference" of the government, broke the headlights of two buses reportedly with his hands and fled with a roadways bus around midnight yesterday. He was later arrested and admitted to the civil hospital here.
Verification of servants, tenants mandatory
Gurgaon, June 12
In an unprecedented move, the district magistrate of Gurgaon has invoked Section 144 under which the verification of servants and tenants has become mandatory. The police will be asked to computerise the storage of such information.
Yamuna level rises
Yamunanagar, June 12
The level of the Yamuna river has risen to 28,000 cusecs due to heavy rains in the mountains during the past 48 hours.
House tax scheme extended
Chandigarh, June 12
The Haryana government has decided to extend the one-time settlement scheme for exemption of penalty and interest amount on the arrears of house tax in all municipal committees, municipal councils, Municipal Corporation, Faridabad, and water charges in the Municipal Corporation, Faridabad, and all municipal areas of the state up to June 30.
Policy on nursing homes okayed
Chandigarh, June 12
A policy on regularising nursing homes running from residential premises was approved at the 101st meeting of HUDA held today under the chairmanship of Chief Minister Bhupinder Singh Hooda, who is also the chairman of the authority.
INLD man is MC chief
Jind, June 12
Sunil Sharma was today elected the president of the Municipal Council, Jind.
Man gets jail for killing wife
Sirsa, June 12
A local court here today sentenced Roshan Lal of Rusulpur village to five-year imprisonment and imposed a fine of Rs 5,000 on him for killing his wife.
250 sadhus examined
Kurukshetra, June 12
At least 250 sadhus were medically examined at a free of cost check-up camp organised by the Kurukshetra Development Board in collaboration with LNJP Hospital and the district Red Cross Society at Brahma Sarovar here today.