M A I N N E W S
Srinagar under grenade attack
Tribune News Service/UNI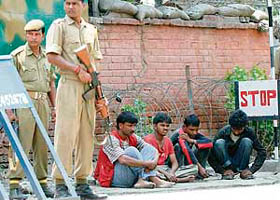 CRPF jawans stand guard over labourers held for questioning following a grenade attack in Srinagar on Saturday. — Tribune photo by Mohd Amin War
Srinagar, June 14
In an indication of heightened terror tactics, militants carried out three grenade attacks, including one near civil secretariat, seat of the Jammu and Kashmir Government, injuring a CRPF head constable and a civilian today.
This incident comes a day after militants ambushed a GREF vehicle and killed five officers, including a Lieutenant Colonel, in Kishtwar. The ultras also lobbed a grenade at a vehicle of security forces in Baramulla yesterday.
The injured CRPF head constable has been identified as Maipal Singh. The injured have been taken to a hospital where their condition is stated to be stable.
Official sources said militants hurled a hand grenade towards D-company, the 23rd Battalion of the CRPF, guarding the secretariat from the rare side. It exploded on the roadside.
A CRPF spokesperson confirmed that the grenade exploded near the rare gate of the secretariat. The secretariat remains closed on Saturday.
No militant outfit has claimed responsibility for the blast. This was the first such attack on the seat of the government after 'darbar move' offices reopened last month.
However, last month also, a similar attack was carried out by militants near headquarters of fire service, half a km away from the secretariat. The grenade did not explode and was later defused.
In another incident, militants hurled a hand grenade towards an under-construction house, housing a platoon of the 158 Battalion of the CRPF at Botshah Mohallah Lal Bazar in the city outskirts. However, it missed the intended target and exploded at a distance without causing any damage. In a similar attack, militants lobbed a hand grenade near Firdous cinema in Hawal, housing a company headquarters of the 96 Battalion of the CRPF. However, there was no report of any loss of life or injury to anyone.
2 militants holed up
Srinagar: Security forces have launched a major offensive to flush out two militants holed up in a house after an encounter, in which a policeman was wounded in South Kashmir today.
Official sources said the Special Operations Group (SOG) of the Jammu and Kashmir police launched a search operation at Narpora Shooian village in South Kashmir district of Pulwama, following a tip-off about the presence of militants.
When the security forces were sealing the particular area, militants opened fire from a house causing injuries to an assistant sub-inspector. — UNI