The Terrific Trio tracked
Milind made us wonder, Minnisha shared her style mantra and Gul talked of what she likes to blog on best, fitness. Jasmine Singh chats them up at the Esprit VIP Nite
YOU look detached. Here, but not here at the moment, we ask this guy with long hair and a pepper salt beard. "I am very much here. Where else could I be?" he replies, with a glint in the eyes, which is not coming from anything that he belongs to — glamour, fame, money, good clothes and sinful temptations. It's of a different kind.
Love is in the air
Up, close and personal with the cast and crew of Haal-e-dil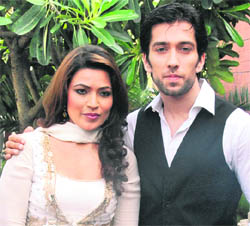 You don't have to be a rocket scientist to guess what works for the debutant star cast of any movie. A good director, an okay script oozing with love, two or preferably three fresh faces, a good banner, which can splurge money on promotional activities, a brigade of music directors, and exotic locales. And Haal-e-dil has all of this. We meet up with the cast and crew of the movie and ask them about their expectations from the flick, which is a launch pad for Adhyayan Suman (Shekhar Suman's son), who couldn't make it to the conference, Amita Pathaak and Nakul Mehta.

Photo by Vinay Malik
Dare to Dare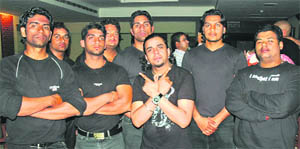 WHILE you jive away to foot tapping music, one of them keeps a close watch so that no one interrupts or spoils your good time. Not even an unexpected admirer. Personal well-being is what they have on their mind. These are some who strongly believe that good time can only be enjoyed with the right mix of fun and safety.
Living each moment
THIS 25-year-old is happy to be living in the times of endless opportunities. Meet Akshay Dogra, the Delhi boy who is winning the hearts of the audience with his rib tickling performance in Kiss Kiss Bang Bang on Bindaas. Touted as one of the best new comers in tellydom, Akshay surely knows what he wants.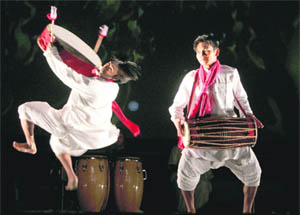 sound OF history:

Indian dancers of the Peruvian Integro group perform during a production called Tawa at the Huaca Pucllana archaeological site in Lima. — Reuters photo

Star-struck diet
Stars and numbers reign over your tastebuds too. Here's tasting some delicacies on the planet-platter!
DO you find it impossible to resist a rich creamy leg piece of butter chicken? Are you one of those who advocate chocolate and only chocolate for dessert? Does a tall glass of thick salted lassi spell instant energy for you? And then, have there been times when you plainly refuse to even taste the fancy baked vegetable or rajma chawal?

Babbu Maan's Hashar
It was an afternoon of many firsts. The audio release function of Hashar, marked the foray of Eros International into Punjabi Cinema. Eros has been associated with leading names in the entertainment industry. Harman Maan stepped as producer for the first time.

How's that!
WHEN it comes to facing the camera, celebrities like Kylie Minogue, Brad Pitt and Kate Moss all have one thing in common — they never fail to look their best. However, the one who almost never fails to put the right foot forward is pop princess Kylie Minogue.

First day first show
Pedestrian Fare


Mere Baap...
Time pass
THE American dream factory is obsessed with cop-and-robber muck. Bollywood bubbles over with comedy. What was once a trickle has now turned into a flood. Wading through it, you enter the world of Priyadarshan who, this time, offers Mere Baap Pehle Aap.