First Amarnath batch leaves today
Jammu, June 16
The first batch of Amarnath pilgrims leaves for the cave shrine tomorrow from the Jammu base camp escorted by personnel of the paramilitary forces, as part of the three-tier security for the devotees.
Transfer of Forestland to Shrine Board
Hurriyat opposes govt move
Srinagar, June 16
Opposing the state government for transferring forestland to the Shri Amarnath Shrine Board (SASB), the Hurriyat Conference (Geelani) staged a protest demonstration in central Lal Chowk here today.
Gujjars protest against govt
40 held; Demand political quota
Srinagar, June 16
The police today detained dozens of Gujjars when they were demonstrating their solidarity with fellow Gujjars in Rajasthan and demanding political reservation in both houses of state legislature.

Gujjars protest against the state government in Srinagar on Monday. — Tribune photo by Mohd Amin War
Rights for Udhampur
Parties, traders put up joint front
Udhampur, June 16
To fight against the domination of cities in Jammu and Srinagar and to oppose the step-motherly treatment meted out to Udhampur, representatives of all political, social and trader organisations decided to form a joint front yesterday.
Assembly Poll
Kashmiri migrants float party for rights
Jammu, June 16
Displaced from their homeland due to eruption of militancy, Kashmiri migrants are now seeking political representation ahead of the Assembly elections in the state. A party called the Jammu and Kashmir National Democratic Front has been formed for the purpose.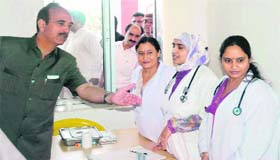 Chief Minister Ghulam Nabi Azad inpsects a medical dispensary in Jammu on Monday. — PTI
Rain plays havoc with maize
Jhullas-Salhotri (Poonch), June 16
Muhammad Aarif may not be able to send his two brothers and a sister to school this year and his 20 family members may have to skip their one day meal. Reason - the rain which lashed the frontier district last night has washed away the standing maize of a majority of farmers in Jhullas and Salhotri areas.
United India told to make payment to insured
Jammu, June 16
The Jammu and Kashmir State Consumer Disputes Redressal Commission on Saturday dismissed an appeal of United India Insurance Company Limited and directed it to make payment of awarded amount along with interest accrued thereon till date to Ghulam Mohd Parray, who had insured his shop in Tangmarg town.
Unsung heroes of war against militancy
Jammu, June 16
Their job involves a great risk; a minute's mistake and it can turn into a disaster and end their as well as others' lives. These are men of the Army's special bomb disposal (BD) squad who are always ready to risk their lives to save the lives of other people.


Media orientation course begins
Jammu, June 16
A four-day defence media orientation course was today started by the Jammu-based Tiger Division of the Army in collaboration with the public relations office, Ministry of Defence. The course with the aim of acquainting media people with the working and other functions of the Army. Major-Gen D.L. Chowdhary
Army holds workshop on women
Jammu, June 16
A three-day workshop on "Grahini Vikas - Developing The Homemaker" was held in Satwari by the Army Wives Welfare Association (AWWA), one of the largest registered NGO in the country.
It wasn't above board at all
Udhampur, June 16
In a case of gross negligence on part of the Jammu and Kashmir State Board of School Education (JKSBSE), a class X student, whose answersheet was allegedly lost by the board, was allegedly implicated in a case of unfair means by the board.
Rajouri villages face acute water shortage
Rajouri, June 16
The government's claims of supplying water to the remotest villages of the state fall flat when taken a look at the pathetic situation prevailing in several villages in this frontier district.
BJP lauds Karzai's statement
Jammu, June 16
The state wing of the BJP has lauded the statement of Afghanistan president Hamid Karzai in which he said that his government had every right to destroy terrorist camps in Pakistan in defense of his country.
Dasmunshi visits legislature complex
Srinagar, June 16
The new legislature building is in the final stages of completion and is projected to hold the upcoming Assembly session.
Woman washed away in flash floods
Jammu, June 16
A woman was drowned and five houses were damaged in Doda and Reasi districts, following heavy rain and flash floods in the Basantar, Chenab and Tawi, official sources said on Monday.