Smart Skills
Usha Albuquerque

Gem Packed
Fashion is all over the place — in newspapers, in the streets, in the malls, and staring at you from the TV screens all day!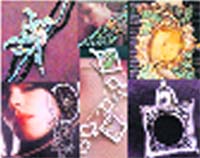 This manifold growth in fashion awareness has brought with it a phenomenal demand for fashion products across the board, particularly jewellery, where the sparkle only seems to get brighter. In recent years, fashion consciousness has significantly altered the use of jewellery from the heavy, traditional ornament bought more for investment, to the fashion accessory of today. The new-age woman wants ornaments that are trendy and stylish, which she can wear to work, for outings and at home. Jewellery now makes its own fashion statement and has influenced a worldwide trend in the kind of jewellery being made and what constitutes it. Moreover, given the technology advances, this trend has certainly lent an attractive glitter to career prospects in the field, and spawned a demand for a professional breed of designers.
With as much costume jewellery as the precious and semi-precious one being produced and worn, no longer is its design and manufacture only in the hands of family jewellers, with goldsmiths hammering out age-old traditional products. Trained professionals have now entered the fray, and designs and materials are changing, making the gems and jewellery industry the second major foreign exchange earner for the country. This is a sophisticated field requiring an aesthetic ability and technical expertise, and with computer-aided technology is producing exquisite creations in virtual reality.
Work profile
In the glittering world of jewellery making, there are a variety of different jobs and careers, as it covers the design, manufacture and marketing of these items. Some individual jewellers design or make their own range. Following their own designs or those created by designers or customers, they do the handiwork required to produce a piece of jewellery. There may be others who do the finishing work, such as setting stones, polishing, or engraving. There are also large jewellery houses and export companies that employ designers to create new designs, or adapt old ones to ensure greater marketing prospects.
Jewellery designers design and make body adornments using a variety of materials, including gold, silver and precious stones. Of late, jewellery in platinum, copper and other metals is also gaining popularity. Some manufacturing firms use computer-aided design and manufacturing (CAD/CAM) to facilitate product design and automate some steps in the mould-making and model-making process. CAD allows jewellers to create a virtual-reality model of a piece of jewellery. Using CAD, they can modify the design, change the stone, or try a different setting and see the changes on a computer screen before cutting a stone or performing other costly steps.
Ornamental value

Manufacture involves the identification, testing, grinding and polishing of gems to be used on the jewellery item. The actual making process of the metal is mainly mechanised at most large manufacturing units, using the CAM process for making the mould of the model. After the mould is made, it is easier for manufacturing firms to produce numerous copies of a given piece. New technology is also helping to produce jewellery of a higher quality at a reduced cost and in a shorter amount of time. Lasers are often used for cutting and improving the quality of stones, for applying intricate engraving or design work, and for inscribing personal messages or identification on jewellery, and for improving the quality and appearance of gem stones.
Gemologists and laboratory graders analyse, describe, and certify the quality and characteristics of gem stones to establish the weight, size, form and other related aspects.
Hone the stone
Gemology is essentially a scientific and technical field dealing with the study of gem stones. Gemologists may work in gemological laboratories or as quality control experts for retailers, importers, or manufacturers. Many jewellers and jewellery designers also study gemology in order to become familiar with the physical properties of the gem stones with which they work.
Appraisers carefully examine jewellery to determine its value, by researching the jewellery market, using reference books, auction catalogs, price lists, and the Internet. They may work for jewellery stores, appraisal firms, auction houses, pawnbrokers, or insurance companies. Many gemologists also become appraisers.
Marketing of jewellery is another new area for professionals. Those handling the marketing of jewellery, particularly the precious, semi-precious and costume jewellery have to be aware of fashion trends both in the international and domestic market.
Entry by design
A mixture of creative skills and commercial awareness is vital in producing original pieces of jewellery. The design process is complex and involves a series of stages, each requiring different abilities on the part of the designer. Regardless of the type of work done or the work setting, jewellers require a high degree of skill, precision, and attention to detail. Artistic ability and fashion consciousness are major assets, because jewellery must be stylish and attractive. The precise and delicate nature of jewellery work requires finger and hand dexterity, good hand-eye coordination, patience, and concentration.
There are several institutions offering training in gemology and jewellery designing. The National Institute of Fashion Technology (NIFT) at New Delhi and at its other centres, offers programmes in accessory design which also include jewellery designing.
SNDT Women's University, Bombay, also offers a jewellery design course for school passouts, as does the Gems and Jewellery Export promotion Council, Jaipur, and the Jewellery Design and Technology Institute (JDTI), Noida.
Most of the courses not only hone the creative skills, but also teach students the skills of stone cutting, engraving and polishing, as also enamelling, silversmithing and stone setting.
Various institutes also offer courses and programmes in gemology. Programmes cover a wide range of topics, including the identification and grading of diamonds and gem stones. There are also short-duration courses in gemology, including jewellery casting, pearl identification diamond grading and valuation etc at the Gemmology Institute of India, Mumbai, and the Diamond Institute of India, Surat.
Training in basic jewellery making, gem cutting and stone setting is also being provided by the Jewellery Product Development Centre, New Delhi, and the Small Industries Service Institute, Chennai. Moreover, some jewellery houses hire and provide in-house training for their recruits. Many have facilities and earmark budgets for research and development in the field. These programmes also encourage students to apprentice with jewellery showrooms or family businesses.
The Gemmological Institute of America has recently opened a centre in Mumbai to educate Indian jewellery professionals on the global gemological industry. The GIA will offer graduate diploma programmes and diamond-grading classes, as well as distance learning programmes and courses.
Placement prospects
Although the manufacture of jewellery is the largest area requiring trained personnel, many jewellery houses are now employing designers too, for designing products that can cater to the current international demand. Many organisations are also taking in professionals for marketing and export of jewellery. Promoting and developing the business is crucial for the success as a jewellery designer. Much of the work here involves consultations with commissioning clients, discussing a client's requirements and formulating original ideas, sketching them out to help the client visualise the finished design. Other activities include: consulting with store buyers and suppliers, and researching jewellery trends and keeping an eye on the fashion world to keep abreast of developments in the industry.
With the entry of corporate houses in this sector, and foreign jewellery companies, there is a growing trend in the recruitment of professionals into a sector that was widely perceived as family owned and managed. Companies like the Tata Group's Titan and Tanishq have made a name for themselves in the domestic as well as the international market. Foreign companies marketing jewellery and related accessories such as watches, bracelets, belts and pouches and object d'art, are also hiring designers. In recent years, various public sector trading corporations too, such as the Metals and Minerals Trading Corporation and the State Trading Corporation, have got involved in the marketing and export and hire trained professionals, including MBAs and jewellery designers.
Those interested in starting their own business need to first establish themselves and build a reputation for their work within the jewellery trade. The business is highly competitive, and those who plan to open their own stores should have sales experience, as well as knowledge of marketing and business management, besides design skills and a a strong knowledge of some very expensive products. Some jewellery professionals have been able to do that and are now into designing customized jewellery for sale to high- value individuals, and for exclusive boutiques.
Today, the Indian jewellery industry has an acknowledged position in the world market for high quality jewellery. It is growing at an estimated 55 per cent annually. The range of raw materials being used today is also exhaustive — from cheap and easily available stuff like paper, wood, terracotta, jute, to highly priced gold, silver and Swarovski crystals! Moreover, even the traditional family-run jewellery business is steering into the future with an under-40 generation at the helm. With new ideas and viewpoints, they have begun to professionalise the management of the companies, bringing in new ideas, materials and professional skills into the business. The Indian market alone today consumes 800 tonnes of gold a year.
So, for those fascinated by gems and jewellery, the present boom in the industry offers a sparkling future.
The writer is a noted career expert


Course clues
Most of the courses not only hone the creative skills, but also teach students the art of stone cutting, engraving and polishing, as also enamelling, silversmithing and stone setting.
There are also short-duration courses in gemology, including jewellery casting, pearl identification, diamond grading and valuation.
These programmes also encourage students to apprentice with jewellery showrooms or family businesses.
Moreover, some jewellery houses hire and provide in-house training to their recruits.
The JDTI, Noida, claims to have the only online project in India, wherein students get an opportunity to communicate and work for jewellery companies on the Web.