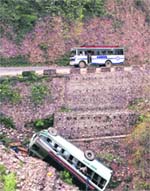 Amarnath Mishap
Bus falls into gorge, 2 dead, 47 hurt
Jammu, June 18
In a major road accident, a bus carrying the Amarnath bound pilgrims fell into a gorge leaving two passengers dead and 47 injured.




A bus drives past the wreckage of another passenger bus carrying the Amarnath bound pilgrims that skidded off the road, on the outskirts of Jammu on Wednesday. Two persons were killed and 47 injured in the accident. — Reuters
BJP asks Cong to snap ties with PDP
Jammu, June 18
The state wing of the BJP has denounced the statement of the deputy Chief Minister Muzaffar Hussain Baig in which he had said that his party was "blackmailed" by two ministers of the Congress for the allotment of forestland to the Shri Amarnath Shrine Board (SASB) for the construction of pre-fabricated structures.
Seek people's mandate, Mufti tells party men
Jammu, June 18
Taking further its election campaign to woo voters and to streamline the party's strategy for the upcoming Assembly elections so as to win the maximum number of seats, former Chief Minister and patron of the Peoples Democratic Party (PDP), Mufti Mohammad Sayeed, today exhorted his party workers to seek a mandate from the people.
Hurriyat factions to chalk out strategy
Transfer of Forestland
Srinagar, June 18
The leaders of two divergent factions of the All Party Hurriyat Conference (APHC) finally agreed to meet here tomorrow to work out the future strategy on the issue of the government transferring 800 kanals of forestland to the Shri Amarnath Shrine Board (SASB) in Pahalgam and Baltal.
Cong leader's PA booked for assault
Jammu, June 18
The personal assistant of a senior Jammu and Kashmir Congress leader was booked for allegedly assaulting a youth over a land dispute today.
Measures to check infiltration remain 'porous'
Jammu, June 18
Despite the defence ministry's foolproof claims of securing the 778-km Line of Control (LoC), the measures to check the cross-border infiltration along the LoC remain "porous".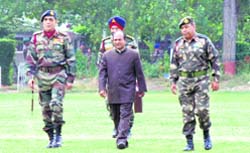 Antony visits LoC
Srinagar, June 18
Defence Minister A.K. Antony visited troops deployed on Line of Control in Kupwara and Baramulla, the defence ministry said in a statement today.


India's Defence Minister A.K. Antony(c) arrives at Baramulla, about 60 km northwest of Srinagar, on Wednesday. — AFP
Panel to address land issues between govt, Army
Srinagar, June 18
A committee comprising senior officers of the state government, the Army and the ministry of defence, headed by state chief secretary S.S. Kapur, would address all pending land issues between the state government and the Army.
Army distributes wheelchairs
Srinagar, June 18
The Army today held an assistive devices camp in Uri for the physically challenged population of 28 local villages.
Jammu railway station Vulnerable to terror attack
Jammu, June 18
Even as a three-tier security has been put in place for the annual Amarnath pilgrimage, the Jammu railway station, where a majority of pilgrims disembark for taking the onward journey, seems to have been left vulnerable to untoward incidents.
Ex-forest corp MD, GM booked
Jammu, June 18
The State Vigilance Organisation (SVO) has booked Aijaz Ahmad Bhat, the then managing director, State Forest Corporation (SFC), Ghulam Hassan Marazi, the then general manager, R&D, SFC, and others for misuse of official position by allotment of contracts of timber extraction in violation of rules, thereby conferring undue benefit to their favourite contractors in 2006-07.
Confusion over boy's death
Rajouri, June 18
Confusion prevails over the death of Kulbir Singh (22), a first-year law student, who allegedly committed suicide by shooting himself with a .303 gun here yesterday.
SASB raised no permanent structure'
Srinagar, June 18
Outgoing Governor Lt-Gen S.K. Sinha (retd) has denied raising any permanent structure by the Shri Amarnath Shrine Board (SASB) on the way of the Amarnath yatra.
Power cuts irk residents
Poonch, June 18
Residents of the district are a harried lot these days as the power development department (PDD) has started imposing marathon power cuts.
Now Kargil attracts filmmaker
Srinagar, June 18
After the shooting of a slew of movies in the lush meadows of Kashmir, it's the turn of dry but imposing land of Kargil. A movie made by Mohanlal, a super star of Malyalam cinema, will be shot for 22 days and, an Army official said, its underlying theme, unlike most of the war movies, will be that soldiers whether of India or Pakistan are inherently alike.
BSNL penalised for faulty service
Jammu, June 18
The J&K State Consumer Disputes Redressal Commission dismissed an appeal of Bharat Sanchar Nigam Limited (BSNL) preferred against the award dated October 17, 2005 of the Divisional Consumer Forum, Srinagar, terming it meritless and charged the appellant Rs 4,000 as costs to be paid to the consumer.
International Sufi festival from today
Srinagar, June 18
About 100 artistes from Pakistan, Egypt, Uzbekistan and Syria would be participating in a three-day international Sufi music and dance festival, being held at the Sher-e-Kashmir International Conference Centre (SKICC), starting tomorrow.
Clarification
It is clarified that a photograph used in these columns yesterday showing Amarnath pilgrims in a bus was by the Tribune staffer and not by PTI as was erroneously mentioned. -Editor