SAD leaders throng to show strength
Bathinda, June 20
The well-known canvassing star of the SAD-BJP combine, Navjot Singh Sidhu, Amritsar MP, cabinet minister Manoranjan Kalia and BJP state president Rajinder Bhandari were absent from the SAD rally, which was dubbed as a 'show of strength.'
SAD expels four rebels
Bathinda, June 20
The ruling Shiromani Akali Dal (SAD) leadership today expelled four rebels who failed to withdraw their candidature from the election for the BMC and continued to remain in the field against the BJP nominees.
Awareness campaign on voting rights
Bathinda, June 20
Amidst mudslinging on each other by political parties, a concern for voters!
Contenders seek divine intervention
Bathinda, June 20
Not leaving anything to chance, candidates have started flocking to astrologers and godmen seeking divine and planetary intervention for their victory at the fag end of the campaigning in BMC elections.
Abohar ward no. 18
BJP changes candidate for third time
Abohar, June 20
Finally, 131 candidates would fight for 31 wards of the local municipal council (MC) going for polls on June 30. A total of 159 nominations had been filed. Six of them were rejected as they were not supported by No Due Certificates.
282 to contest four Barnala MCs
Barnala, June 20
As many as 282 candidates are in fray for four municipal committee elections falling in the district.
Mansa polls: 205 left in fray
Mansa, June 20
After scrutiny and withdrawal of nomination papers for four municipal councils of Mansa district, 205 candidates are left in the fray.
Cantonment board
Joginder elected as vice-president
Ferozepur, June 20
In a special board meeting held here in cantonment office, all new elected and nominated members were administered oath of allegiance under section 17 of the Cantonments Act, 2006 by president, brigadier S.S. Bhatia.
Throws normal life out of gear
Showers brings relief from unforgiving heat but...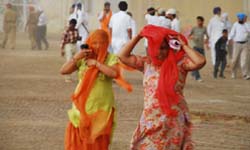 Abohar, June 20
Heavy rain threw normal life out of gear in the sub-division today. To add to the residents' woes, the lights were out for almost the whole day. Besides, vehicular traffic remained suspended for over three hours between Gumjal and Kallarkhera villages on the Abohar-Sriganganagar road due to felling of trees.
Women caught in duststorm that lashed Bathinda on Friday. Tribune photo: Kulbir Beera
Rain exposes drainage system in Mansa
Mansa, June 20
Everytime it rains and the city residents are fraught with fear of commuting. There is an urgent need to improve the sewerage as well as rainwater drainage system in the city.
'Transplant paddy mechanically'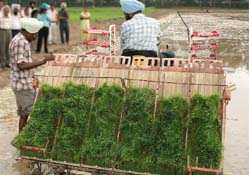 Bathinda, June 20
In view of shortage of labour during the ongoing paddy season, which has been haunting the Punjab farmers, Dr Manjit Singh Kang, vice-chancellor, Punjab Agricultural University (PAU), has advised the farmers to adopt mechanical paddy transplanting to meet the challenge of labour shortage for paddy transplanting. 

A paddy transplantation machine in use. A Tribune photograph
Mealy bug menace
Measures examined at high-level meet
Ferozepur, June 20
To take stock of the measures initiated by the district administrations to prevent mealy bug, a high-level meeting of the officials from Ferozepur and Faridkot divisions was held here today which was presided over by financial commissioner (development), R S Sandhu.
Bhandara for pilgrims faces trouble
Abohar, June 20
The NGOs authorised to run free kitchen (bhandara) on the Pahalgam- Chandanwari-Panjtarani route are facing difficulties. They could not put up the tents for want of ponies to carry the tents and other material.
Manpreet murder case
Action panel to move court
Barnala, June 20
The 21-member action committee expressed satisfaction over the surrender of Shyam Singh to the Sherpur police in the Manpreet murder case. Shyam Singh was one of the main accused in the case.
Nepali migrant killed in wall collapse
Bathinda, June 20
A Nepali migrant was crushed to death as the wall of his house collapsed due to heavy winds here today. Ram Bahadur was working as a gardener at the Bibi Wala road.
Woman run over by train
Bathinda, June 20
The Punjab Mail ran over a woman at gate number 12 on the Bathinda-Delhi railway line yesterday night. After the control room got the information, the Sahara workers reached the spot and took her to the hospital where she was declared brought dead.