Tax tips
Will and share in property
S.C. Vasudeva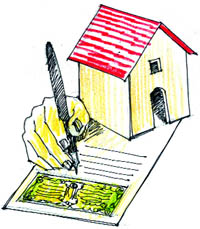 Q. My father owned a residential property which was self acquired by him. He died a few ago back without making a will. My sister, now a divorcee, is living with us, with her minor son. Now my mother wants to disown me from this property due to some differences between her and my wife. Can she do that? Please tell if the law can protect my share in this immovable property? Who all are the real share holders against this property?
— Mohit Mahajan, Dhariwal
A. In accordance with the provisions of the Hindu Succession Act, 1956, after the death of your father who died intestate (i.e. without making a will) your mother, your sister and yourself would have become the co-owners of the residential property. This is on the presumption you did not have another brother or another sister. On the basis of the facts given in the query, your mother can disown you with regard to her share in the property by making a will in respect thereof in favour of someone. She can not legally disown you in respect of your share of property inherited by you in accordance with the provisions of the Hindu Succession Act, 1956.
Property registration
Q. I purchased HUDA plot at Faridabad measuring 160 sq yds (after migration from Kashmir) in the year 1997 and got the said plot legally transferred in my name as per conveyance deed. The cosideration amount on this conveyance deed was Rs. 3 lakh in the year- 1998. The said property has not been registered in my name till date. My queries in this regard is as follows,
1. Is it necessary to go in for registration if conveyance deed is done. Can I transfer my property in the name of my wife on conveyance deed basis or dispose off my property on conveyance deed only.
2. In case it is a must, what is the legal procedure in registration and how to go about it.
3. Whether registration/ stamp duty will be done/paid respectively on current market price if, so, at what rate/percentage.
4. Whether registration shall be considered on the amount (3.0 Lacs) paid to seller at the time of purchase of land in the year 1997 as is evident in the conveyance deed documents.
5. Since there is no exchange/ transaction of money involved as I want to transfer/register property in the name of my wife.
6. Do your goodself think any one of us seller, buyer, transferee shall have any income tax related problem because I am worried about capital gain.
7. Shall registered will allow me for registration of my property in the name of my wife and then she would be the sole owner of the property after my death.
8. Since I am a retired and ailing person, wants to seek your valued help/suggestion at the earliest on the subject, before it would be late to have an opportunity on the feedback from your goodself.
— Surinder Kar
A. (i)It seems the conveyance deed was effected in your favour by HUDA for the transfer of plot in your name. The conveyance deed is effected where the property is usually transferred by an authority constituted by the state. In my opinion there is no need to execute any other deed in your favour.
(ii)You can transfer the property to your wife which will require an execution of a gift deed. Such deed will have to be registered with the designated authority.
(iii)The gift deed would be executed on the basis of the present market value and the stamp duty will have to be paid accordingly.
(iv)There is no difficulty in case the property is transferred to another person on the basis of the conveyance deed. Such a transfer would involve capital gains tax which would be computed by deducting the indexed cost of the plot from the sale price thereof. The balance amount would be capital gains on which capital gains tax @ 20% plus applicable surcharge and education cess would be leviable.
(v)You can execute a Will in favour of your wife and after your death such a property will be transferred in the name of your wife on the basis of the registered Will. She will become sole owner of such property after the same is mutated in her name.
Executing memorandum of family partition
Q. I am in service in CHD and reside in employer's accommodation. I have a house in the name of my HUF in HUDA Sector, (Haryana), a savings bank account and an eight-year-old PPF account in the bank in my HUF name. I am also a co-sharer in inherited agricultural land and ancestral house in the village. My HUF consists of me, my wife, a major daughter and a major son. My mother is alive and resides with brother in the village. My HUF house is rented out.
Now I want to partition my HUF completely. There is a balance of about Rs.26,000 in HUF Saving Bank Account and Rs.1,50,000 in HUF PPF Account. I had given a loan of Rs.1,00,000 to my HUF from my individual a/c, . Now in the proposed partition, the HUF house in HUDA Sector is to be given to my wife, share in ancestral agricultural land and ancestral house in the village to me, balance in Saving bank account to my son and balance in PPF account to my daughter after payment of the loan amount to me. In this manner by making oral partition, we intend to execute a Memorandum of family partition and get it registered.
Now my questions are:
1 Whether my mother would also be treated as a member of HUF and entitled to any share?
2 How savings bank account and PPF account would be closed and balance would be transferred?
3 How entry in record of HUDA would be effected about HUF house is given to my wife?
4 Whether suit for declaration in the Civil Court should also be filed to confirm the partition and getting the decree registered?
— Bhim Sen
A. The answers to your queries are as under:
(i) Your mother cannot be treated as a member of your HUF.
(ii) You need not close the savings bank account. You can close the PPF account and deposit the amount of sum so received in the said savings account. The savings account thereafter can be closed by making the repayment of your loan and distributing the balance amount in accordance with the Memorandum of Partition.
(iii) The Memorandum of Partition will have to be filed with the authorities for getting the mutation of the Chandigarh house done in the name of your wife, and that of other properties in your name.
(iv) It will be advisable to approach the court for the purposes of getting the division approved from the court. This can be in the form of a declaratory suit. This may also be necessary as many a times housing development authorities do not take the Memorandum of Partition on record for the purpose of making the necessary changes.
Gifting money from sold house
Q. My question is as under:
I have a residential house at Panchkula. The land was purchased during September, 2000. The house was completed during Nov/Dec 2001. I want to sell this house. My questions are as below:
(i) After selling the property, can I send the amount to my son (as a gift) who is in Canada?
(ii) How much capital gain I may have to pay on sale of this property?
(iii) To avoid payment of long term gain how much amount I may have to park in the scheme for this purpose?
Kindly suggest most appropriate scheme also.
(i) The cost of land purchased in 2000 (Registration, brokerage to the dealer etc.) was 8,00,000
(ii) The cost of construction (during 2000-01) approx. 2500 sq. ft. @ Rs. 800/- per sq.ft. was (completed during December, 2001. I don't have vouchers/bills etc.)20,00,000/-
(iii) Improvement during 2004 was 1,00,000/-
The total amounted to 29,00,000
At the present market rate I may get Rs. 1.00 to 1.25 crores.
— R. Khurana
A. The answer to your queries is as under:
(i) On the basis of figure given in the query long term capital gain would work out at Rs. 87,12,640/- in case the sale price of the property is taken at Rs. 1.25 crores. The computation have been made on the basis of cost inflation index notified for year 2007-08 as the index for 2008-09 is yet to be notified. This may lead to a small difference in the amount of capital gain.
(ii) In accordance with the liberalized scheme of remittance for resident individuals announced recently by Reserve Bank of India, you can remit US$ 2,00,000/- per financial year. The amount realized on sale of the house can thus be remitted by you to Canada in accordance with the above scheme.
(iii) You can invest maximum amount of Rs. 50,00,000/- only in the capital gains tax savings bonds. You will have to thus pay long term capital gains tax on the balance amount computed in the manner laid down by the Income-tax Act, 1961 (The Act).
(iv) The investment in such bonds would be most appropriate as you intend to send the amount realized on sale of the property to your son. This will enable you to send the amount in two instalments.